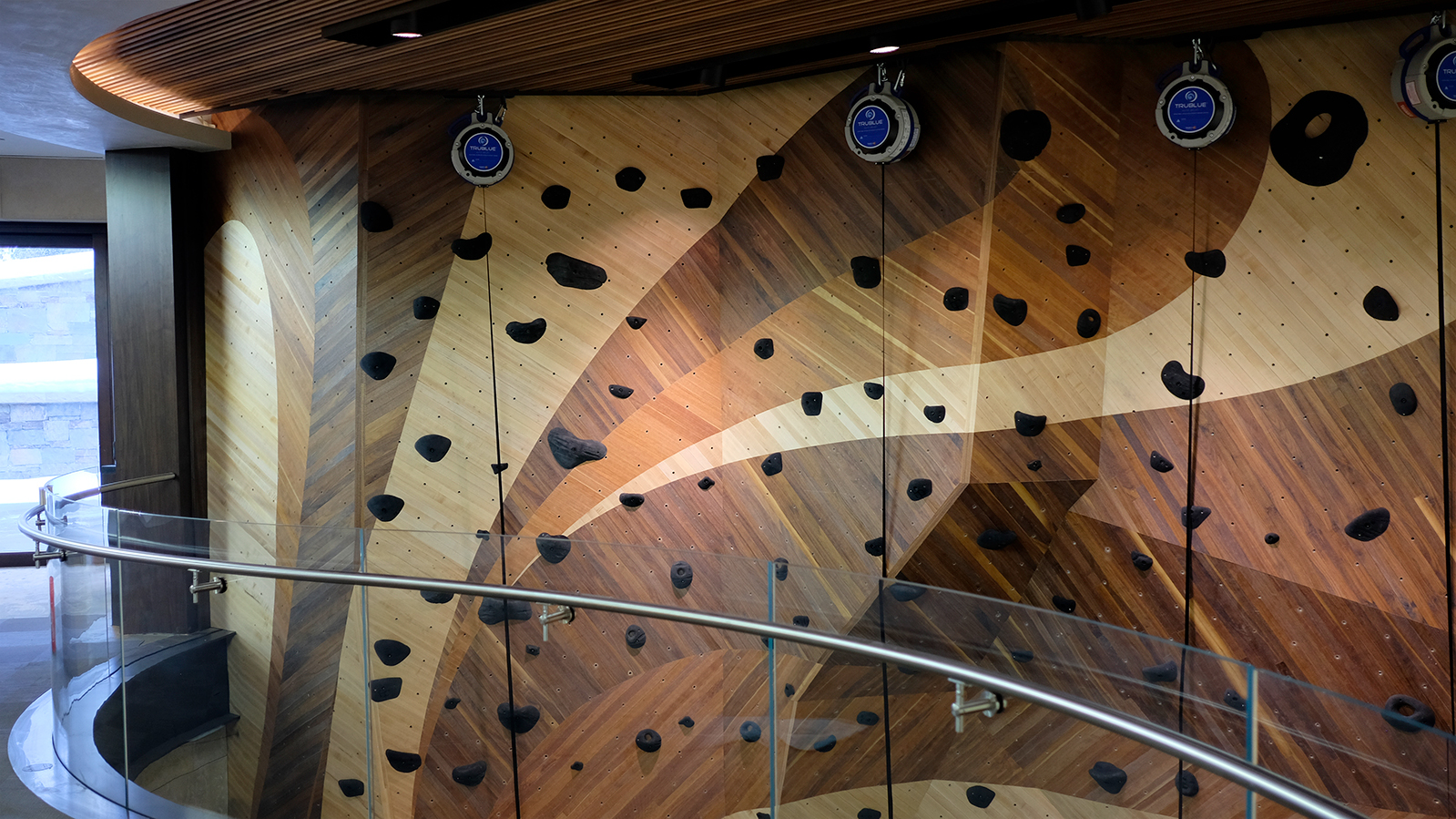 Building a Home Rock Climbing Wall
Building a home rock climbing wall is an exciting project for any climbing enthusiast. Whether you're building with the intention of training and exercise or creating an elaborate playground for children and teens, Vertical Solutions has everything you need to make your home wall as impressive as any indoor climbing gym.
Rock Climbing Walls for Training
Not able to get to your local climbing gym on a routine basis? A dedicated training wall might be the right choice for you. Being able to set your routes, create personal challenges, and train on your time is something many climbers take for granted. A home wall gives you the freedom to train as you please, when you need, and explore styles of climbing you might not otherwise find the time for.
Talk to our design team about your training goals, height necessities, and angles

Decide if a bouldering or top-rope wall would be more beneficial

Get creative with holds and volume choices
Rock Climbing Walls for Fun  
Whether you're looking to implement a pre-fabricated panel or seeking a fully custom design to match your home's current aesthetic, we're happy to provide rock walls that embody form and function. Our main goal? Create walls that always enhance the customers space to bring climbing into your home.
Children's Rock Climbing Walls  
If you aim to build a wall for your child's bedroom or playroom, it can be tempting to "go big," often more extensive and elaborate than necessary. We can't fault you for it! We've seen some great walls with complex contraptions and apparatuses that delight the eye. However, when building with children in mind, it's important to take physical well-being into account, as well as practicality. Although an overbuilt wall can be visually fun, simplicity is the best way to go.
Use colorful holds in a variety of shapes to keep your climbers interested
Grab a variety of hold styles to keep things fun
Visual Appeal
Although a functioning home wall is always the primary goal, aesthetics play a significant part in the visual longevity of your home wall design. Whether you're aiming for a timeless look or a wall adorned with intricate inlays, visual appeal is a top priority for all our clients. Our design team offers various inlays, hardwood curvatures, and accent colorings. If you want a wall to visually dazzle as much as be a space for training and recreation, we can create a one-of-a-kind, functional art piece.
SLM Wall Options
SLM, or single-layer modular walls are a popular choice for home walls due to its quick on-site installation and cost efficiency. However, this single-layered construction still delivers an exceptional appearance. In addition, it includes the option for custom staining and clear-coat textured finishes that are more resistant general wear and tear.
MLM Wall Options
Is an upgrade right for you? MLM, our multi-layer modular climbing, provides exceptional rigidity and durability. This seamless construction has an added 6mm finish layer and can be customized with hardwood boards to create visually stunning geometric patterns. We recommend our MLM wall construction for those who value added aesthetics and design integration.
Choosing Your Holds
There are many hold types on the market, but two main attachment styles are used throughout the industry.
Screw-On
Bolt-On
We'll always recommend getting a variety of hold shapes and sizes to keep your climbing interesting; however, attachment style is often based on personal preference, tools you keep handy, and training methods.
If you're particular about placement, a screw-on hold may be the way to go. However, bolt-on holds are generally more secure, and less likely to rip away from a wall.

For other climbers looking to build a traditional training wall or "woody", placing screw-on holds between bolt-on holds, in areas where there are no T-Nuts, is standard.

Parents looking to build a home wall for kids will likely never need or use screw-on holds.
At a loss for which holds would be best for you? Never settle for one brand, shape, or size. You may already have your favorite holds in mind, but thankfully for climbers, endless combinations can be tried on your wall. Get inspired here.
Ordering the Right Hardware
Need help figuring out what you need or anticipating frequent route re-setting? The team at Vertical Solutions is ready to help ensure you have all the proper hardware to get holds and volumes up on your home walls.
Flooring
Whether you've gone with a bouldering setup, top-rope wall, or a combination of the two, flooring is a vital part of the equation. You can find various thickness options, precut sizing, and colors here.
Start Your Build
Ready to start your home wall build? Talk with one of our Vertical Solutions experts today and see your climbing visions come to life.