Home and Corporate Climbing Walls
Climbing walls tailored to your home or business
Utilize any of our signature wall styles in your home or corporate space. Our builds are fully customizable and we're eager to match the look and feel of your home or business. Regardless of the space you have available, we're confident we can design and supply the best possible climbing wall solution.
Features and Benefits
Train at home or in the office, stay in shape, entertain friends, and occupy the kiddos!
Provide a workplace climbing wall to help employees stay fit, enjoy the job, and remain productive by getting their energy out through exercise.
Our beautiful Baltic birch wall panels will become the new centerpiece of your gym, rec room, home workout area, or office space.
Fully customizable aesthetic to match the look and feel of your home or business.
Reset climbs at your leisure to provide novel challenges and terrain.
Enjoy unlimited use and easy access to indoor climbing all year round.
We can fully outfit your climbing area with high-quality holds and Habit flooring from Proxy Climbing.
Customizations and Offerings
Our dedicated design team has experience working with architects and interior designers to best optimize your space with a wealth of options to seamlessly integrate walls into the surrounding space.
We offer hardwood inlays of all types and coverage, along with any color accent.
Choose from a variety of geometric patterns, wall curvatures, hardwood curvatures, and accent walls.
Padded flooring is sleek, durable, and easy to clean.
Climbing walls can be constructed at any angle to allow for different challenges.
We include climbing holds from the 15+ brands we manufacture, and our expert route setters will set your initial problems with all the included hardware. You can reset the wall at any time for infinite new configurations and climbs!
Our partnership with Petzl makes it easy to equip your space with auto-belays, harnesses, ropes, and/or climbing shoes.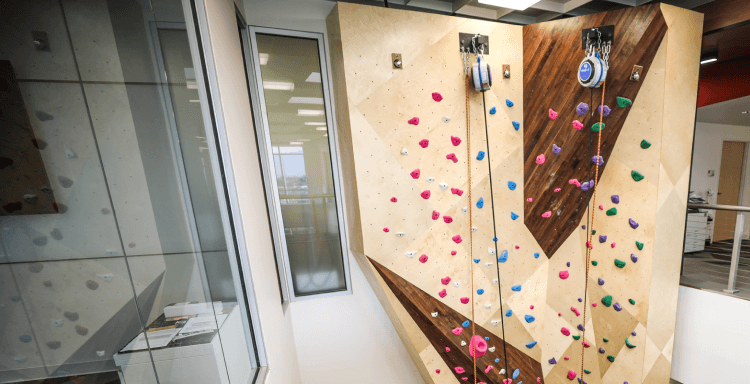 Get a custom quote for your climbing gym construction or consulting needs.
Contact us