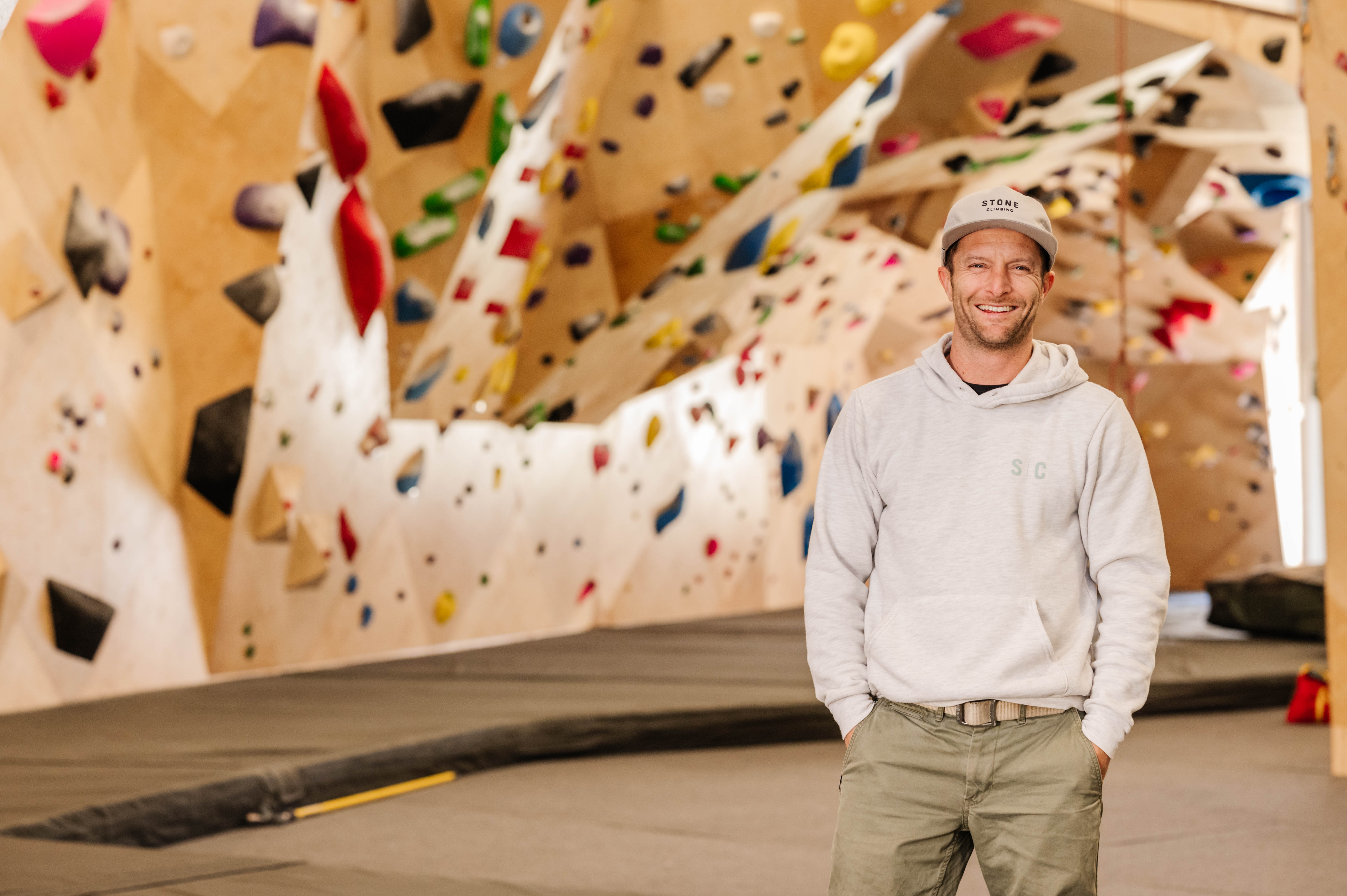 Stone Climbing's website greets you with a powerful statement.
Stone is a rock palace of stoke, filled with folks who love the outdoors. It is an epicenter of adventure and a place for those that aim to make the world better and suck the marrow out of life.
In chatting with the Florida gym owner, Eric Hires, it's clear that a strong value system runs deep. Stone Climbing cares about people before profit, places environmental sustainability at the forefront, keeps outdoor immersion and education as the focus, and respects climbing's history in the heart and mind.
Eric Hires is an entrepreneur at heart. At 19, taking inspiration from his uncle, Eric started a residential landscaping business. After that, he graduated to starting a video production company and from there, moved onward to owning a home repair service. Eric's values and passions are of the utmost importance to him. Selling out his video production services to massive corporations like McDonald's wasn't something that sat right with him, and home improvements were a bit too dull. In 2008, while attending Flagler College in St. Augustine, Florida, one of Eric's final projects was to create a mock business venture with a group. Eric convinced his teammates that a climbing gym was the ideal business for this project. He and his team drafted and presented their plan to a team of investors who were grading the final projects. Their team won handily and the seed of inspiration was planted.
After years of consideration and a couple unfulfilling business ventures, Eric decided it was time to commit to making his dream a reality. As Eric tells us, Stone Climbing was, in part, a selfish endeavor. He loved the town of St. Augustine and knew he wanted to stick around for a while. He also loved climbing, and, at the time, there were no gyms in town to scratch his climbing itch.
"It was a no-brainer if it could support me financially and give back,' he said. "The unselfish part was that I wanted to share climbing with my community here and bring it to this town because in my gut I knew that there were a lot of people here that would connect with and benefit from it."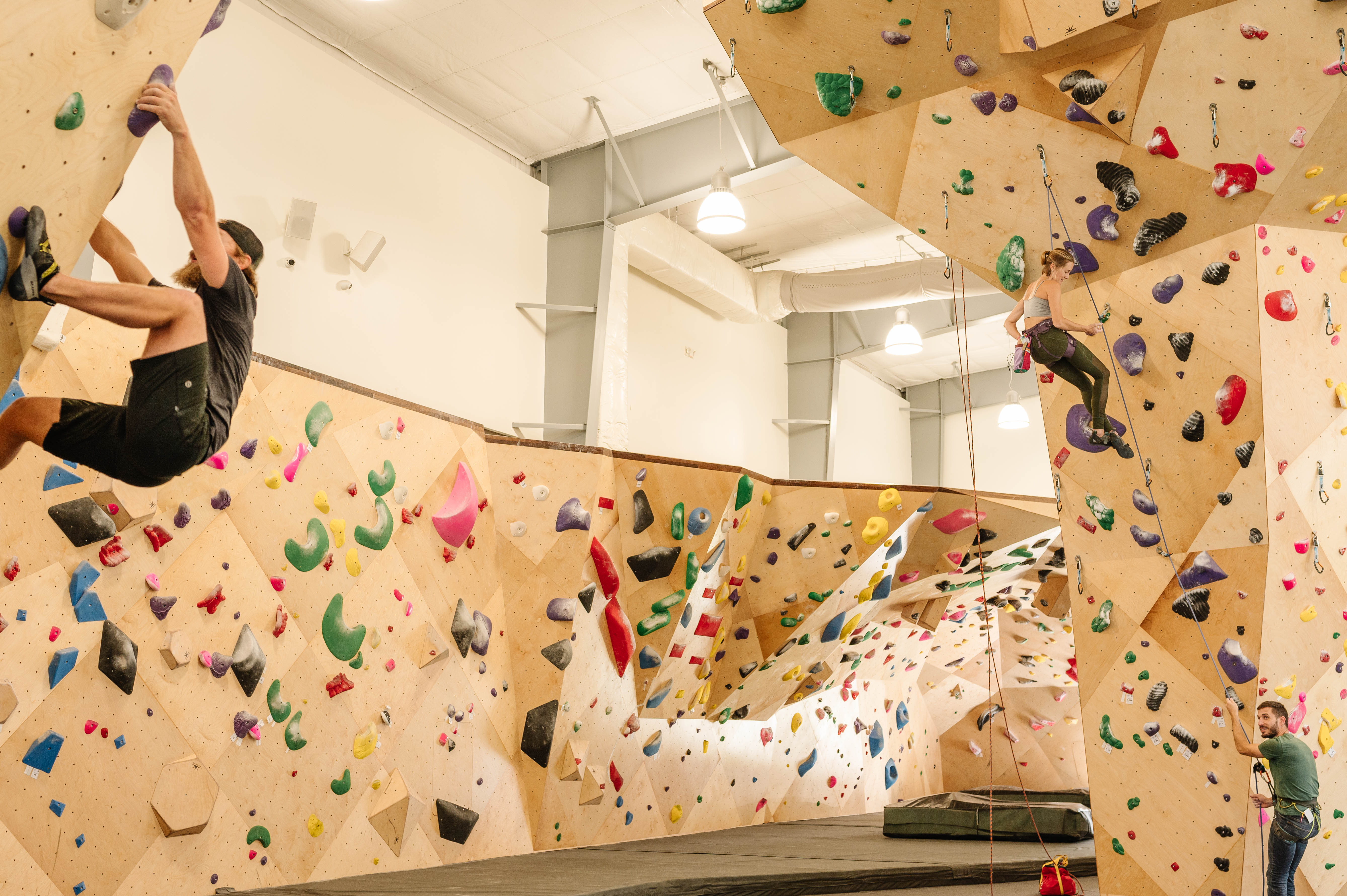 Eric's ambition for Stone reaches beyond simply giving the community a cool new avenue for fitness.
"A big vision we have with Stone, and it's kind of lofty... We think that we can change the world through Stone. I read something in a book [E-Myth by Michael E. Gerber] that said, "The best chance you have to change the world is to create within your business the world that you want to see, and people will see that and hopefully see that it works.' So, we are doing an experiment here of a business model that puts people and the planet before profit. [We're] trying to be a good example of that and hopefully, other people will see that." he said.
As such, Eric and Stone Climbing dedicate themselves to educating climbers on outdoor climbing ethics and preservation principles.
"I feel like it's my responsibility as a gym owner to educate those new climbers of the history and ethics of climbing and climbers and how to behave at the crag, how to leave no trace, how to be respectful, how to be safe," he said. "I think all of these things are important and it's our responsibility as gym owners and gym creators to protect climbing and protect the sport and especially the outdoor places that we love to go climb."
Stone Climbing donates 1% of its gross sales to non-profits focused on preserving the outdoors. Furthermore, Stone Climbing organizes outdoor trips for its patrons specifically for this reason and offers anchor-building classes to promote outdoor climbing safety.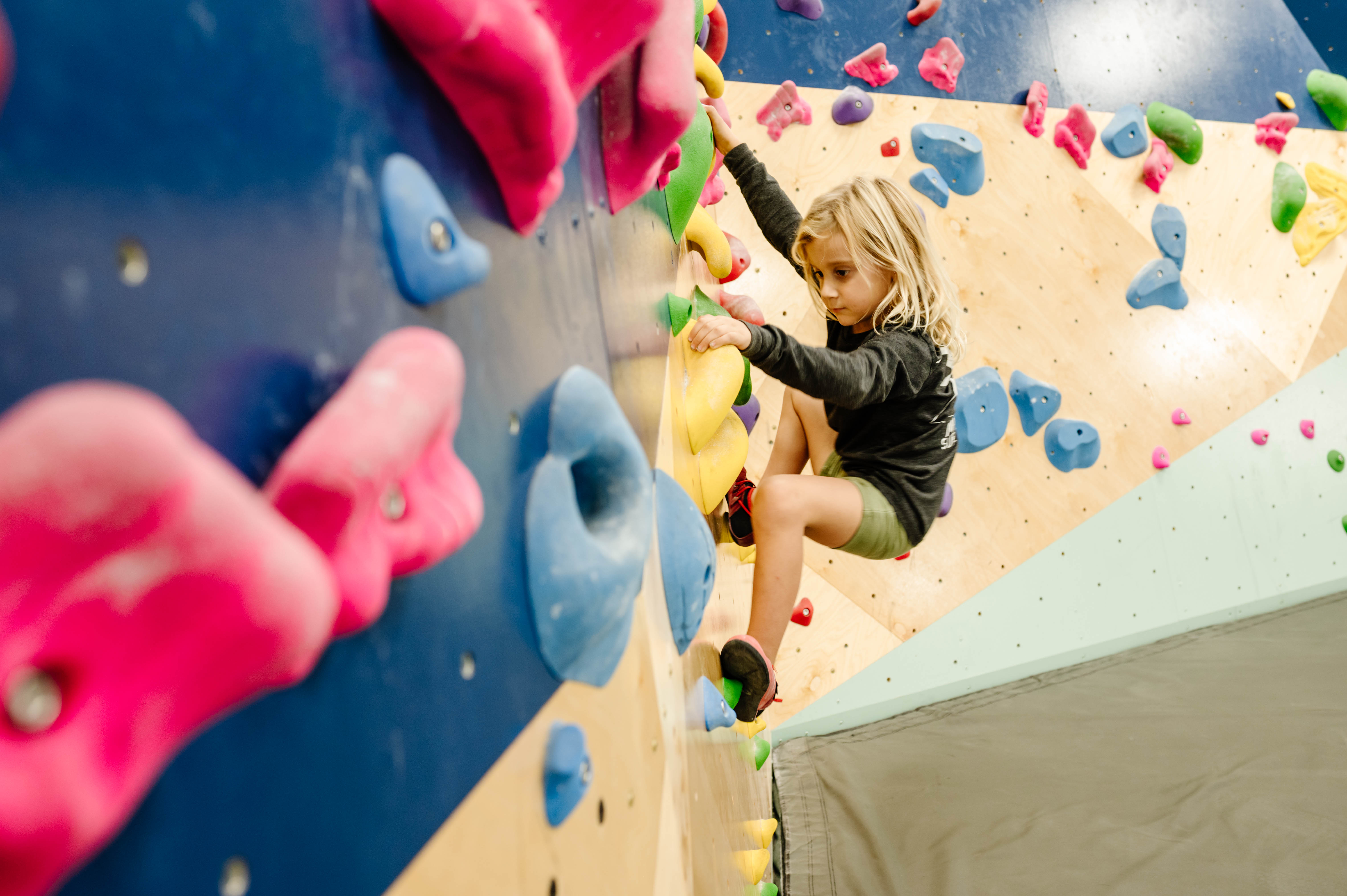 Why did Eric trust Vertical Solutions to make his dream since 2008 a reality?
"I did a lot of research on all the major climbing wall manufacturers, from Walltopia to Eldo, Entre-Prises and Rockwerx, Delire... I probably talked to and corresponded with five or six of the companies and got quotes," he explained. To further his research, Eric made the five-hour drive to Rock Out Climbing Gym to test out the Vertical Solutions walls and chat with the owner, Ken Sheyka. Ken recommended our Business Development program, the cost of which rolls over and subtracts from the invoice when building with Vertical Solutions. Eric was sold on this value.
In addition to the Business Development package, our iconic Baltic birch appearance was a key component in Eric's decision.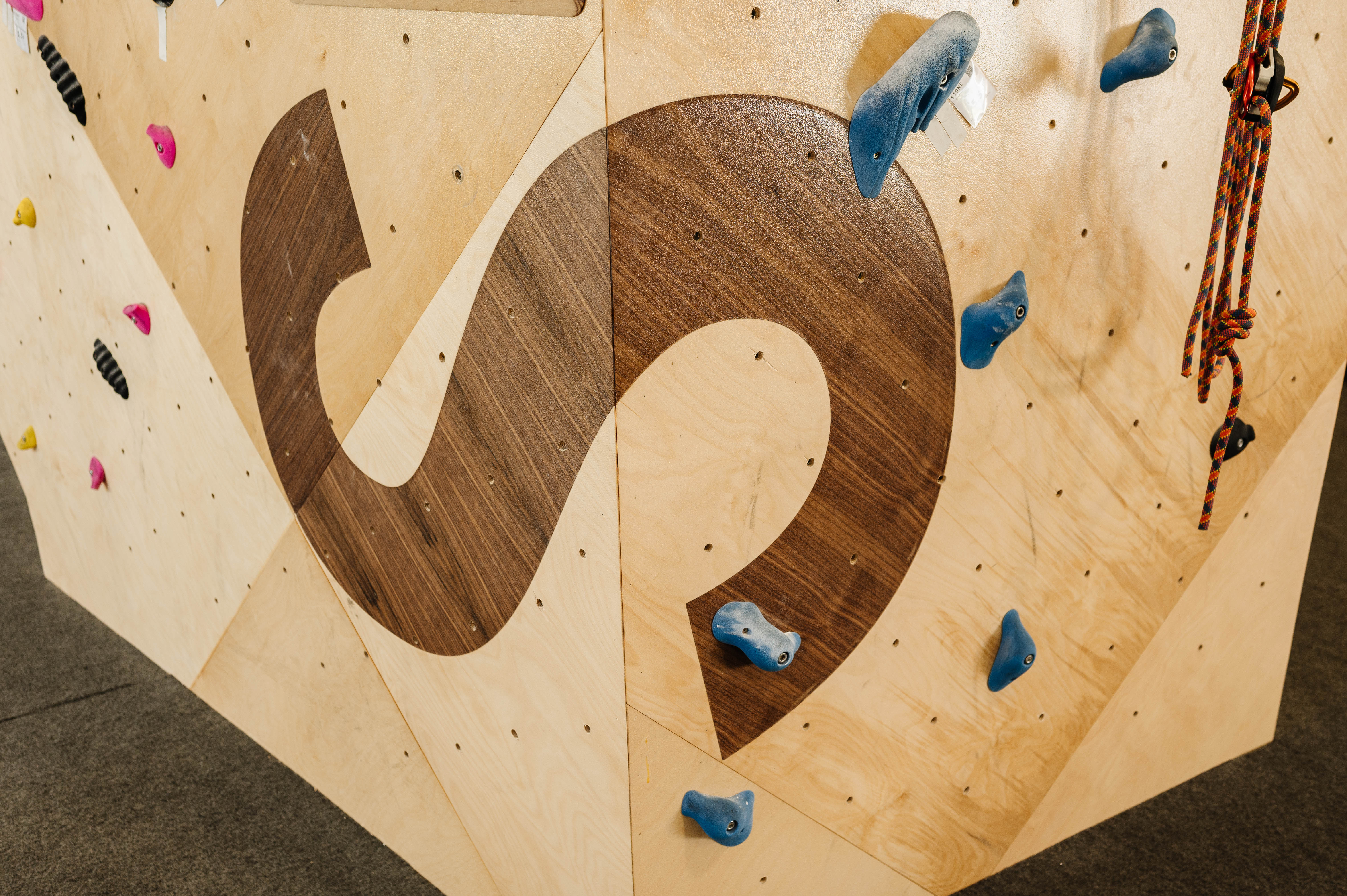 "The look of the walls was a big draw for me," he said. "We are very driven by aesthetics; I want everything to look nice and clean. I love the look of the wood grain and the natural look of Vertical Solutions."
The MLM walls we collaborated on with Eric are affectionately named things like the "Central Pillar of Frenzy," "Grom Grotto," and "Zen Wall." Thanks to our prefabrication process, we were able to complete the build for Stone's opening on September 12th in just under two months. In addition to providing an unparalleled climbing experience for members and guests, Stone Climbing also features state-of-the-art amenities and offerings such as yoga, a fully outfitted gear shop, training, hangout areas and workspaces, in-house physical training and therapy, and everyone's favorite, the Kookaburra Café, a local coffee chain.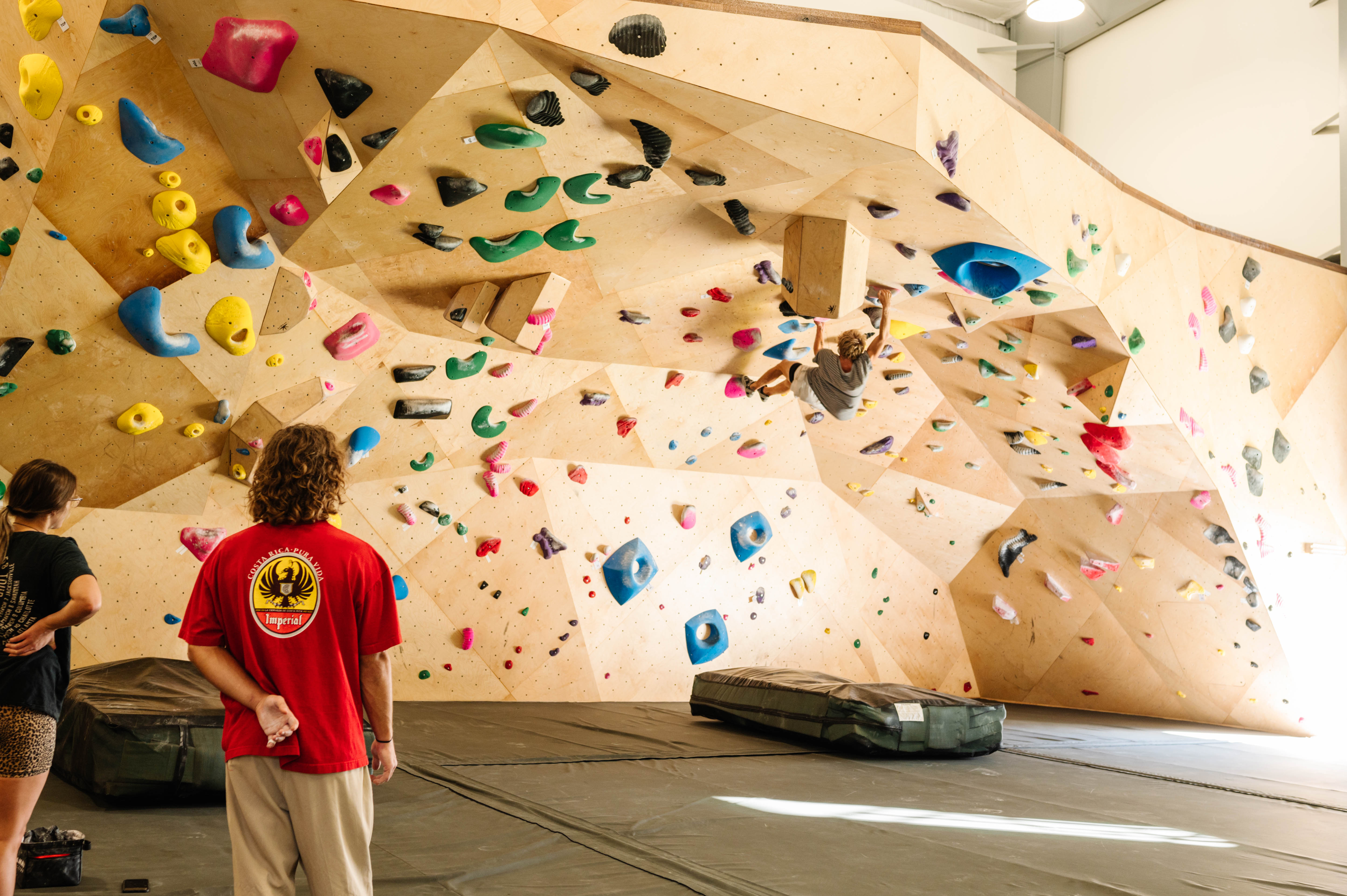 Eric also chose to outfit his gym with approximately 50% holds from Vertical Solutions.
"Another huge reason I went with Vertical Solutions was that it's a one-stop shop that packages it all together, and to get a $30K hold credit was huge. I'm really pumped on our holds. It's a good variety; we went with a lot of stuff that is based on southern sandstone because we get a lot of Rocktown and Horse Pens type sandstone around here." Sugarhouse Holds, our in-house hold company, specializes in holds that mimic the classic, comfortable hold types found around Utah, including varieties of desert sandstone. And as for the Habit Flooring by Vertical Solutions?
"[I am] super stoked on it. I haven't noticed any dead spots. I've taken some unexpected falls from near the top of the walls and felt fine," Eric said.
Our foam and ballistic nylon coverings are the most cleanable, longest lasting, and highest quality flooring option on the market.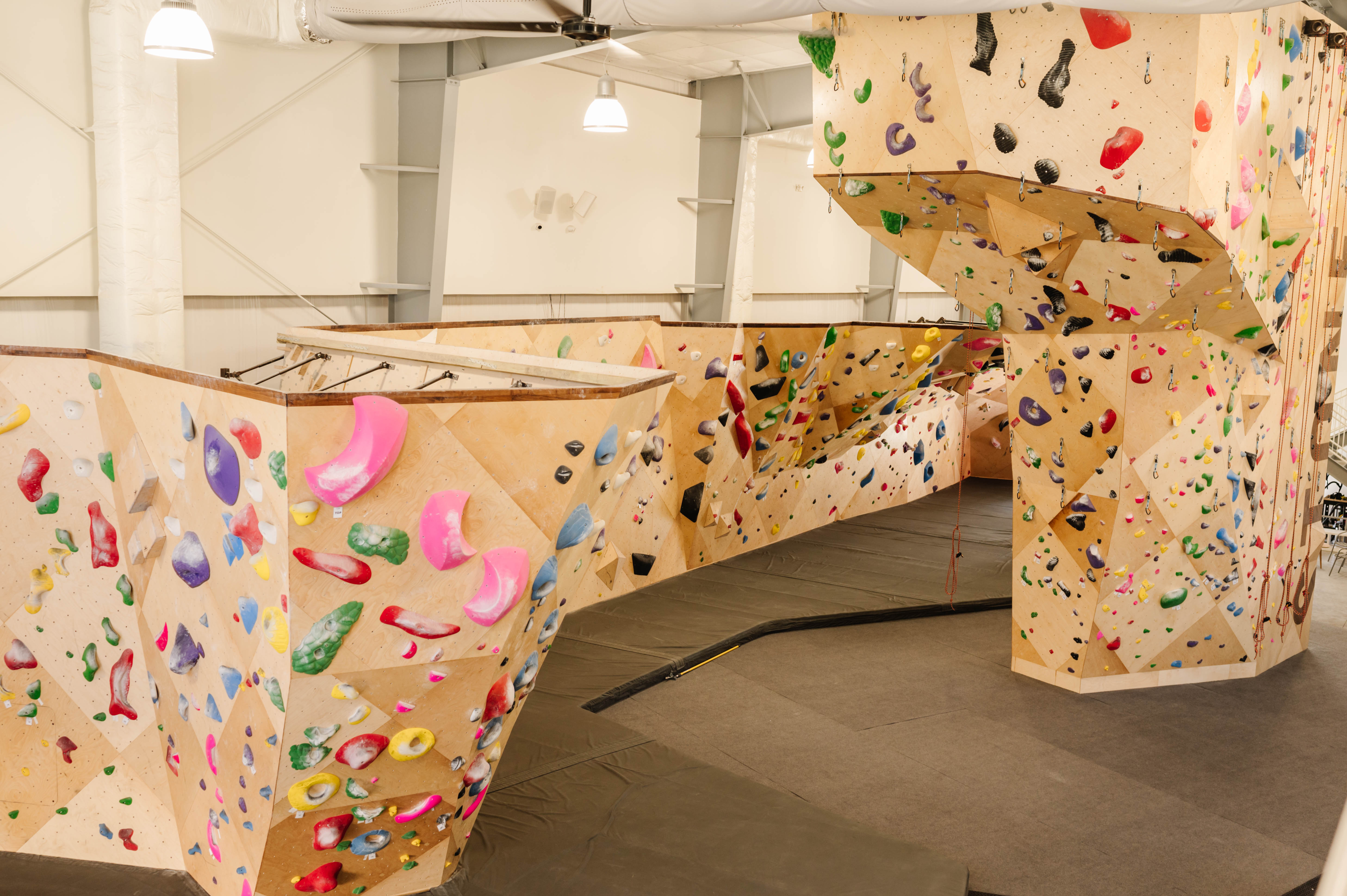 If you find yourself in flat Florida, be certain to stop by Stone Climbing to see the fruits of Eric's labor! It was a pleasure working with him on this project, and we're looking forward to seeing Stone Climbing's continued success.