Flooring Process and Warranty

Professional installation and the utmost quality
3D modeled, custom tailored, and professionally installed with speed, our flooring installation process could not be more streamlined. Our warranty policy guarantees your satisfaction and speaks to our commitment to quality.
Flooring Design and Construction
After contacting us, we'll discuss your flooring needs and provide a recommendation that's tailored to your facility. If a sketch or design is not available, one of our designers can travel to your location to take a precise 3D scan of your entire facility. This technology allows us to design a model for approval and ensures one of the most accurate fitting systems available.
Once the 3D model is made and the final pad design is approved, it's sent into production at our Salt Lake City, Utah sewing facility. Producing our products in-house allows us to maintain a high level of quality and offer a genuinely custom-made product.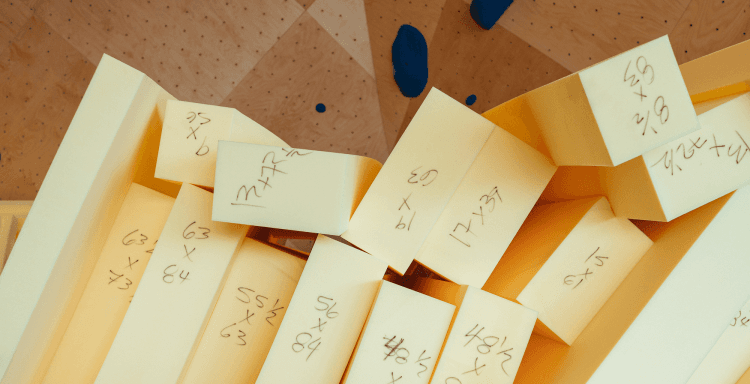 Flooring Installation
Once your system is produced at our Salt Lake City headquarters, it will be shipped and assembled on-site with the help of our skilled installation team. Specialty cutting and gluing equipment is used to ensure a perfect fit with your new Habit Flooring system.
We manufacture our flooring systems to match the exact requirements of your space and never use prefabricated models. To ensure the highest quality installation for large projects, we provide on-site installation utilizing our expert staff members, who are intimately familiar with the process and have installed similar systems countless times.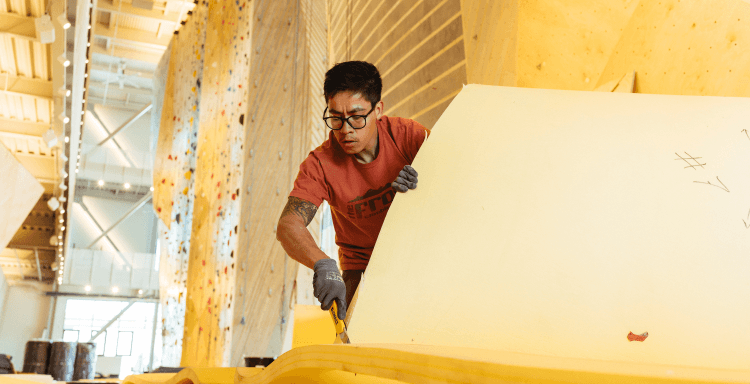 Habit Flooring for New Construction
The benefits of installing a Habit Flooring system during new gym construction are endless. Using 3D models of your gym, we design your bouldering or route climbing flooring to work in unison with the walls, training equipment, and retail space. Including us as early as possible in your project will yield the best results for a cohesive space.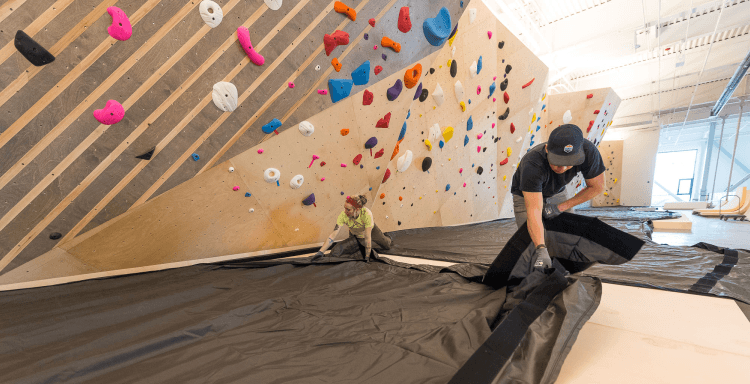 Habit Flooring to Replace Existing Floors
Old-school gym flooring systems, especially those made from vinyl, wear out frequently. If your flooring system is worn out and in need of replacement, Habit Flooring has you covered. We'll meet you on-site, take a 3D scan of your space, and ensure each pad is custom manufactured for the perfect fit. On a case-by-case basis, we can discuss options that include keeping aspects of your current system while integrating new materials in targeted areas.
Our materials are only the highest quality. Utilizing 1680D ballistic nylon, your pad surface will be extremely puncture and tear resistant, waterproof, and cleanable. The foam we source is the densest on the market, meaning it will require less frequent replacement and will be less likely to cause injuries.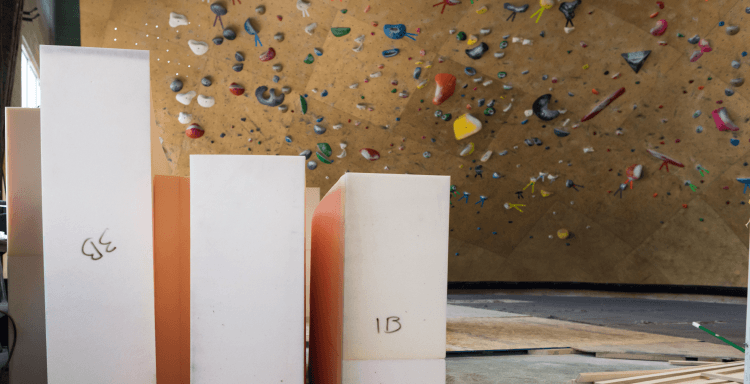 Flooring Warranty
We offer an industry-leading two-year warranty on top-shell fabric through our repair and replacement program. If you run into any issues with your flooring, we'll expedite your repair or replacement using a saved digital model of your flooring system. This process results in significantly reduced section downtime so your climbers can continue enjoying the affected space in a matter of days. We believe no one else in the industry can match the speed at which we can replace a flooring section cover.

Get a custom quote for your climbing gym construction or consulting needs.
Contact us