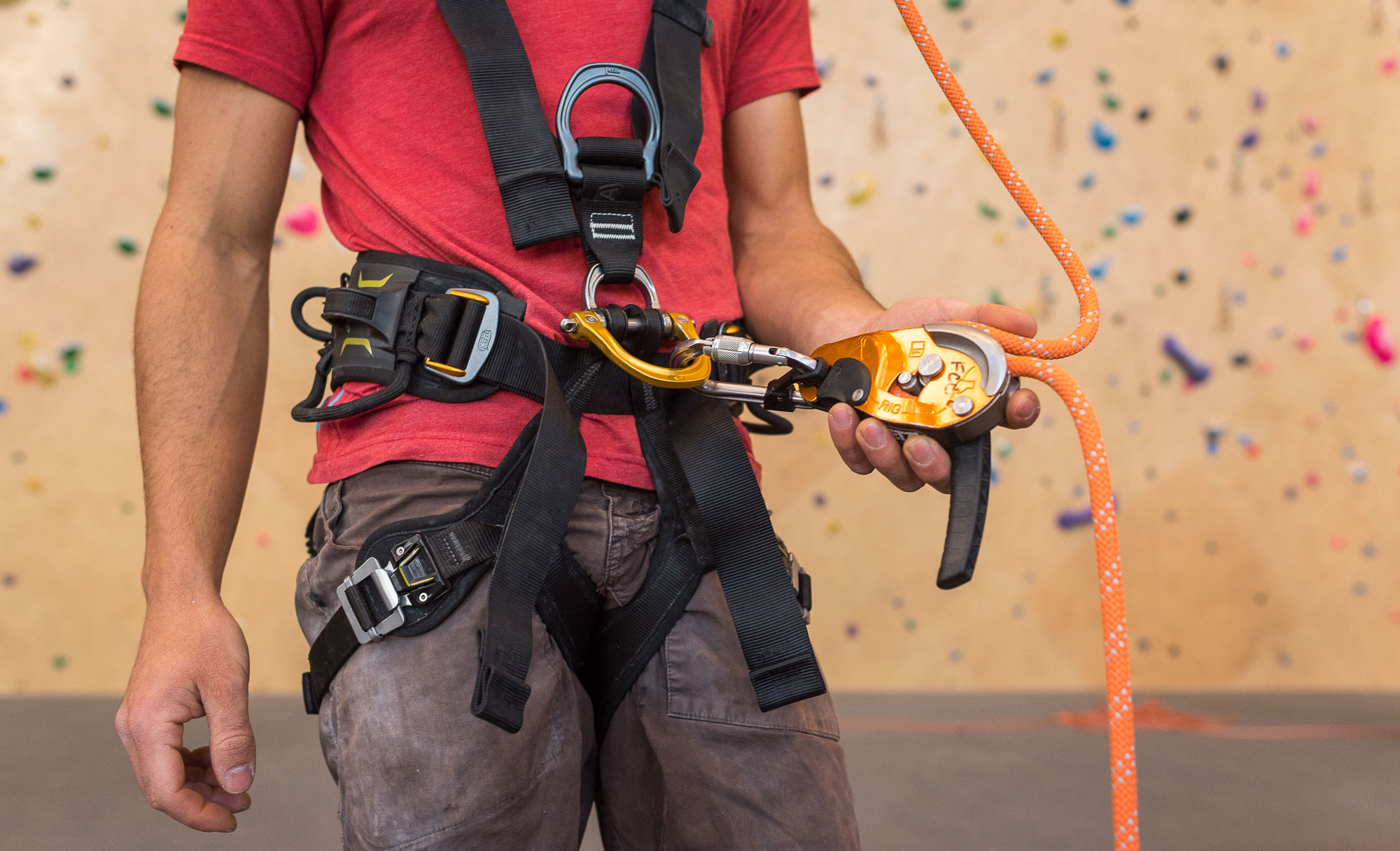 The quality of a gym's routestting can make or break its popularity. Set too difficult and no one will be able to climb; set too easy and people will become disinterested.
Additionally, safety while working at height is of utmost importance. With a plethora of rigging options and gear on the market, it's imperative that gym owners and head routesetters choose wisely to help mitigate risk while on the job.
With this in mind, we sat down with The Front Climbing Club's Head Routesetter Eddie Morillas to talk routesetting, working at height and what it's like to set for multiple gyms with a new location opening on the horizon.
Vertical Solutions: How long have you been setting for?
Eddie Morillas: I've been setting for 10 years now.
What certifications do you have?
I'm a Level 3 certified routesetter through USA Climbing.
I'm also a CWA competent person, meaning I went through Petzl's training program and go through the program every two years. I actually just did one recently, about two weeks ago.
Do you have a favorite hold brand?
I'm super excited that Blocz and Bluepill are coming to Proxy Climbing! Capital has some amazing shapes that have been around forever, too.
Formula is a newer company that's coming out with really cool stuff. And I also love Flathold and Cheeta.
What are some of your responsibilities as head routesetter at The Front?
I spend a lot of time talking to our lawyer, purchasing holds and managing the team. I keep the team psyched and try to coordinate what they want to set the most.
Other things include hiring setters, dealing with competitions, training camps for youth teams and even little tasks like washing holds and organizing the hold room to keep everything efficient.
Most of what I do now is bringing our new gym online. There's a lot of things required to make the setting crew work efficiently and to having all that stuff prepped so we can hit the ground running when South Main opens.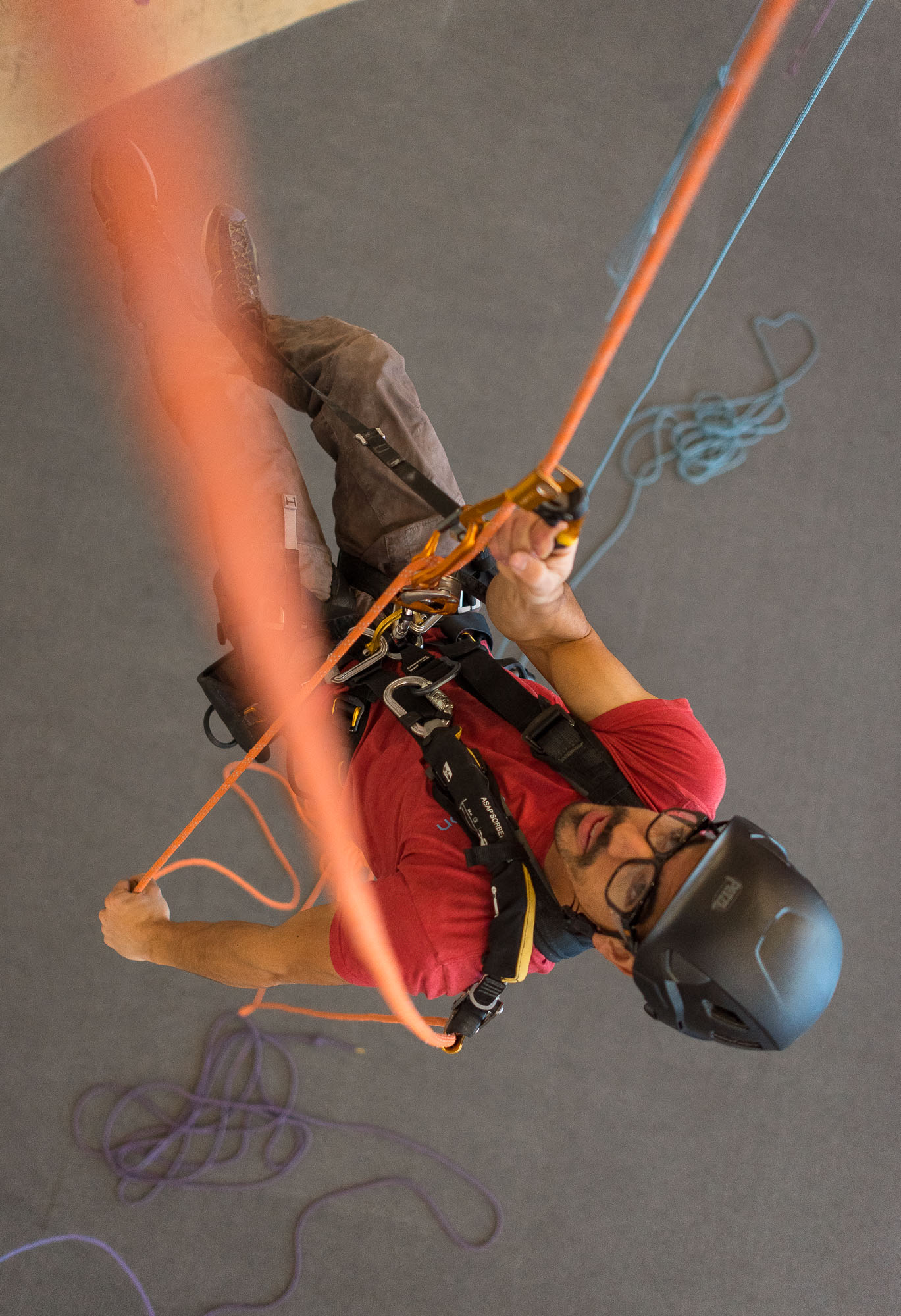 How do you decide which holds and brands to purchase when placing orders?
I'm always looking for new products. But also making sure that we have enough of certain styles. For example, we need to have enough jugs so that we're able to set a proper distribution of easier routes across the gyms. I also have to make sure that each hold color has a good selection and variety of holds.
Describe your process for working at height while setting routes on ropes.
The team tries to spend as little time as possible on the rope. The more we can do on the ground, the better. Once everything is prepped, putting holds on the wall goes quickly. One thing I always try to teach new setters is to take care of everything on the way up: Put footholds on, set screw hands, chalk holds for forerunning, etc. This way things aren't forgotten, and you don't have to go up and down the wall a bunch of extra times.
Describe how you manage the team to maintain best practices while working at height.
If setters come here from another gym with a different method they've used in the past, we tell them to throw that out the door and pick up our system, but breaking bad habits isn't something I've had to deal with yet. I encourage self-policing while also looking out for one another – it helps to use gear that is as simple as possible. We also only have one gear setup that we use, which helps mitigate risk.
Which gear do you use that you wouldn't be able to work without?
Petzl's Rig has become the centerpiece of our routesetting team. Ascenders are crucial and having a podium or belay seat takes a lot of physical toll off the body. Adding another layer of security is really reassuring, too, so I use Petzl's ASAP as a backup line.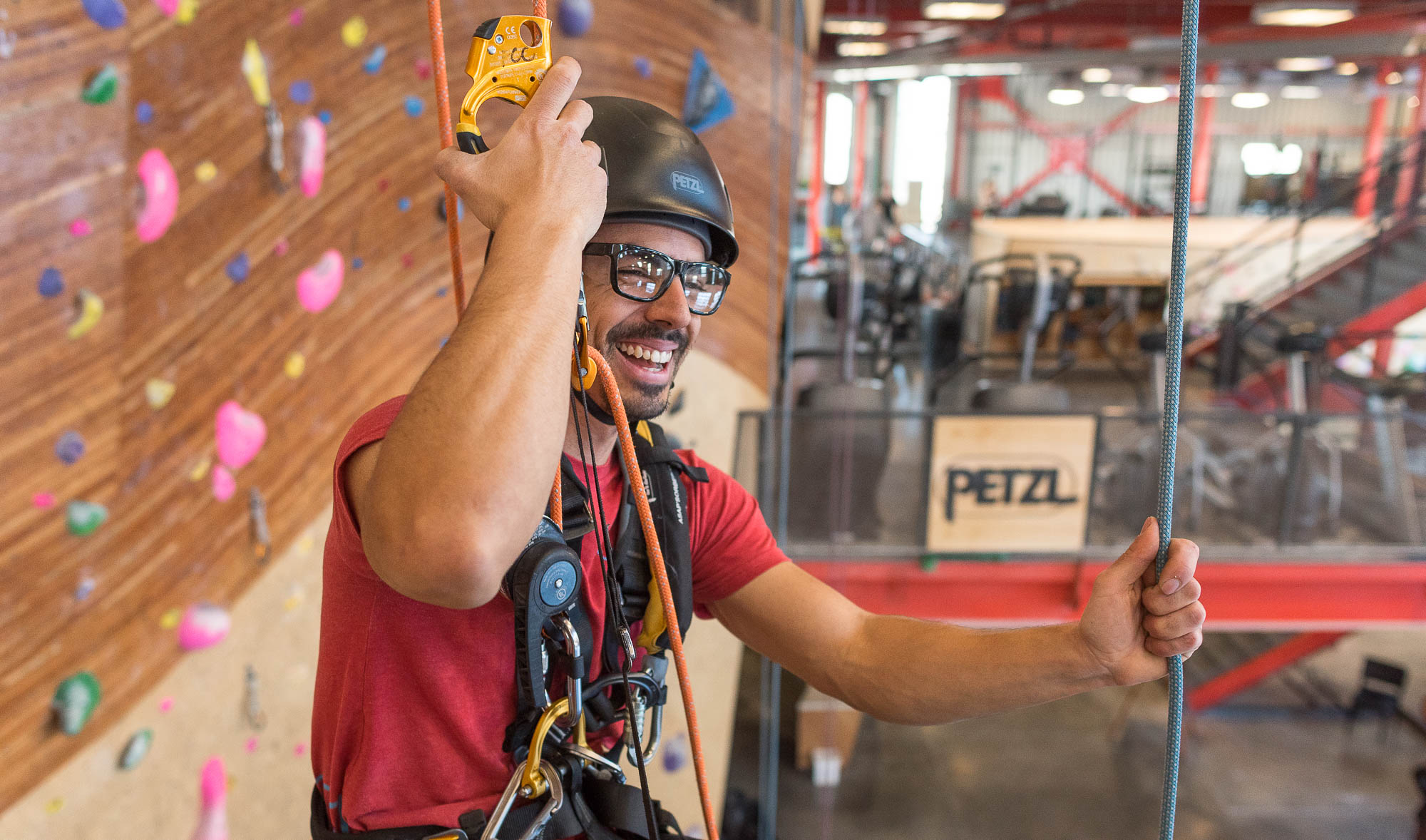 Describe your experience training with and learning from Petzl.
For me, it reassured me that the way we're doing things at The Front are pretty legit. It also introduced me to new gear and new ways of thinking about certain systems, which helped build my repertoire of situations I can handle. And it helped me start to see gear differently, as tools that can be adapted to deal with various situations differently.
Describe the process of prepping holds for a new ground-up facility like The Front's South Main location.
It starts with trying to nail down what the grade distribution will look like initially. Since there's a lot of high-density housing near the location, we're hoping to attract a lot of new clientele. I shifted a lot of the hold budget to buying jugs and easier-to-grab holds to introduce people to climbing and not just immediately shut them down when they walk in the door. I don't want the facility to be a strictly hardman gym, although there will definitely be lots of climbs for those folks as well!
Also, I have to take into consideration the wall angles. In that space we have a really steep second-floor boulder, which requires a certain kind of hold. There's also a lot of slab terrain, so having diversity is important. And then, obviously, I needed to nail down the density of routes, then needed to decide how many colors we'd go with.
What's your schedule like for putting up new routes at different locations?
It's something I'm still trying to work out. Right now, we have boulders between Salt Lake and Ogden on a 5-week rotation. Routes are on a 10-week rotation and in Ogden they rotate every 8 weeks.
It's definitely one of the main challenges. Each week is about allocating staff to set to their strengths while also balancing what needs to be set and managing workloads. If it happens that we're setting both cave sections in Salt Lake and Ogden, everyone will be physically dead. So, I try to schedule them so they're always setting what gets them most psyched.
Also, planning for events and filling the gym back in after a competition is always important.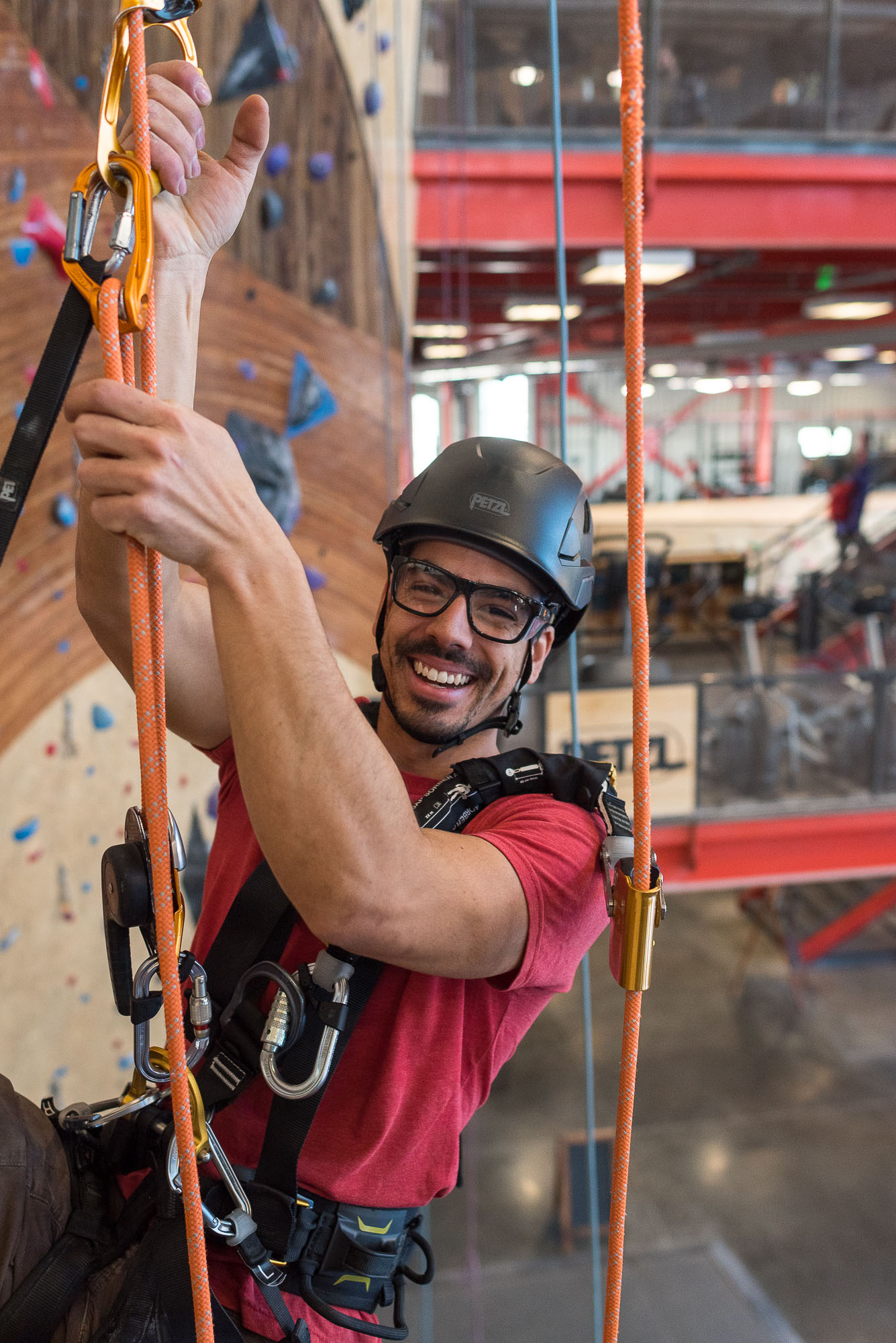 _This interview has been edited for brevity and grammar. _