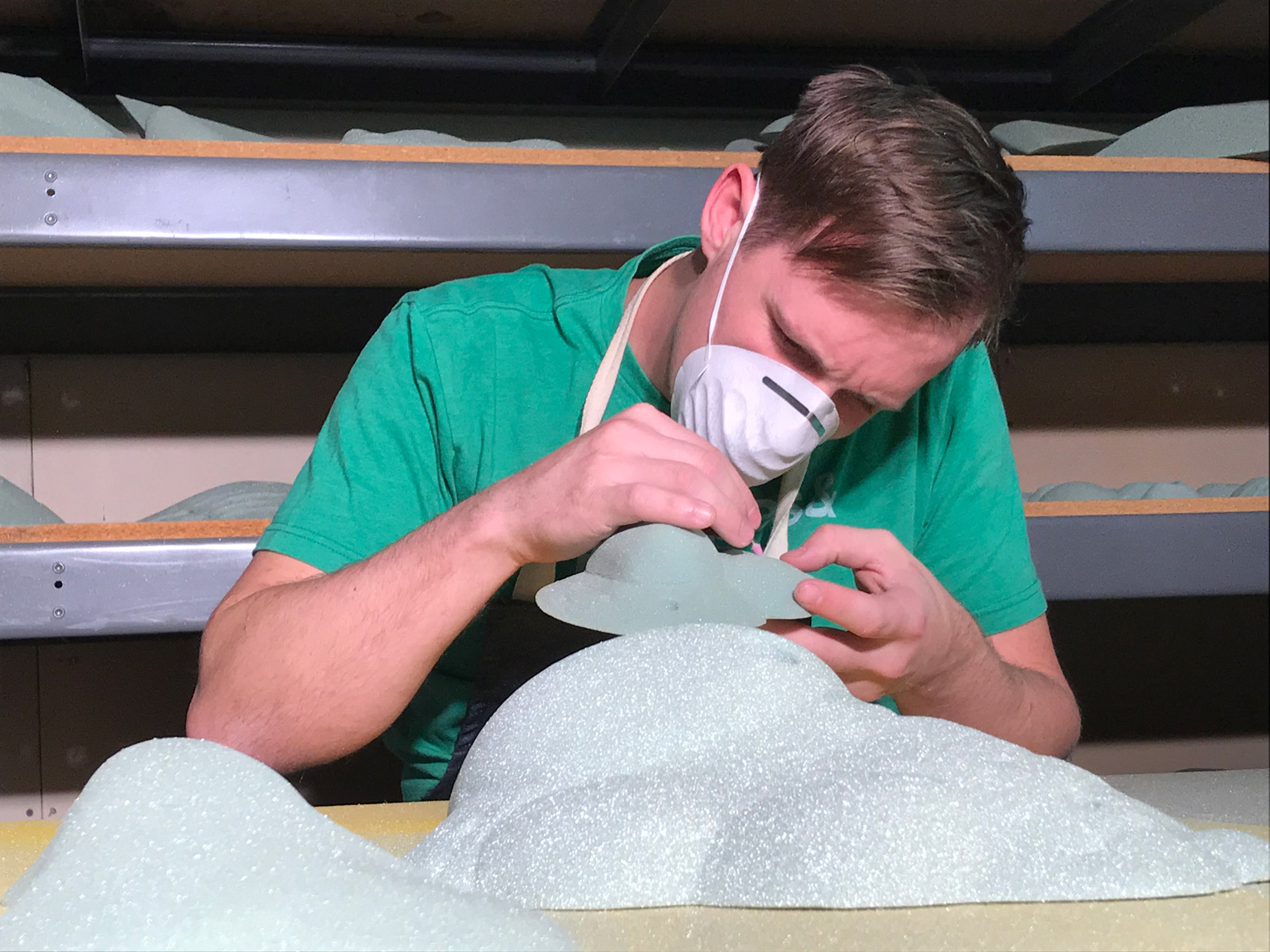 In 2018, Dustin Buckthal founded Sugarhouse Holds, an indoor-climbing hold production company built in Utah, inspired by Utah and on a mission to spread the love for Utah climbing throughout the climbing community. Being one of the more geologically diverse states in America, it's hard to blame him.
In order to help spread Utah climbing adoration, Dustin searched high and low for someone capable enough to execute on his mission. Which leads to Kegan Minock, the shaper behind Sugarhouse Holds (a Vertical Solutions subdivision).
What began as a natural progression from climber and routesetter, Kegan began shaping holds in 2014. Since then, he has sold his shapes to several companies and is now the head shaper at Sugarhouse.
We sat down with Kegan to discuss his life as a climber, routesetter and now, shaper.
Vertical Solutions: Where were you born and raised?
Kegan Minock: I was born in Detroit, Michigan, but moved to Colorado when I was 14. First, I lived in Denver, but I've been living in Colorado Springs for the last nine years. What I love about Colorado Springs, is that, like Salt Lake City, there are so many cool areas you can get to if you're just willing to drive 45 minutes.
When did you start climbing?
I started in Detroit. My family joined a Lifetime Fitness and my dad told my brother and I that we had to take a class. So, my brother chose climbing and I chose basketball. But our schedules overlapped, and I'd end up spending the last 15 minutes of his class watching him climb. Since I'm competitive, I thought I could do it too. So, I started climbing on my 12th birthday.
Do you remember your first outdoor climbing experience?
There was one place to climb an hour and a half away from our house, in Michigan, called Grand Ledge. It was really small, but we were super psyched because it was the only place to really climb outside. It's a 30-foot sandstone cliff, but you can't lead on it because it's so chossy.
But I jumped into comps as soon as I started climbing. At the time it was a small circuit, not even affiliated with PCA or USA Climbing. After I moved to Colorado when I was 14, I got into the USA Climbing circuit and in college I competed in the collegiate series at nationals and open nationals for a few years.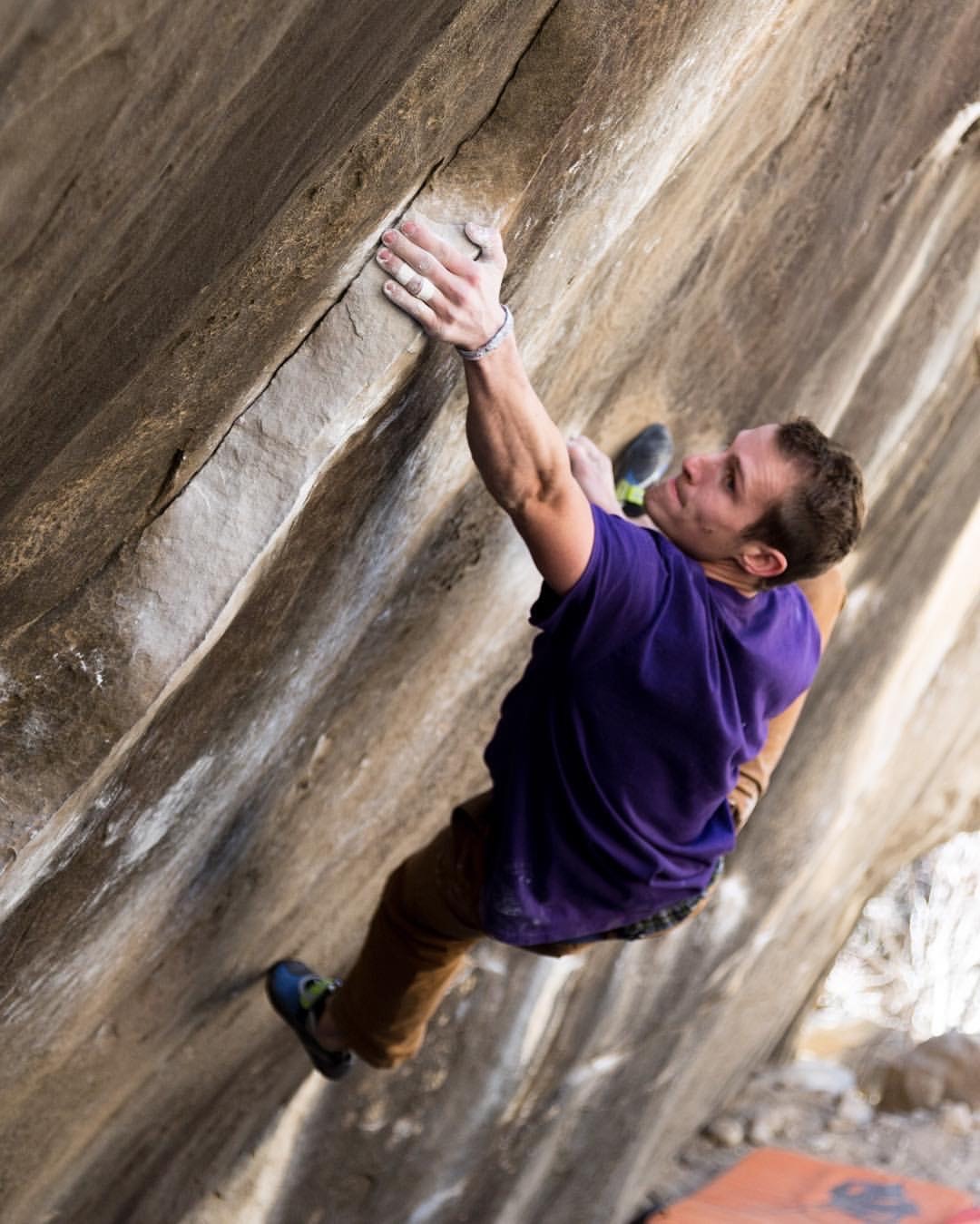 You definitely seem to be drawn more to bouldering. Why?
It's a very silly thing … but I'm scared to fall! I really don't like the sensation of falling on a sport route. I'm more than happy to fall off a boulder all day long, but something about being 40 or 50 feet up taking 10 or 15 footers terrifies me.
I also enjoy putting everything I have into five or six moves rather than remember 50 or 60 moves of a sport climb. And bouldering is a little more social, which has always been part of my thing.
When did you start routesetting?
My first job was coincidentally at a Lifetime Fitness. I was hired when I was 17 to be a coach and routesetter. I was just a strong, regular climber at Lifetime. So they basically just gave me a wrench and no training. I had to figure a lot out as I went along.
Since then, I've set for three commercial facilities and am now the head routesetter and general manager of Rock'n & Jam'n in Denver. I went through the USA Climbing routesetter program and have a Level 4 certification. And I've on the national routesetting crew for collegiate championships a few different years.
Describe what drew you to routesetting.
I've never been the strongest, but I've always been one of the strongest at gyms I've climbed at. So, it made sense when I needed challenges in indoor climbing – I needed to create harder problems for myself.
But it's also interesting to watch how different people perceive movement. When I thought I set something straightforward, people would interact with it and apparently perceive it differently. It's cool to put something on the wall and have a dozen people try it in a dozen different ways.
No matter how hard you climb, it always feels really cool to do a move like a drop knee or rose move or something. I want to be able to provide that for everyone, whether you're a V3 or V9 climber.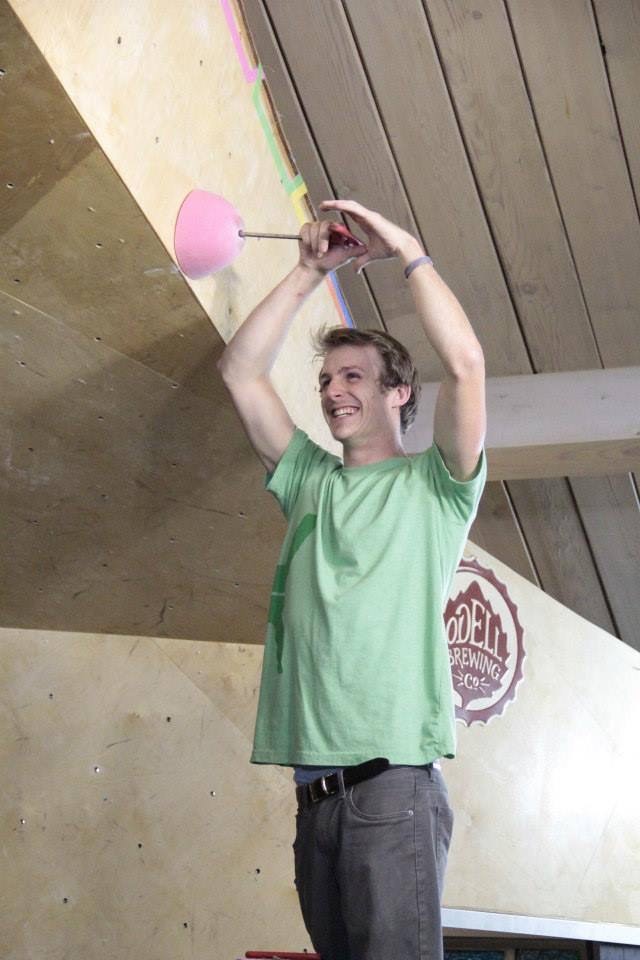 What led you to start shaping holds?
It was a domino effect. First, I was a climber. Then I created the thing to climb on, so I started setting. And after a while I thought it'd be cool to design the holds that I could set with and then climb on.
When I started, I was horrible. I didn't have anything to work off except a big chunk of foam and YouTube videos. But then I ran into a Colorado Springs legend, Kevin Brandford, who is an OG routesetter and shaper. He gave me pointers and I apprenticed under him, learning the intricacies of making a product people will want to climb on.
I probably shaped at least 500 holds until I got something where I thought a company could buy them. In September 2014, Chris Neal from Capital bought some from me.
I never intended shaping to be much of anything, but having Chris buy a set of holds from me and getting a paycheck from doing it made me realize that I could not just route set, but also make holds for a living. That purchase inspired me to get better and create exciting holds.
How do you make holds different for each company?
It's one of the hardest, most challenging things. Every company has a slightly different vision of what they want. At first, I would shape holds I was excited about, then auction them off. But now, every company wants something different. Being able to have a lot of communication with a company is huge, to figure out what they want out of specific sets.
But I'm almost always able to keep my vision, style and perspective while also fitting what they want. We always have to come to an agreement.
Like routesetting, do you ever watch people interact with your holds differently than you thought?
Yeah, it's interesting. Routesetters are always finding ways of using holds differently than I would have imagined them being used. Sure, there are holds that are simple and it's hard to use them in more than one way. But at the same time, there are pretty creative setters out there.
I always see it happening, though: Shapers intend the holds to be used a certain way, then the setter uses them in a different way, then the climber uses it differently, too!
But that's what I love about climbing – it's not cookie-cutter or uniform. There's no right way of doing it and there's more than one right answer. You can climb something using a certain beta, but I'll find something different.
Describe your process for shaping.
It's a lot of trial and error. A lot of times it starts with trolling Instagram, maybe not even for holds, but just looking for rock faces. That was the inspiration for Sugarhouse's Swell Series: I saw a photo of a beautiful sandstone cliff and it just stood out to me. I wanted to see if I could recreate it.
Other times I'll look at holds that were released a decade ago and breakdown what I like and don't like, then change those things. I draw a lot of inspiration from things done in the past. I just hope I'm improving it.
And then other times I'll be excited about a hold outside, or a client will. Let's say it's an interesting sloper on an outdoor boulder. I'll take that idea, then think how it might be cool to bring that theme indoors.
I've heard the saying: "No foam is wasted foam." Essentially, if you're shaping holds but have to scrap it, you didn't waste the foam. You just learned from what you didn't like.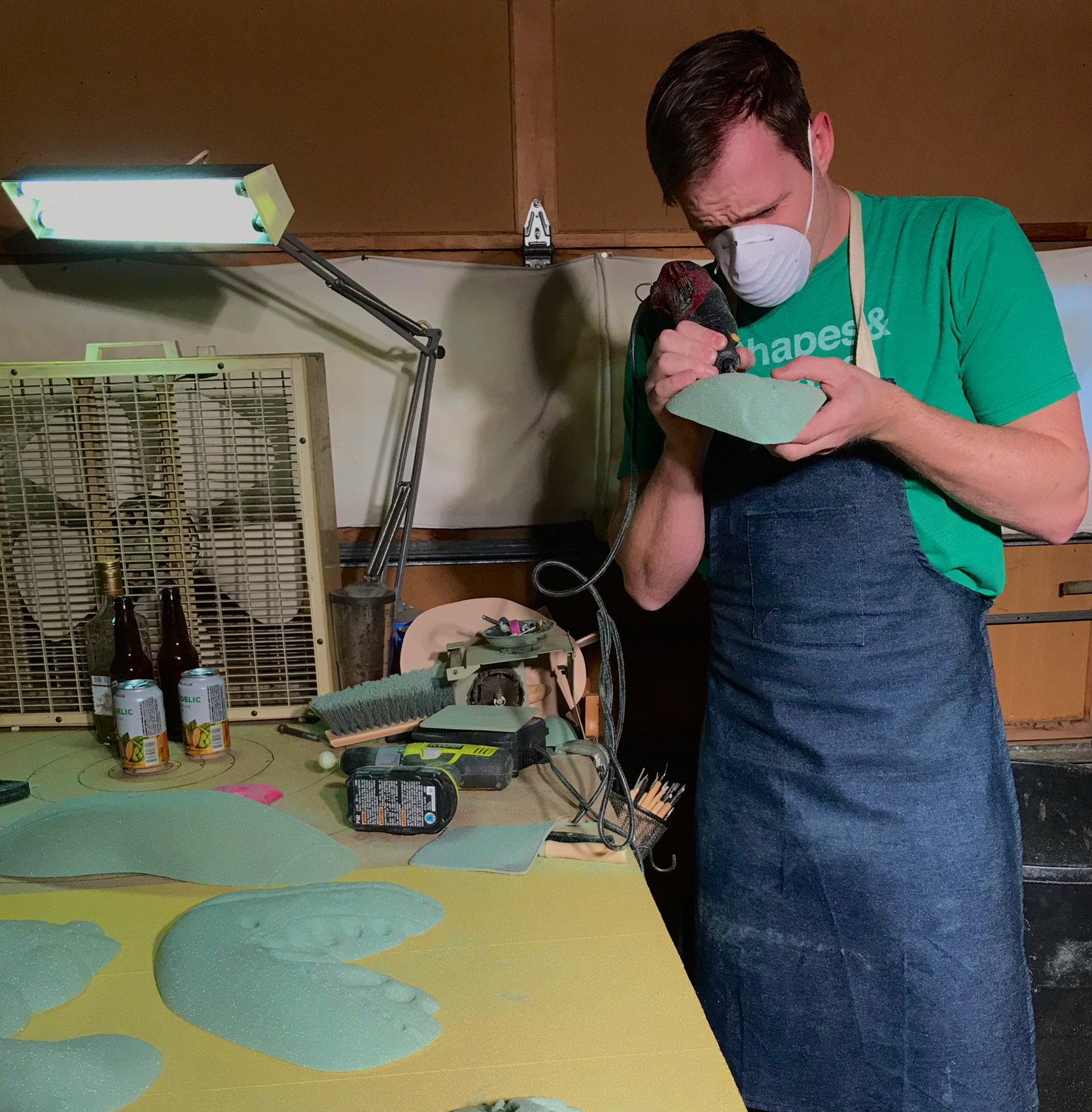 Shaping, like setting, is definitely an art. And every artist has his or her own style. How would you describe yours?
I like outdoor climbing. And I also love the idea of competition climbing, pure movement and pushing how people perceive movement. I like thinking of what would be cool to climb on in a comp and mix that with an outdoorsy feel.
I like being able to give customers a comfy, ergonomic hold while also putting a touch of the outdoors on it. Maybe I'll make a really comfy pinch, jug or sloper, but they'll have to have a cool sandstone texture or granite feel – something that makes it more interesting.
One of the things as a competition climber I was always drawn to were the aesthetics of a climb. When it was my turn to climb and I'd turn around and see the boulder for the first time … that moment for me was always awe. Even if I couldn't climb it, I'd usually really want to because of how it looked.
I want to shape holds that spark that same awe: It looks cool, so I want to climb it.
What contributes to this style?
I think what draws me to outdoor climbing is problem solving. I like how you can go to any boulder or route and there's probably a few different ways of doing it – it's not as straightforward as seeing all pink holds in a gym.
But I also like the "party trick" or parkour style of competition routesetting. Things have gotten a little further away from outdoor climbing, but I like combining those two aspects.
Hopefully with my holds a climber is able to do a little bit of both. I'm really trying to infuse the two disciplines of climbing into one.
What factors do you try to keep in mind while shaping?
First and foremost is comfort, which is different from grabbing a hold and just not liking it. I don't want people to get hurt when grabbing my holds. A lot of it is also figuring out how climbers will interact with the holds.
For example, I'm shaping a new Maple Cobbles line for Sugarhouse. The idea is for them to be cryptic and not straightforward when grabbing it. Maple is a crazy place, and we want to bring that indoors. There are arguments that indoor and outdoor climbing are different, but that doesn't mean there can't be grips in the gym that have multiple ways of grabbing them.
I've told everyone that in Maple, I've never had so much fun being bad at climbing. I haven't been challenged like that in a long time. You can't take things at face value there, and that's how this line will be.
How do you apply your experience as a routesetter and climber to your shaping?
A lot of it comes with climbing and setting as much as you can to figure out what you do and don't like. While climbing, there's a need to fill a void of shapes that don't exist, shapes I want to pull on.
Where's your favorite place to climb?
My favorite in Colorado is a hidden gem called Newman Creek. It has amazing granite unlike any other in the state and offers a unique climbing experience.
Overall, though, it's Joe's Valley.
So, your favorite type of rock is sandstone?
There's just something about sandstone that's so good, I don't think I could ever get tired of climbing on it. And specifically, at Joe's. Every time I go it feels completely new. I always notice a new texture or quality, ones I want to shape.
You've worked for many other hold companies and have recently started shaping for Sugarhouse. Why?
I like the idea of trying to bring the outdoor experience inside, which is what Sugarhouse is trying to do, so it seemed like the perfect fit. And, Proxy Productions has been kicking butt lately by molding awesome shapes in a timely fashion.
A lot of people buy from Aragon, but that doesn't mean Proxy isn't great. I hold Proxy in the same regard as Aragon. I'm excited to have holds by Proxy because I know they'll be something I'll be excited to bolt on the wall and climb on. I'm really excited to be working with Sugarhouse and I'm excited about everything they're doing. I'm psyched to help grow the brand.
This interview has been edited for grammar and brevity.