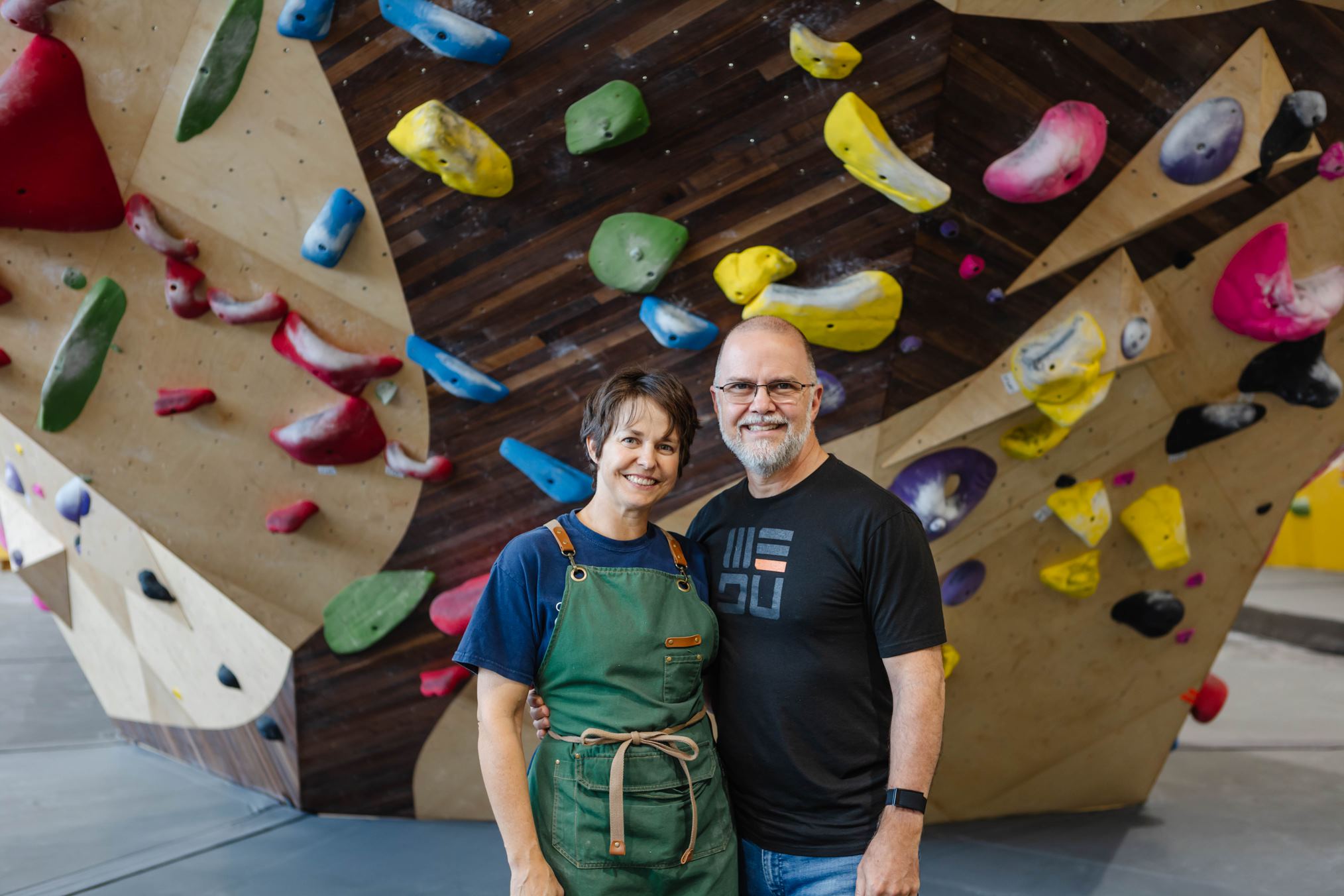 After raising and homeschooling seven children together, Doug Johnson and his wife, Teri, raised something else this past year: a business. Located in the historic Judson Mill of Greenville, South Carolina, Doug and Teri's new climbing gym, BlocHaven, is a 25,000 square-foot bouldering gym that includes a yoga studio, fitness equipment, retail shop, and café.
The Johnson family has not always been local to Greenville. The family was introduced to climbing eight or nine years ago while living in Washington, D.C.
"The house we had bought had a three-story treehouse in the backyard that had a climbing wall up the backside of it. I wouldn't let the kids on because I didn't know anything about it," Doug told us.
Shortly after moving in, the family visited a local climbing gym to familiarize themselves with the activity.
"After we did that, we started all climbing on it and setting little things on it and it became a big part of our family," Doug said.
The backyard climbing structure was clearly influential, as now Doug, Teri, and six of their seven kids climb.
"That that makes me the eighth best climber in the family!" Doug told us jokingly.
And what about the one child who doesn't climb? Doug said she loves to cook and has found her place in the BlocHaven community working in the in-gym BlocHaven Café.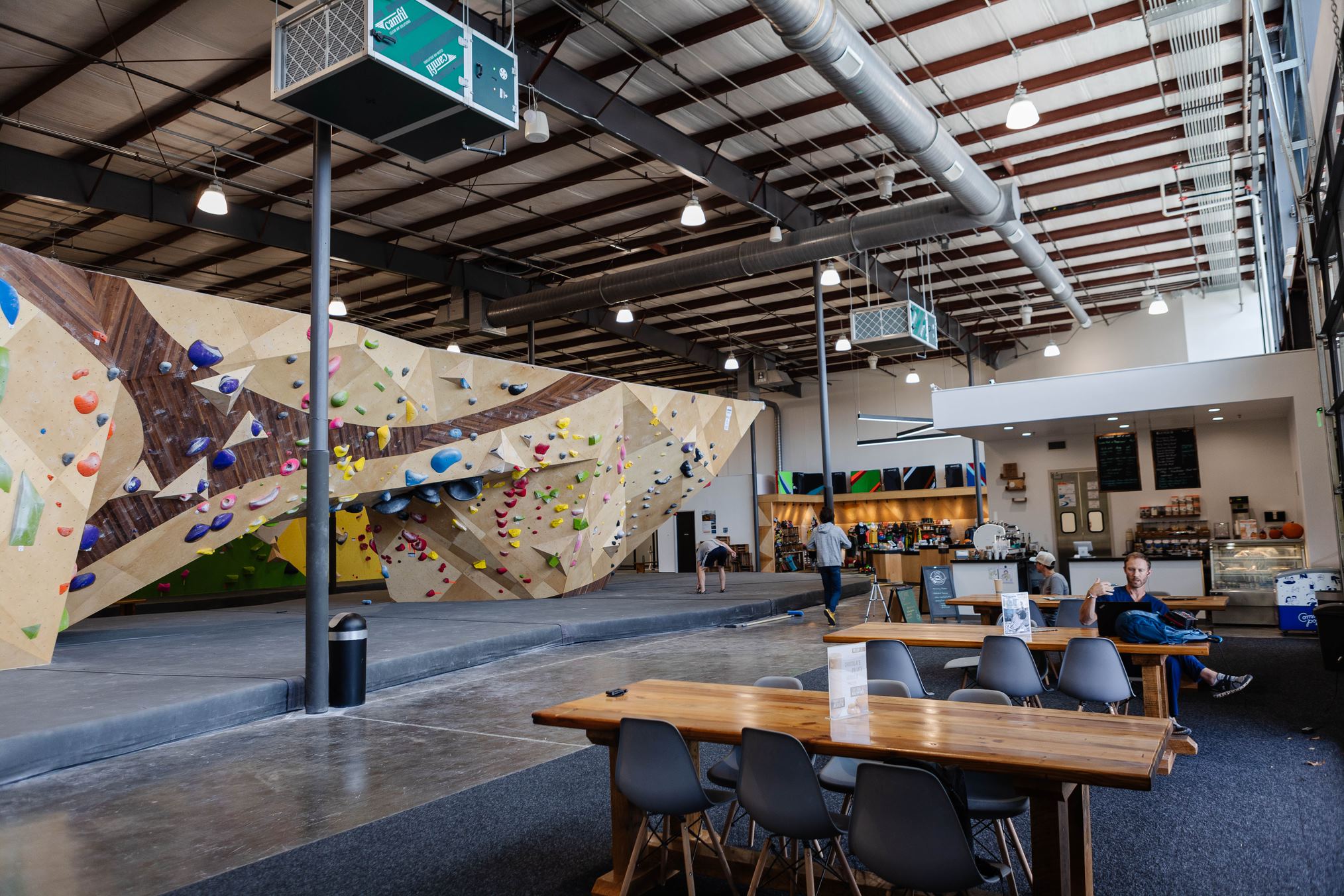 Doug's essential focus in developing BlocHaven was building a community and creating a space where a fitness lifestyle was accessible to everybody.
He didn't just want his family to feel at home in BlocHaven, he wanted BlocHaven to be a family home for all.
This is made evident by Doug's efforts to bond the disparate pieces and people of Greenville together through shared experience, activity, and comradery. This past November, for instance, BlocHaven held a community Friendsgiving dinner celebration. BlocBender, the gym's first climbing competition, successfully hosted 350 competitors, and BlocHaven's first-ever season of Boulder League drew more than 180 participants. In January, the gym hosted USA Climbing Youth Bouldering Regionals and they will be hosting a USA Climbing Collegiate event in March! It's safe to say South Carolina climbers have found their oasis, and the new climbers of Greenville have been converted into full-blown boulderers.
In addition to offering introductory classes to ensure climbing is welcoming and inclusive to those who may be less experienced, BlocHaven also holds classes such as "Movement and Stretching," "Athletes Nutrition," and "Gym to Crag." The gym has also implemented a member donation program, Share the Stoke, which enables members to add $1-5 to their monthly dues to enable underprivileged youth to climb. BlocHaven has ensured that youth are provided with trained mentors to ensure a smooth transition into the climbing community. "We didn't want hosted kids to be alone in the space with no idea what to do or how to engage with other members. This has been a very effective way to support building the next generation of climbers and has provided a needed outlet in a transitioning community," says Doug. Through Share the Stoke, BlocHaven has hosted over 20 kids and their program mentors each week!
One way BlocHaven sets itself apart from other facilities is through its emphasis on both space and cleanliness. There's a lot of space purposefully built into BlocHaven's design, and it's utilized by members and guests in a variety of ways.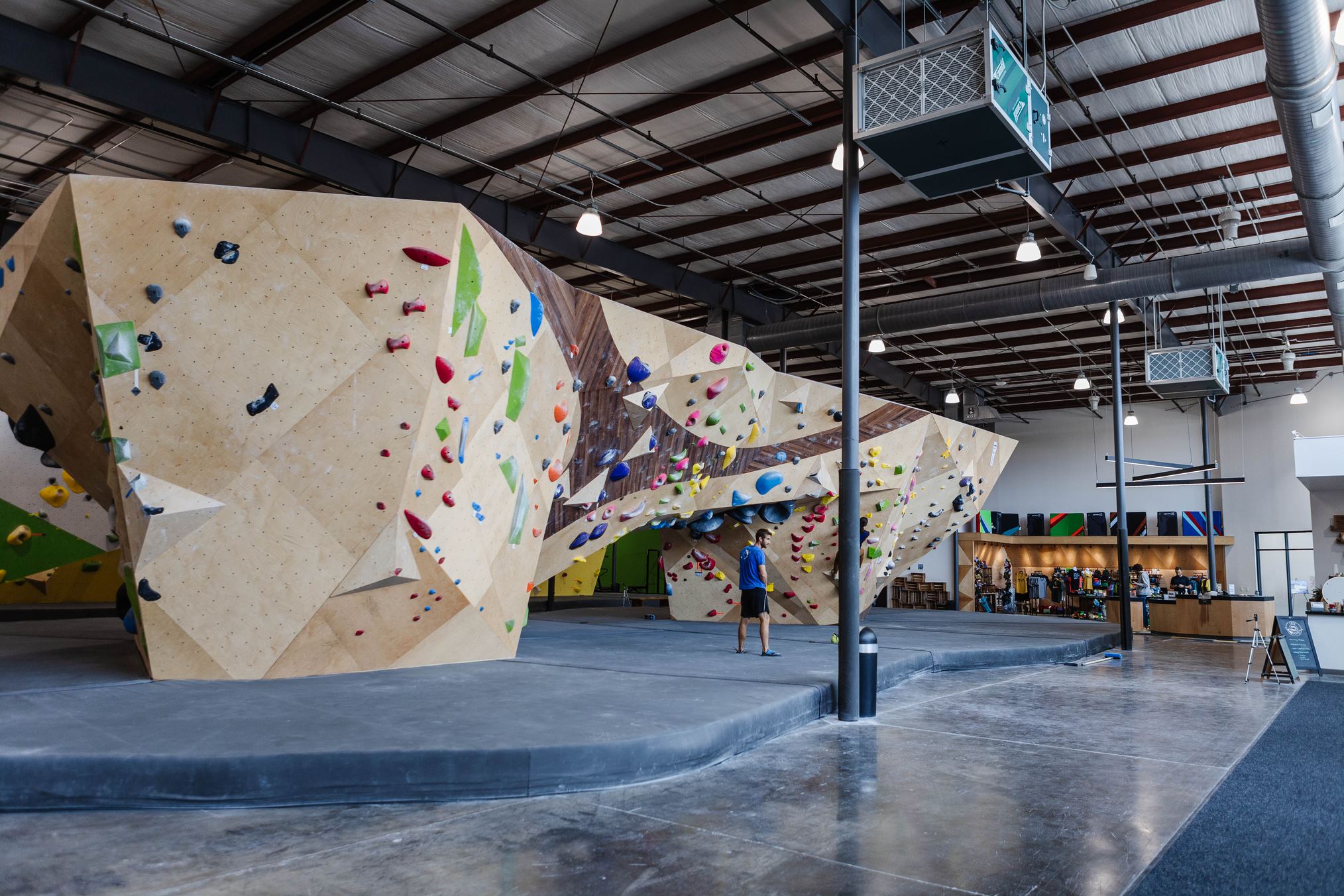 "With 25,000 square feet here, I could have put in more walls, more climbing surface, but I didn't want to do that upfront," Doug said. "I wanted to create space for people to be able to be, and then grow into it."
In addition to having lots of space, Doug wanted that space to be clean and comfortable. Cleanliness and air circulation were important elements in the gym's design, particularly in the wake of COVID-19.
Why VS?
Doug told us he met with every manufacturer at the CWA Summit and detected distinct personalities amid each brand, most of which did not align with his personality and experience.
"I needed people that I could talk to and consult with. And, you know, redirect and ask lots of questions and have people not get upset with me. With VS, I finally felt like here, I've got someone that I can talk to that can help me through this process and will work with me back and forth to make it happen," said Doug.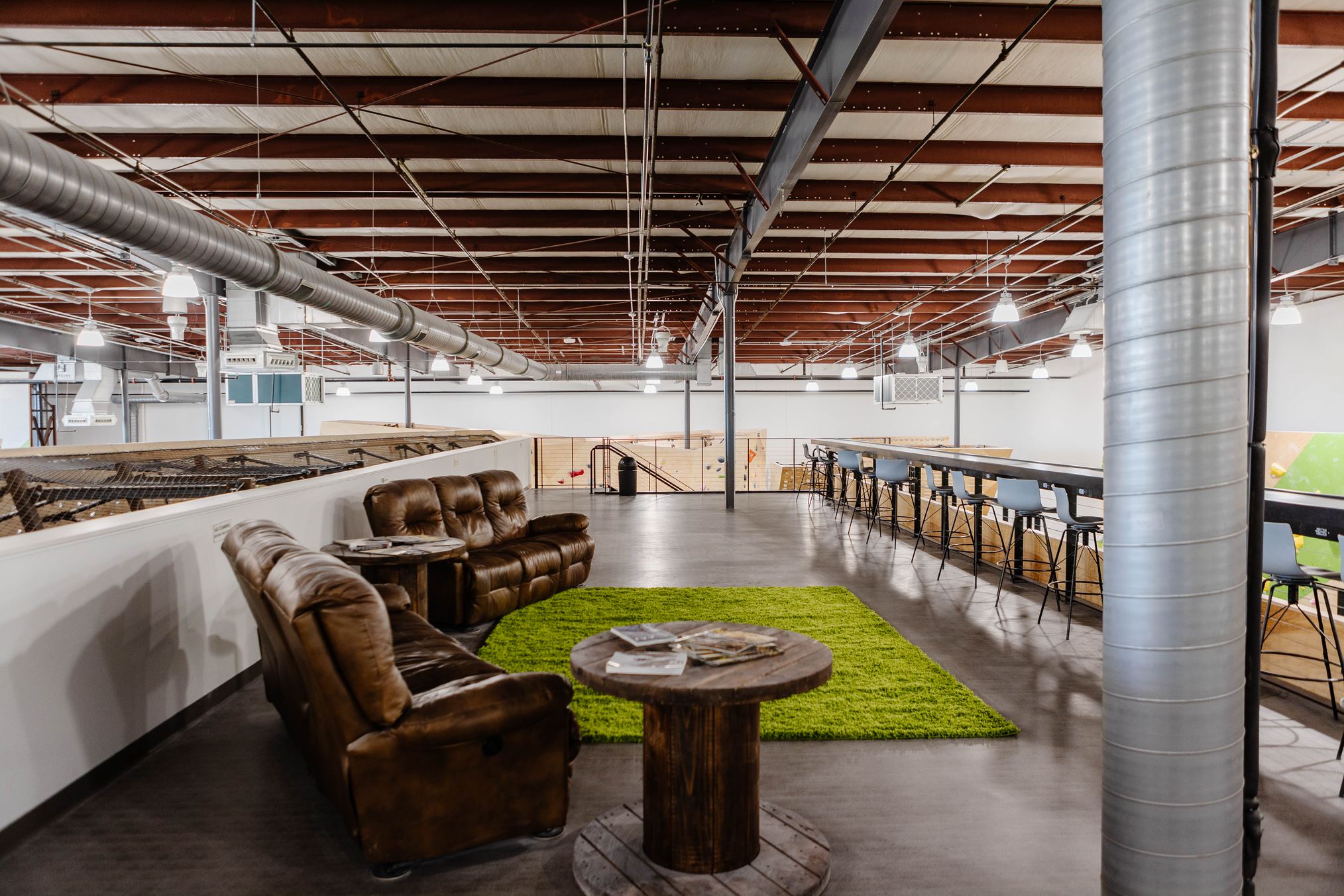 The options, customization, flexibility, communication, and of course, aesthetic offered by Vertical Solutions were all important factors in Doug's decision to work with us.
When talking about the full process of bringing BlocHaven to life and choosing Vertical Solutions to outfit the facility with walls, pads, and holds, Doug often references his prior entrepreneurial experience. Having started four software companies of his own, Doug draws comparisons between the way business is done and plans are made in these two drastically different industries.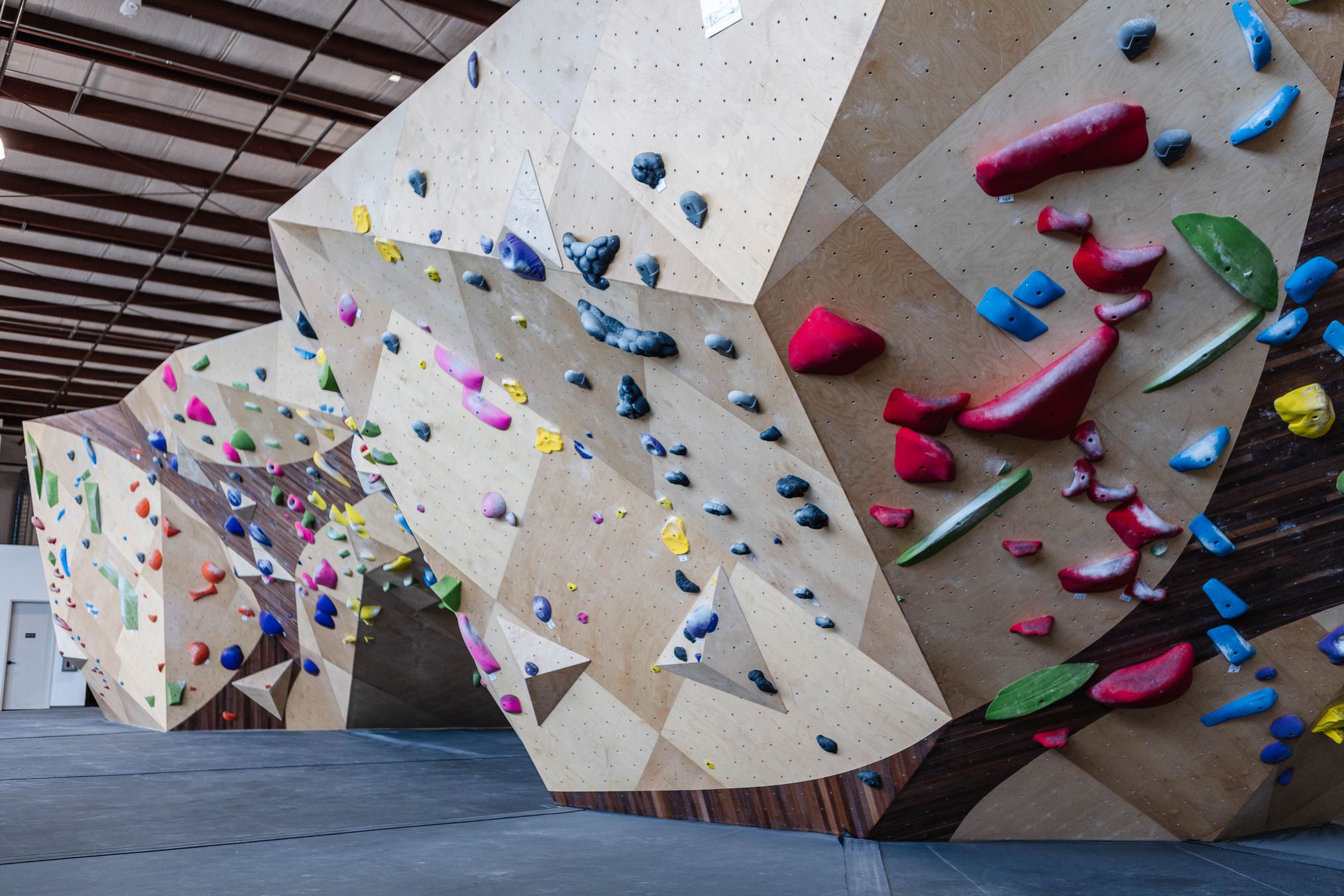 "The design team were really good at taking the ideas in my head and giving me options," Doug explained. "I've been in software for so long that I have told designers many a time, 'If you bring me less than three options, you're fired.' Right? Cause I don't know exactly what it is that I need, but I'm not going to get it if you give me one option. So, I loved that. They kept bringing me options and kept stretching in one direction or another. That's what I needed."
The process of building BlocHaven went smoothly after starting construction in February of 2021 and completing the process in April of 2021.
"The construction team that came onsite did a fantastic job. Really good, really solid work," Doug remarked.
We're extremely proud of how this project turned out and are excited to see BlocHaven's continued success and community growth. Thank you for trusting us with your vision, Doug!