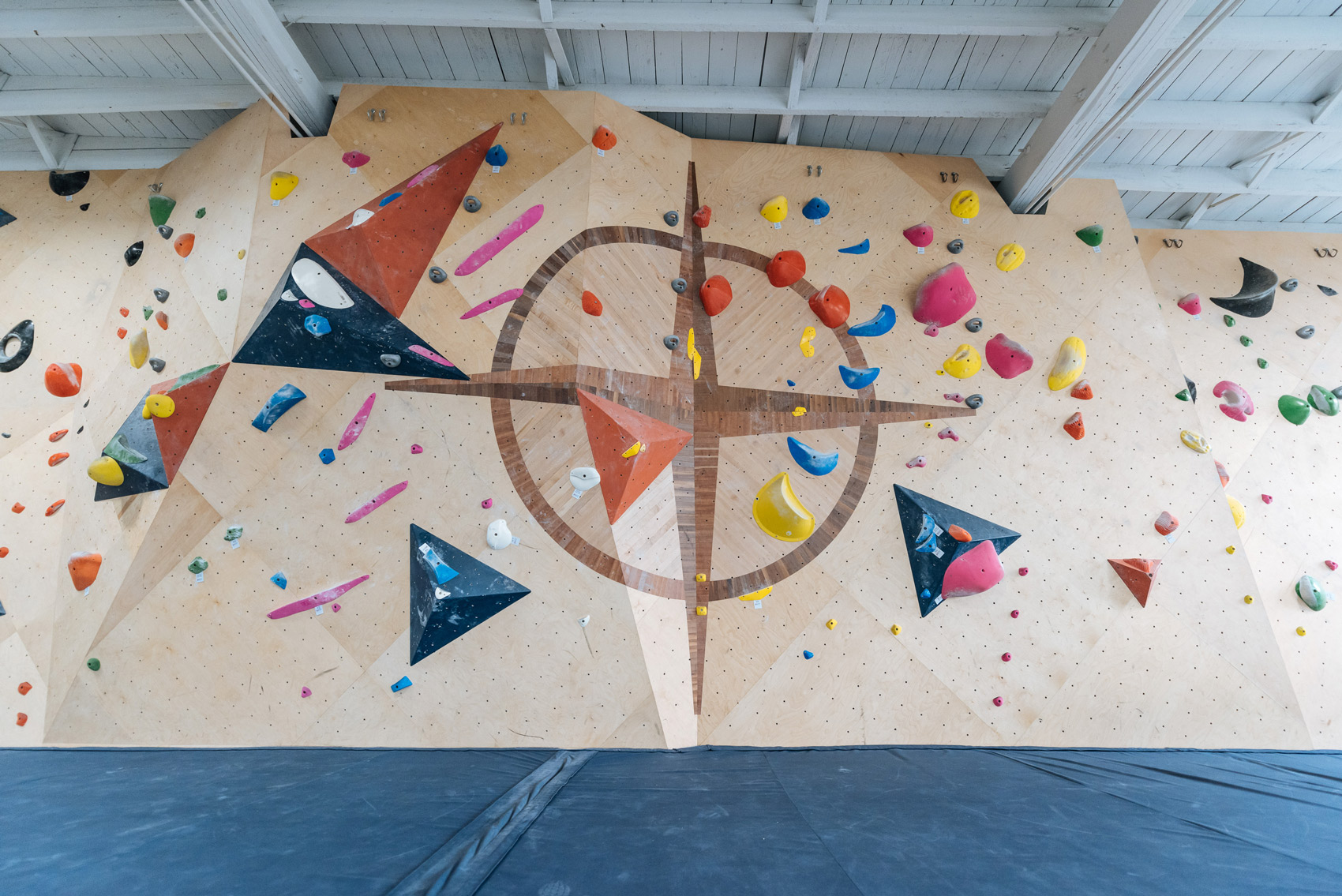 Clichés are clichés for a reason: Because most of the time they're true. So, if climbing and running a business has taught us anything, it's how to remain calm in tense situations. Whether we realize it or not, this pandemic is something we've trained for during our entire climbing and business careers.
At Virginia's Latitude Climbing + Fitness, owners Matt Beck, Marisa Beck and Jason McKenzie are leaning on their collective experience to plan, communicate and execute a well-thought-out strategy to deal with this pandemic. Overall, the three owners have not let their anxiety, fear or other emotions block their decision making.
We reached out to Latitude's founders to get a better understanding of how they're steering their climbing gym through the downturn into calmer waters beyond.
VERTICAL SOLUTIONS: HOW DID LATITUDE REACT TO THE PANDEMIC?
Matt: We basically worked in three phases. At first, we drastically upped our cleaning and put on extra staffing to help sanitize more of the gym. Eventually, we transitioned to "members only" before a ruling from the state government said no congregations of more than 10 people were allowed, at which point we closed our doors.
YOUR WEBSITE SAYS YOU'RE TRYING TO KEEP YOUR STAFF EMPLOYED FOR AS LONG AS POSSIBLE. YOU ALSO MENTIONED YOU OFFERED EMPLOYEES THE OPTION TO BE FURLOUGHED. CAN YOU EXPAND ON THIS?
Matt: We put the ball in our employee's court, which gave them maximum flexibility and let them make their own decision if they wanted to be furloughed or not. For those who chose to stay on, we committed to giving them working hours.
We also decided to furlough my wife – Marisa, who is the GM – to make more room in the budget to keep employees on the payroll. For contractors on the yoga and fitness side, we drastically reduced their hours, but they were able to maintain about two classes a day virtually.
WHAT OTHER WAYS ARE YOUR EMPLOYEES PROMOTING YOUR GYM'S VALUE DURING CLOSURE?
Marisa: We're providing virtual classes such as HIIT, yoga and movement. We also reached out to Lattice Training to see if we could buy beginner, medium and advanced hangboard programs that we could administer through our IG live. We're trying to build and maintain psych.
Once I have a date, I'll be able to start planning a re-opening party to welcome back our members and guests. Also, to prep for re-opening, we received all the holds for our new location [that has yet to be built] and we set our current gym in a Japanese style, which means our walls are completely covered with routes – we have 22,000-square-feet worth of climbing on a 4,500-square-foot space.
HOW DID YOU DEAL WITH MEMBERSHIP?
Matt: We took the opt-in approach for our members, meaning we sent out an email to all members asking if they wanted to opt in to pay their monthly dues to help support our employees and offset our operating costs (rent, etc.).
Once we realized we were closing we did a bulk freeze within a new program of RGP. We're not growing right now, but we also haven't seen a tremendous uptick in cancellations, probably because no one is getting charged during the closure.
VIRGINIA'S GOVERNOR EXTENDED THE STAY-AT-HOME ORDER UNTIL JUNE 10. HOW ARE YOU PLANNING TO COVER EXPENSES UNTIL THEN?
Jason: We've applied for insurance claims, PPP loans and the emergency SBA 7a. Our perspective is that we need to make sure we're doing everything we can to take care of our community. I would encourage anyone in the climbing community, or otherwise, to apply for these benefits if they haven't yet.
IT'S PROBABLE THAT MANY INDUSTRIES WILL LOOK FAIRLY DIFFERENT THAN PRE-CORONA TIMES WHEN THINKING OF GROUP SIZE AND PEOPLE'S ANXIETY. HOW ARE YOU PLANNING FOR THIS?
Jason: We definitely want to keep everyone as comfortable as possible in a clean facility where people don't have to worry about contracting anything. We want people to be able to come and hang out in our facility again as soon as we open.
Marisa: So, we purchased AirPHX sport machines, which are hospital-vetted air purifying machines that process 100,000 cubic feet of air every 60 minutes. They pull water out of the air and convert it to low-percentage hydrogen peroxide that kills 99% of bacteria. So, with certainty, we'll be able to say that we're the cleanest place people can go to – "as clean as a hospital."
We also went to a company called Chak to purchase liquid chalk dispensers. At the very least, liquid chalk will keep the air clean and will help prevent coughing. There's also a small amount of alcohol in liquid chalk that may help kill some germs on hands.
DID YOU ALREADY HAVE AN "EMERGENCY PLAN" IN PLACE IN CASE A SURPRISE SITUATION AROSE?
Matt: Our purpose for the first year of business was to get the gym healthy and then make the decision to expand. So, we have limited our capital expenditures to get ready for the second opening. Basically, we had capital to cover a lost month of operations because we were planning to open a new location soon, anyway.
Jason: We never want to be caught flat-footed, so we always keep a fair bit of liquidity in the gym and business. Obviously, closing our doors has had a financial impact – no one is making money and we all prefer to be open.
HOW WILL YOU DETERMINE THE APPROPRIATE TIME TO REOPEN LATITUDE?
Marisa: We're preparing to open as soon as the government makes it possible. We don't know what that operating procedure will look like, but we're ready for several scenarios.
Even when we furloughed employees, our thought process was that, if June 10 is the date we re-open, we would plan to bring them back on in advance so we could catch them up on new operating procedures if needed.
HOW IS THE PANDEMIC AFFECTING YOUR SECOND LOCATION?
Marisa: We're actually still full-steam ahead on that project. The economic impacts won't come online until we have occupancy, so we're lucky on that end. We negotiated a solid lease that we won't have to pay for until we're in business, so that's not impacting us right now, either. We plan on finishing that build in late 2020/early 2021. Luckily, construction in Virginia is deemed essential!
WHAT LESSONS ARE YOU TAKING FROM THIS SITUATION?
Matt: Preparation is key. And if you aren't prepared, you at least need to be flexible and adaptable. It's a challenging time to be proactive and let time pass. I think being optimistic is a critical piece of success.
We realized this is scary and took care of our employees immediately. We then had to look at what resources we had that we could rely on and also review the government's stimulus package.
Another big lesson was how important it is to have a solid leadership/management team. Being positive is not easy when your personal and business net worth is going down and you have debts to a bank, bills to your landlord and members asking for refunds and employees asking for raises. But, at no point did the three of us get out of step with each other. This really gives me the confidence for bigger and better things in the future. It has been a good test of our organization.
Lastly, it has been paramount to be totally transparent with our membership, and with each other. We had to get a lot of financial information over to Jason so he could step forward with filing for loans at a rapid pace, and Marisa had to manage the gym's inventory and orders.
Jason: One of the most interesting things to me when Matt, Marisa and I started operating our own gym was how strongly the climbing community is connected. While gyms close around the country they are looking for support from customers and membership, and the community has been so supportive. This just proves what we all know: The climbing community is more special than any other.
Marisa: We just really knew we had to do what was right for our staff and for the community. That is what led our decisions and we are happy with the way we handled everything. No one has a crystal ball to know what the future holds, so in the beginning when we were just taking things day by day, we just tried to make the best decisions with what little information we had. And when we closed our doors for business, we then had to make plans to minimize the damage to the gym as best we could. Now, as we look to reopen, we are just hoping for strong support from our community!
--
Because they leaned into their business planning and stayed calm while life suddenly turned upside-down, the Latitude crew is able to smoothly roll with the punches of the pandemic. Remaining optimistic and proactive can be quite the challenge, but doing so will get us through. And remember: Everyone in our industry is here for one another. Do not hesitate to reach out if you have any questions or just need someone to talk to.