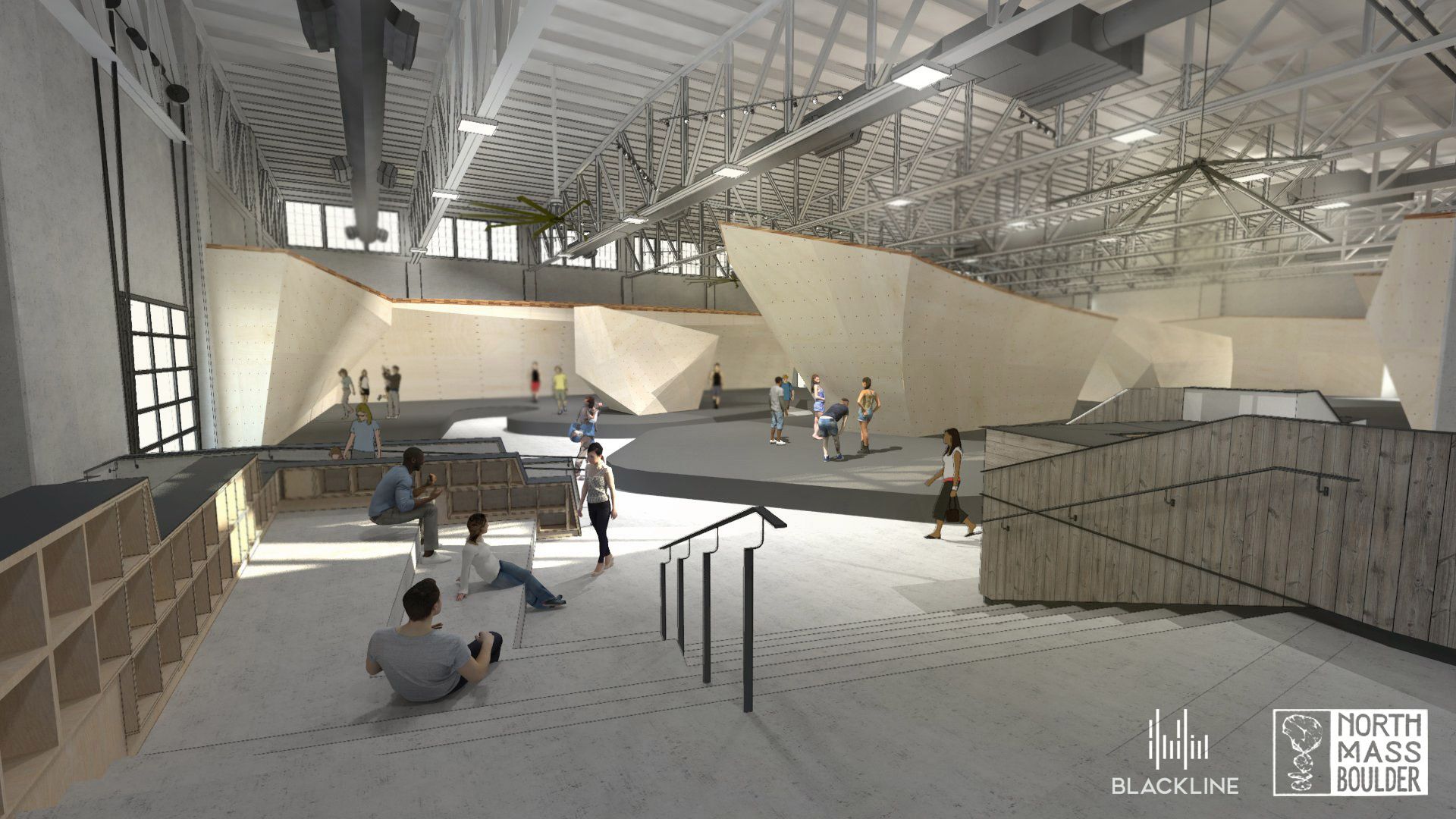 Laid out in 1821, Massachusetts Avenue is one of four diagonal streets that leads straight to the heart of Downtown Indianapolis, Indiana. Between 1870 and 1930 it became a hotbed of commerce for local businesses that wanted to serve those entering and leaving town. However, construction of the I-65 corridor in the 1960s essentially cut off Mass Ave from outside traffic, wilting the area's prosperity.
But, thanks to merchants and entrepreneurs, the area has been reinvented as a thriving arts district, one that is filled with art galleries, restaurants, restored apartments and small specialty stores. The area was even listed in the National Register of Historic Places in 1981. Now, thanks to a new entrepreneurial effort, another unique business will break ground near the cultural destination in an effort to extend the vitality northward.
So, we sat down with North Mass Boulder Co-Founders, Elliott Steward and Zach Donovan, to discuss their inception of and plans for Indiana's newest bouldering gym.
Vertical Solutions: Why did you decide to open a climbing gym together?
Elliott Steward: We met in second grade while growing up in Indianapolis and have been best friends ever since. I moved away from the Midwest in 2010 to Seattle, Washington, to get closer to the mountains and got really involved in the climbing scene. I first top roped at a local crag then got into trad climbing and mountaineering.
I also got into the gym scene - I currently live across from Seattle Bouldering Project, which has had a huge influence on me. They've helped create a genre that I call social climbing and it's been crazy to watch a gym grow and flourish with a member base made up of people who mostly don't identify with rock climbing. I saw the business model and knew there was an opportunity there.
**Zach Donovan:**About five years ago, Elliot called me and talked about how he wanted to build his own climbing gym and a social climbing environment. There isn't a lot like that in Indiana, so I thought it was a neat idea. A year went by and Elliot started coming back to Indy looking for a location. Being an accountant, he asked if I could help with finances and the business plan, so I was in.
I wasn't even a climber until we started doing this. I think that being a beginner climber that's opening a climbing gym brings a good perspective because we expect to attract many new climbers, too.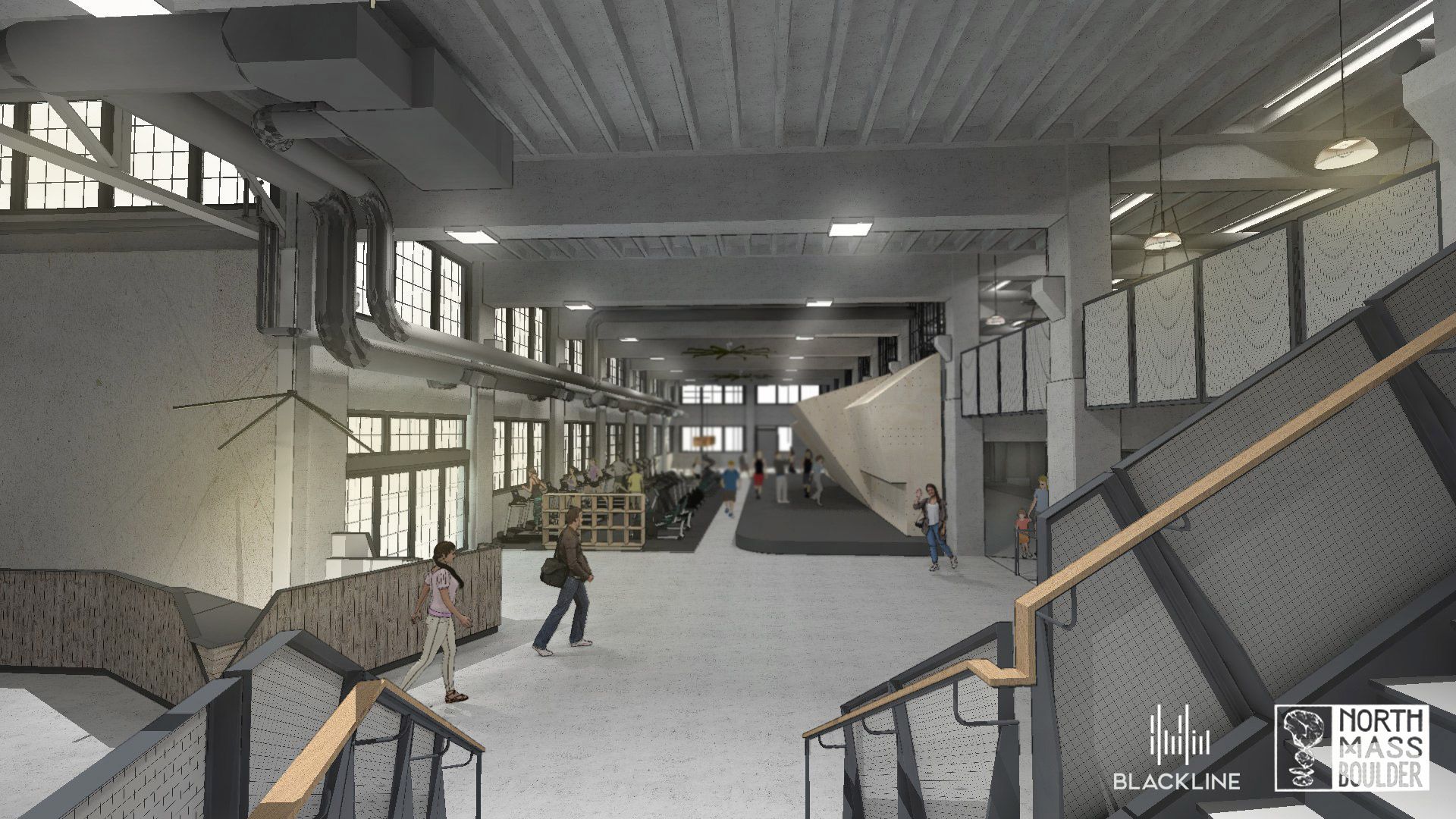 Why open the gym in Indianapolis? Why not the Pacific Northwest or elsewhere?
Elliott: A lot of different factors played into the choice, but it came down to real estate and viability.
Seattle just isn't admissible: It's already an established economic hub. So, if you find a piece of real estate that would work for a climbing gym and it's not already zoned for that type of use, it's nearly impossible to get variance on a zoning permit. Trying to find a city that will work with your plan and spur economic growth is huge.
We looked where there wasn't a saturation of climbing gyms, plus they're starting to pop up where there is no outdoor climbing. The Midwest is low hanging fruit.
We also knew Downtown Indy well because we grew up here, and our main investor is from Indiana, too. It was easy for him to get behind a project that was easy for him to see a couple hours away rather than a few thousand miles away. And Indianapolis is ready from an economic and gym standpoint.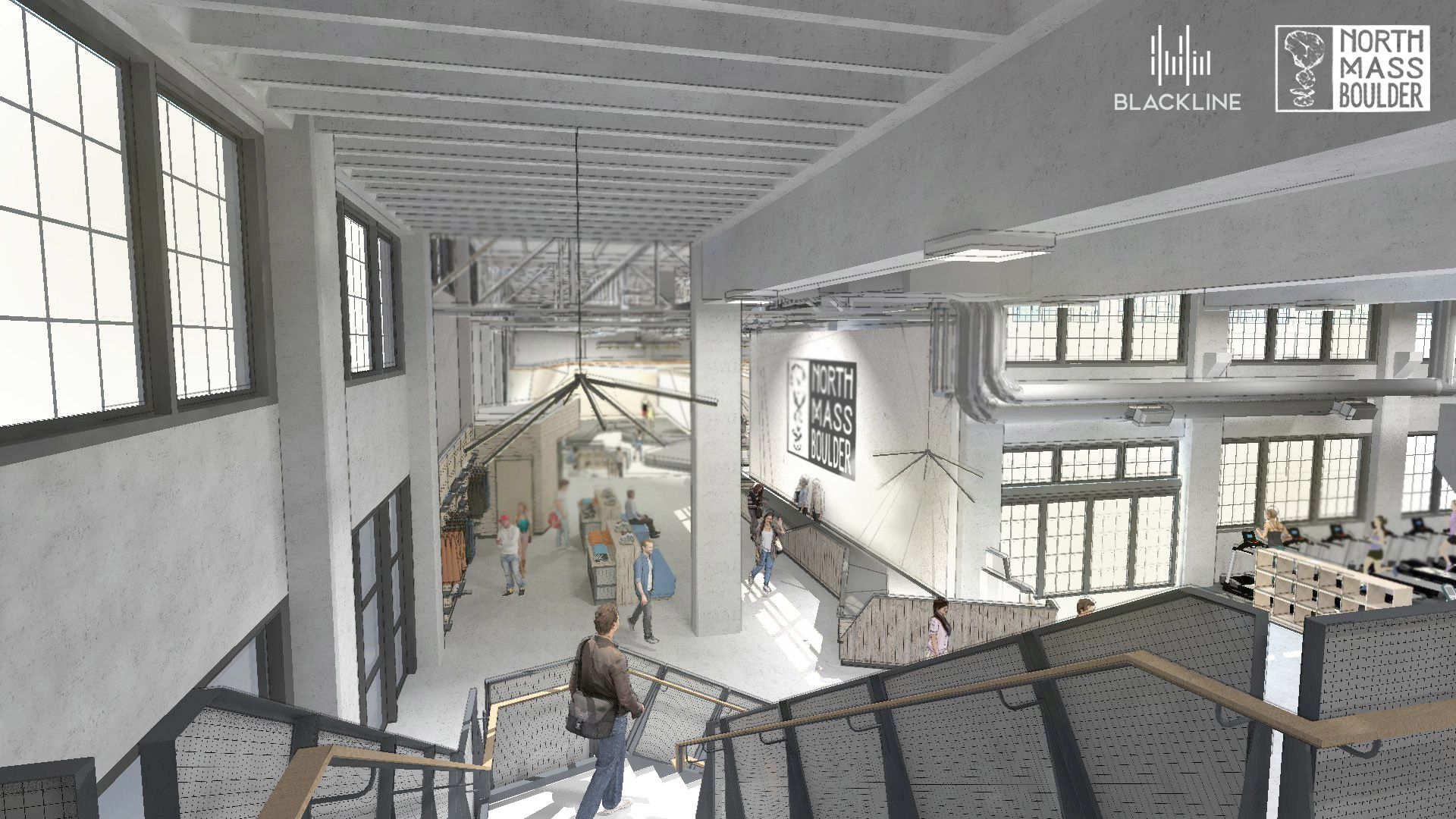 Do either of you have previous business experience? What experiences are you drawing from when opening North Mass?
Elliott: We both have business degrees. I started working very corporate jobs and I'm currently employed by Starbucks, which is where I refined my business sense and noticed how a large corporation evaluates potential investments.
Plus, being immersed in the gym scene was super helpful to see how climbing gyms are run. I would go to Seattle Bouldering Project every day and started to see how many people are on staff, how often they change pads, how often they recycle holds, and so on. I started to piece together the operational cost of it and saw the lifestyle of the SBP owners. Running a climbing gym is a lot of work, but it's also not rocket science.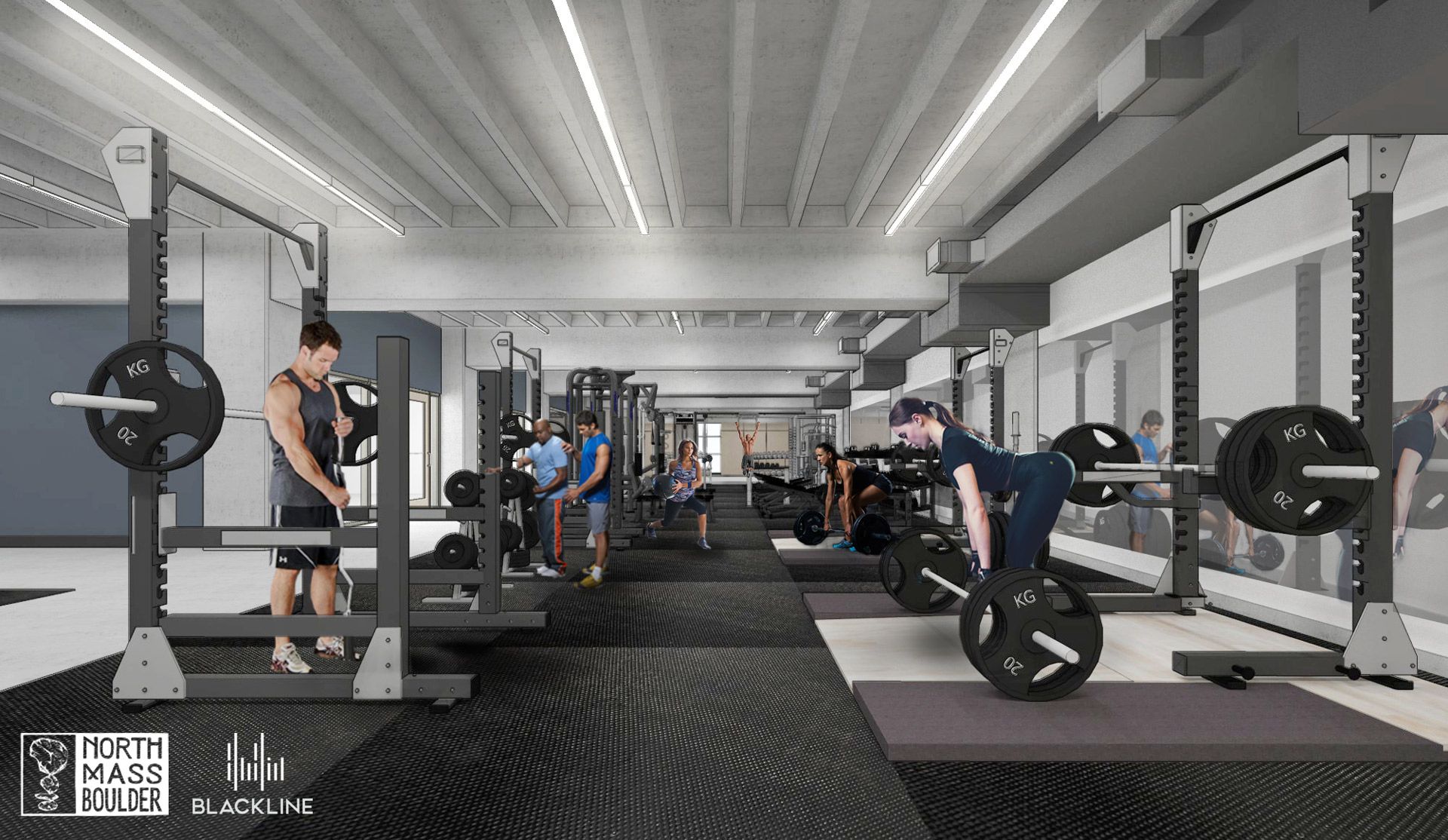 Describe the importance of finding and working with the right business partner.
Elliott: I don't think I ever considered bringing anyone else on the project. Zach and I aren't afraid to have hard conversations and we trust each other. We have a friendship and deep respect for one another. I think that's the foundation that makes us tick.
Zach: We also know what each person knows and we're good at divvying up responsibility. We each lead our own project and talk to each other if we need to get someone else involved. And we understand what we don't know. There are a lot of different facets, so we often reach out to knowledgeable people for help.
What was your main goal when setting out to create North Mass Boulder?
Elliott: I had personal goals of wanting to do something I'm passionate about, and I loved to climb. I wanted to make at least the same amount of money I'm making today, and I wanted to find a way to have greater work-life balance.
Plus, we're trying to create an aesthetic environment for people to come and hang out in, one that is centered around climbing, community and fitness. I wish there would've been a climbing gym like this in Indy for me when I was growing up!
And I want to help write a page or chapter in the book of climbing. The sport started in Europe and has migrated all over the world. Now, indoor climbing is evolving too. We want to carve out our own little part of that story.
There are numerous other climbing gyms and fitness facilities in Indianapolis. How will North Mass Boulder be different?
Elliott: Geographically, we're pretty much in the downtown area. The closest gym is at least 15 minutes outside the city and the other two are at least a half hour or more. We'll provide much easier access to people who want to live a more urban downtown lifestyle.
And the other gyms don't feel spectacular. They are more like what climbing gyms used to be a few generations ago – they offer ropes, but very small bouldering sections. And their style of routesetting doesn't use volumes. We want to create routes that are as much aesthetic to look at as they are to climb on and want to use a lot of volumes.
Zach: If I have work to do and want to work out, I currently have to go to different places. We're creating a gym that's about more than climbing and that will have everything you need. People we'll be able to climb at North Mass, then grab a beer at our café and bar, lift weights or do homework. That's where we set ourselves apart from everywhere else.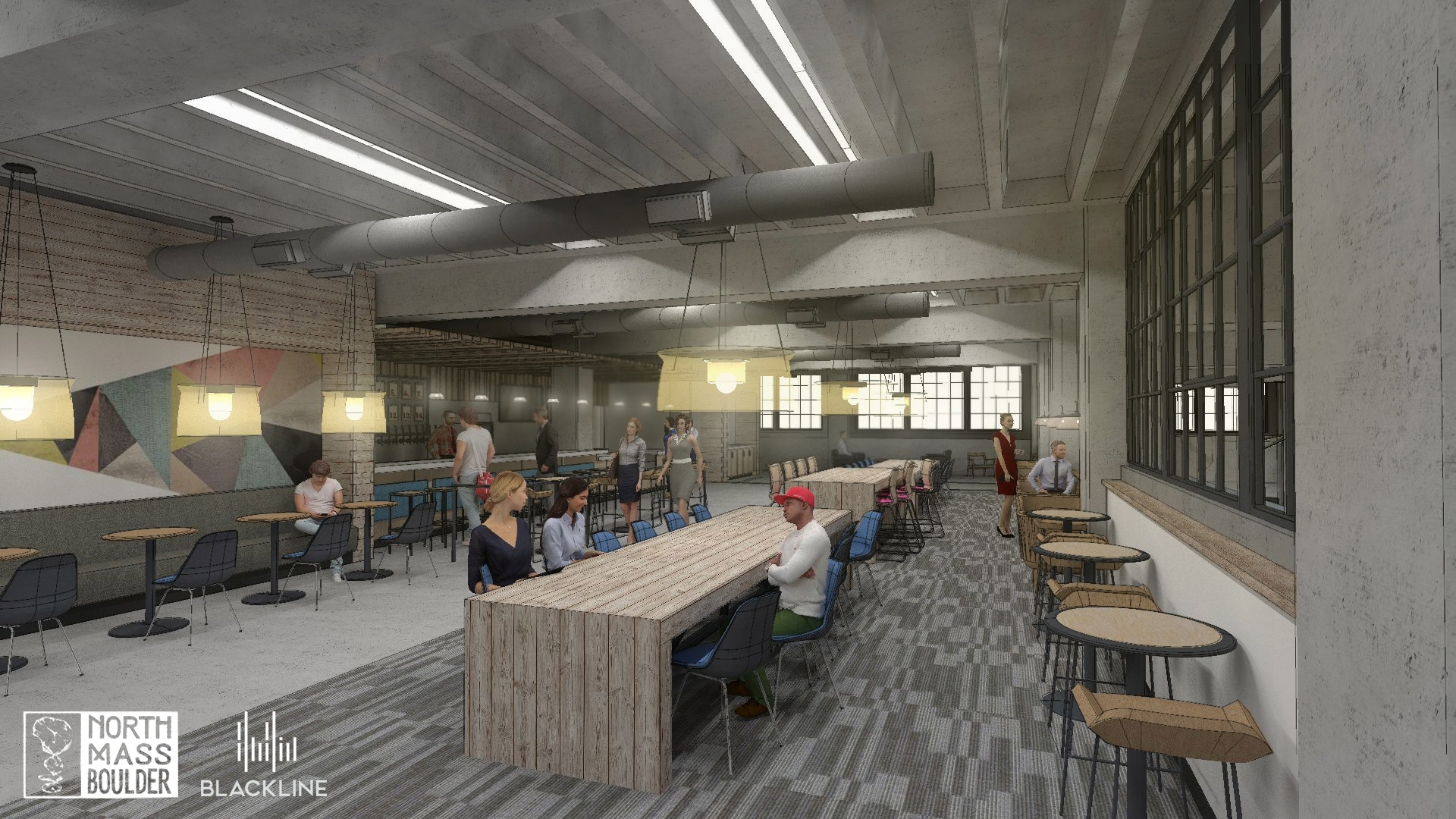 How will your gym reflect the neighborhood of North Mass and its redevelopment?
Elliott: There's a lot of brand recognition around the district of Mass Ave. It's an artsy hub in the downtown area where people go to drink or eat or connect with friends. As the city is developing it's pushing further northeast into our little annex where there's more industrial-use buildings. So, we deliberately named our gym as North Mass. We want to be the community center of the area and ride the wave that's being established. Plus, if you Google things in North Mass, we'll be easily found.
How did your location contribute to the decision to renovate a building rather than build ground-up?
Elliott: The climbing gym model doesn't suffer from having an industrial interface. It's a little bit rough around the edges, which kind of places into the 'dirtbaggy' climbing lifestyle. If you're familiar with The Front Climbing Club's Ogden location, you'll know what I mean. It has a more industrial feel to it, which is very much the way our space feels.
Plus, the location had a clear height, proper square footage, parking, the ability to be recognized, access to highways and is surrounded by a great community.
Tell us about the building.
Zach: From 1898 when it was built to at least 1958, the property operated as a U.S. Corrugate Box Manufacturing plant. It then developed and operated as a furniture warehouse from at least 1975 to before 1983. I then went through similar uses through 2016. Now, it'll be North Mass Boulder!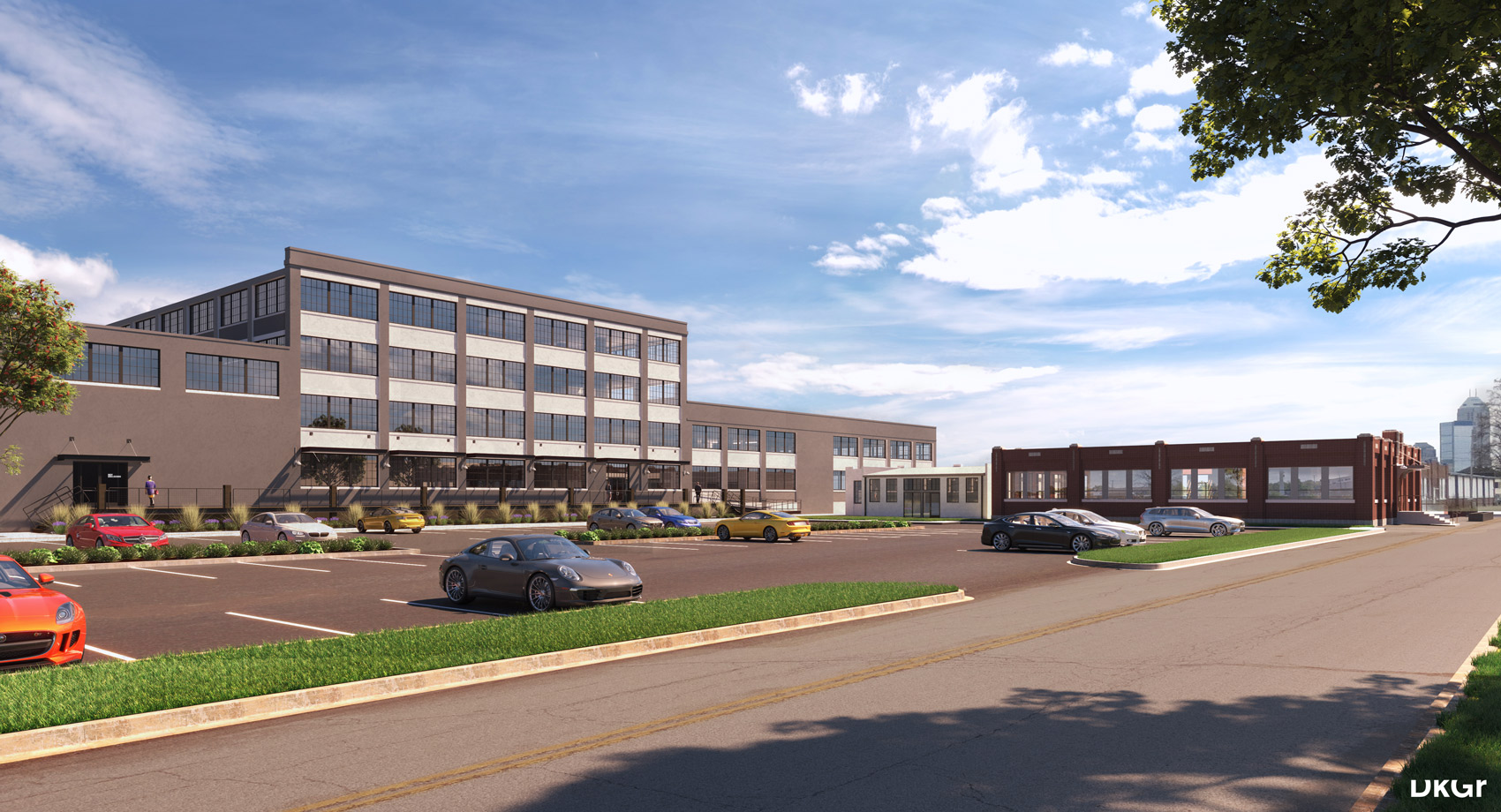 How about the design. How did you approach the concept?
Elliott: We wanted at least 20,000-square-feet of climbing, retail space, free weights, cardio, a yoga studio, group fitness studio, café and bar and locker rooms. So, we put numbers down and figured out how much square footage we'd need to do all of those things correctly. We had to get creative with the full layout, but we got really lucky with the building. It already had a mezzanine, which a lot of real estate doesn't.
We'll also have a courtyard, which will be nice for people to work in and have yoga or group fitness sessions in when it's nice out. And we'll be able to host community events, like film screenings and guest speakers.
What are your plans for the café and bar?
Elliott: I'm building a gym that I want to go to and spend time at. We're pushing a robust beer program and café with coffee and other healthy beverages. We'll also have a full-service kitchen so we can make food, too. We don't want to give people a reason to leave and people come together over food and drink, which is the cornerstone of a community space.
There is a place in Seattle called Chuck's Hop Shops which has 50 beers on tap and close to two or 300 canned beers – it's a cool concept, like a convenience store model where people can come in with kids and dogs and have a beer. That's my inspiration for our café and bar. I'd also love to find a way to give microbreweries in different states a presence in Indianapolis.
What has been the hardest part about development so far?
Elliott: Dealing with people who aren't as passionate about our project. We're happy to work extra hours to make sure everything is perfect and to do all of our due diligence. Other people throw in the towel early. It can be hard to get people as excited as we are.
**Zach:**The hardest part is that this is our project. Even if you hold people accountable, it's always on you. We're both really organized and check off items as we go. A lot of people aren't as organized as we are, so we're constantly battling to make sure everything is exactly how we want it, not as they do. It's our project and we take pride in that.
You're still in development stages. What are your next steps?
Elliott: Right now, we're fully focused on the build and making sure contractors are up to date. We want to make sure this project is executed and built properly.
This summer, though, we'll have to pivot to operations. There's a lot we don't know. We'll need to hire people to be the lead for things like food and beverage and routesetting. Those are hurdles we have ahead of just that we don't have the answers to yet, but I feel confident we'll be able to solve them.
What services did you utilize from Vertical Solutions?
Elliott: We used the business development in addition to walls.
**Zach:**We worked with VS on the business end and learned a lot from the team. We took the excel sheet and expanded on it a lot – it was a great too to get us started.
Why did you work with Vertical Solutions?
Elliott: Every gym with Walltopia walls look the same. VS has a timeless look to its walls and VS has a strong reputation of getting things done and being great to partner with. The engineering and attention to detail is far greater than other wall builders.
--
Be sure to follow North Mass Boulder on Instagram (@northmassboulder) to stay up to date on Elliott and Zach's project!
This interview has been edited for grammar and brevity.