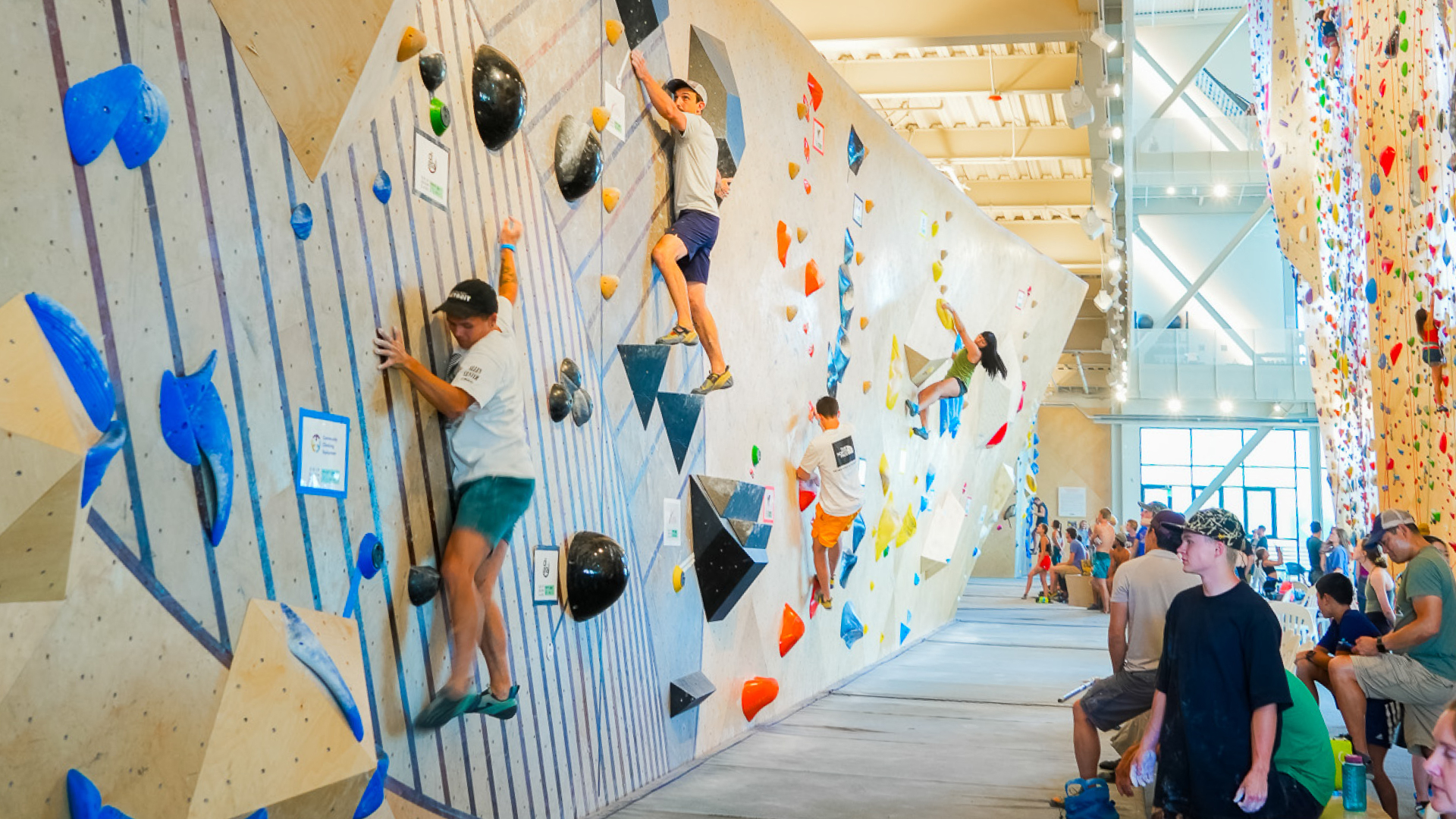 As the summer sun blazed over Salt Lake City, climbers, route setters, and industry leaders were brought together by the CBJ Grip Showcase and the second-ever Setter Summit. This legendary event was spearheaded by Climbing Business Journal and hosted by Vertical Solutions, Proxy Climbing, and The Front Climbing Club.
This summer's Grip Showcase took place the same week as the Proxy Climbing's Setter Summit culminating in a week-long route setters dream. Under a single roof, brands, route-setting pros, locals, newcomers, seasoned climbers, and enthusiasts gathered to explore the newest climbing holds and the art of route setting.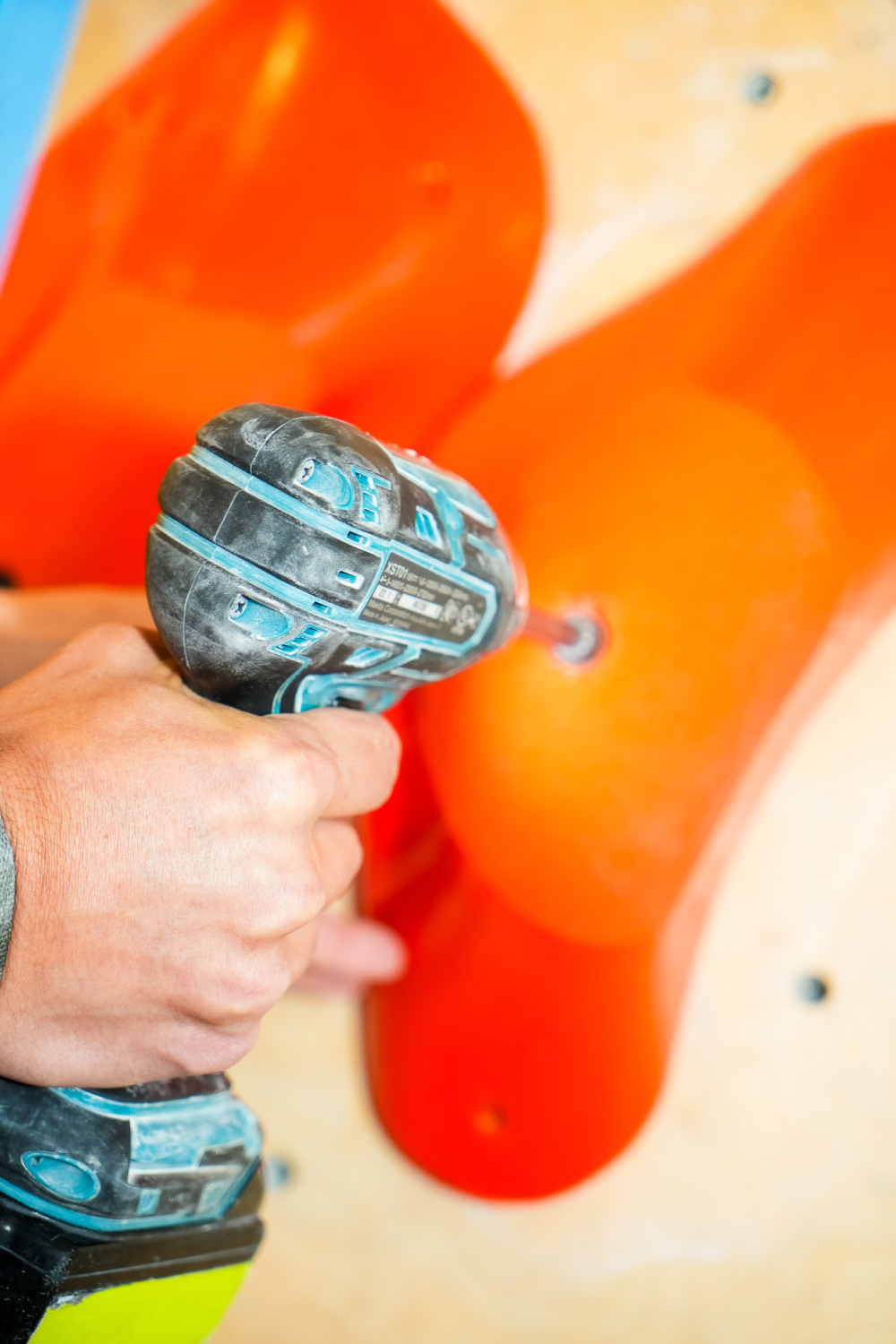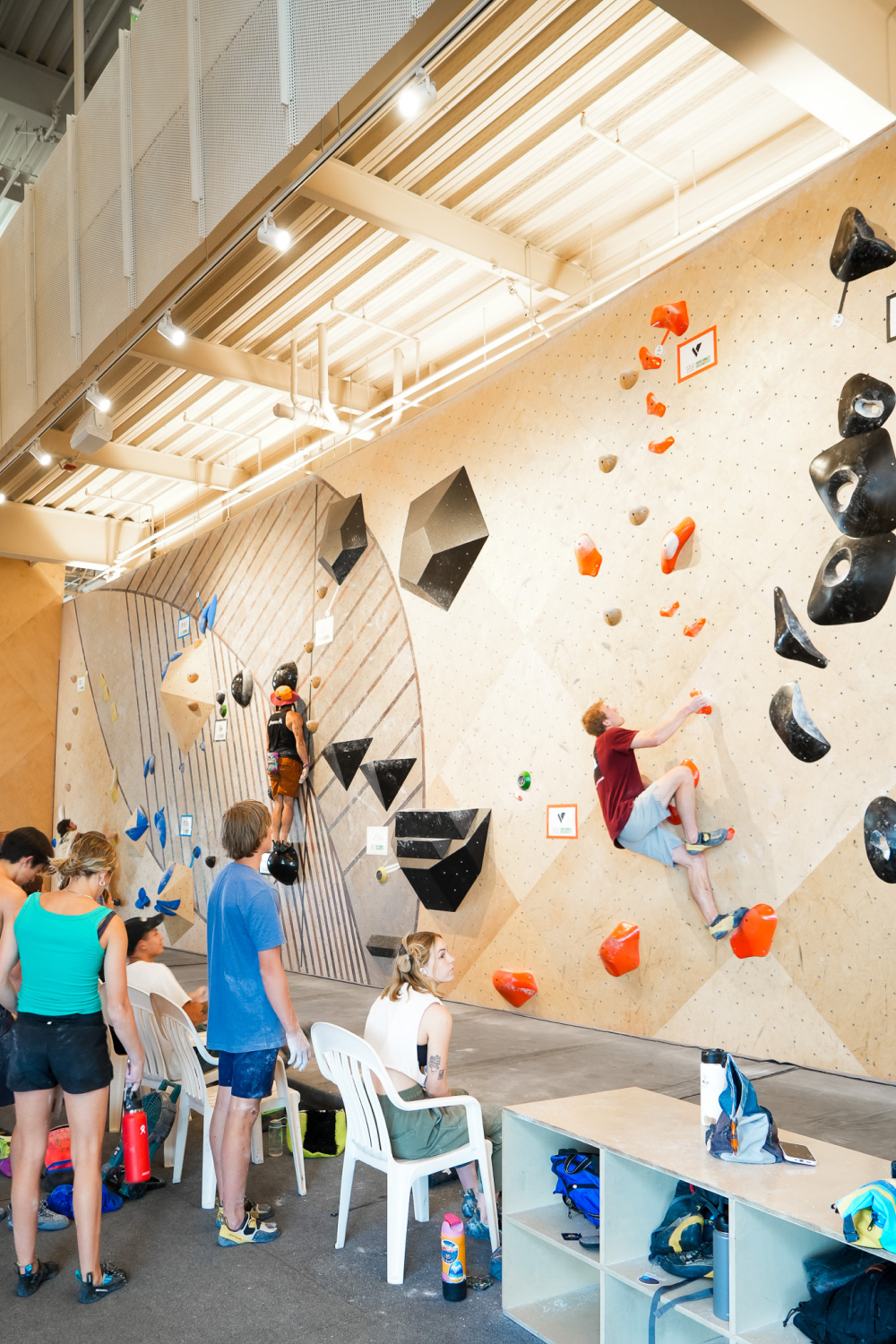 The Grip Showcase came to life thanks to the invaluable support and involvement of these brands: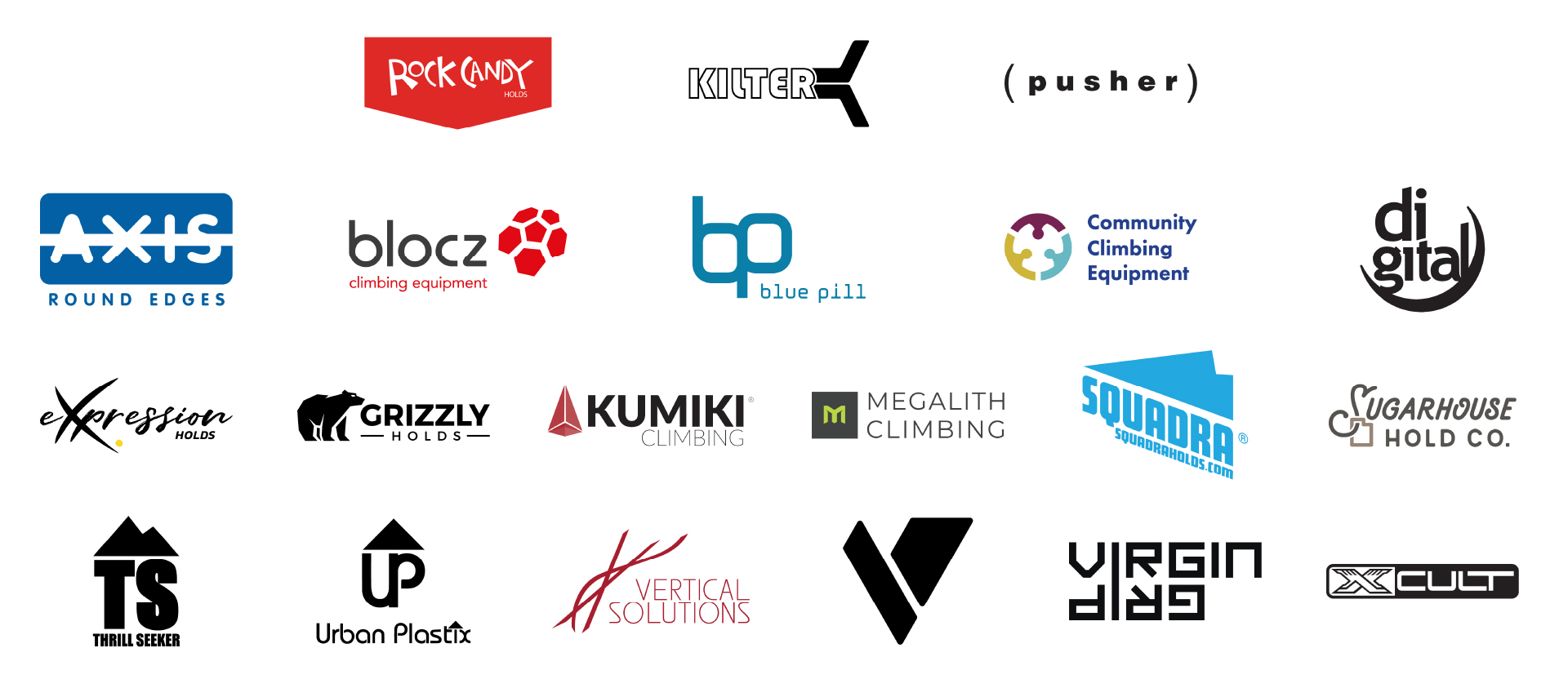 Rock Candy | Kilter | Pusher | Axis | Blocz | BluePill | Community Climbing Equipment | Digital Climbing | eXpression | Grizzly | Kumiki | Megalith | Squadra | Sugarhouse | Thrill Seeker | Urban Plastix | Vertical Solutions | Vezi | Virgin Grip | Xcult
Each brand brought its unique vision, shaping expertise, and company mission directly to climbers, offering high-quality, creative—and frankly, exciting to utilize—climbing holds that elevate route setting and ultimately our experiences with the sport of climbing.
The Setter Summit Starts It All Off
In recent years, the boom of indoor climbing has created a need for professional training for the route setters who make these facilities tick. That's where Proxy Climbing's Setter Summit comes in. This week of clinics and events gives setters of any level a space to connect with peers, grow professionally, and learn in a hands-on environment designed specifically for their industry.
To further build the tradition of inviting the top route setters and route setting pioneers to instruct, this years' lineup of renowned setters included USAC Level 5 National Routesetters Mike Bockino and Rylan Marshall, Foxman McCarthy-James and Justin Wright of Vortex Routesetting, Sarah Filler and Pierre Despagne of the Routesetting Institute, and Eddie Morillas of The Front Climbing Club.
The week of festivities kicked off on Monday June 19th with a laid-back welcome mixer for participating setters to get settled in SLC and meet their instructors for the next week.
Tuesday morning, participants took part in hands-on clinics to refine their craft and hone their skills. In order to build a solid foundation in their setting careers, new setters took part in Route Setting 101 where they attended CWI training and CWA-approved introductory instruction. The intermediate level courses included training on mentorship or a CWA Work at Heights certification, both essentials to growing your setting team at home and building systems that support everyone on those teams.
The mini trade show on Wednesday the 21st gave visitors and setters alike the opportunity to come together to explore new shapes, volumes, and fiberglass before the plastic made its way to the walls of the Front's South Main location.
Our advanced and expert setters took part in functional setting all week long for two major events; The Grip Showcase, and the upcoming Youth Nationals Training Camp hosted by The Front. The setters focused on creating quality circuits for either the citizens climbing at the Showcase or for the Nationals-level youth competitors, focusing with both an emphasis on creative movement and on visual appeal.
It was a true pleasure to instruct at this year's Setter Summit and share practical work at height skills that will empower participants to make educated decisions about mitigating risks associated with their at-height setting activities. I look forward to continuing to iterate and refine the Setter Summit experience to share curated knowledge with route setters, provide value for gym owners, and elevate the professionalism of our industry.
— Eddie Morillas, Director of Route Setting, The Front Climbing Club
The Grip Showcase Brings It Home
Legendary names like Rock Candy, Kilter, Pusher, and last year's Grip Showcase winner Grizzly showed off once the Grip Showcase blocs opened on Saturday.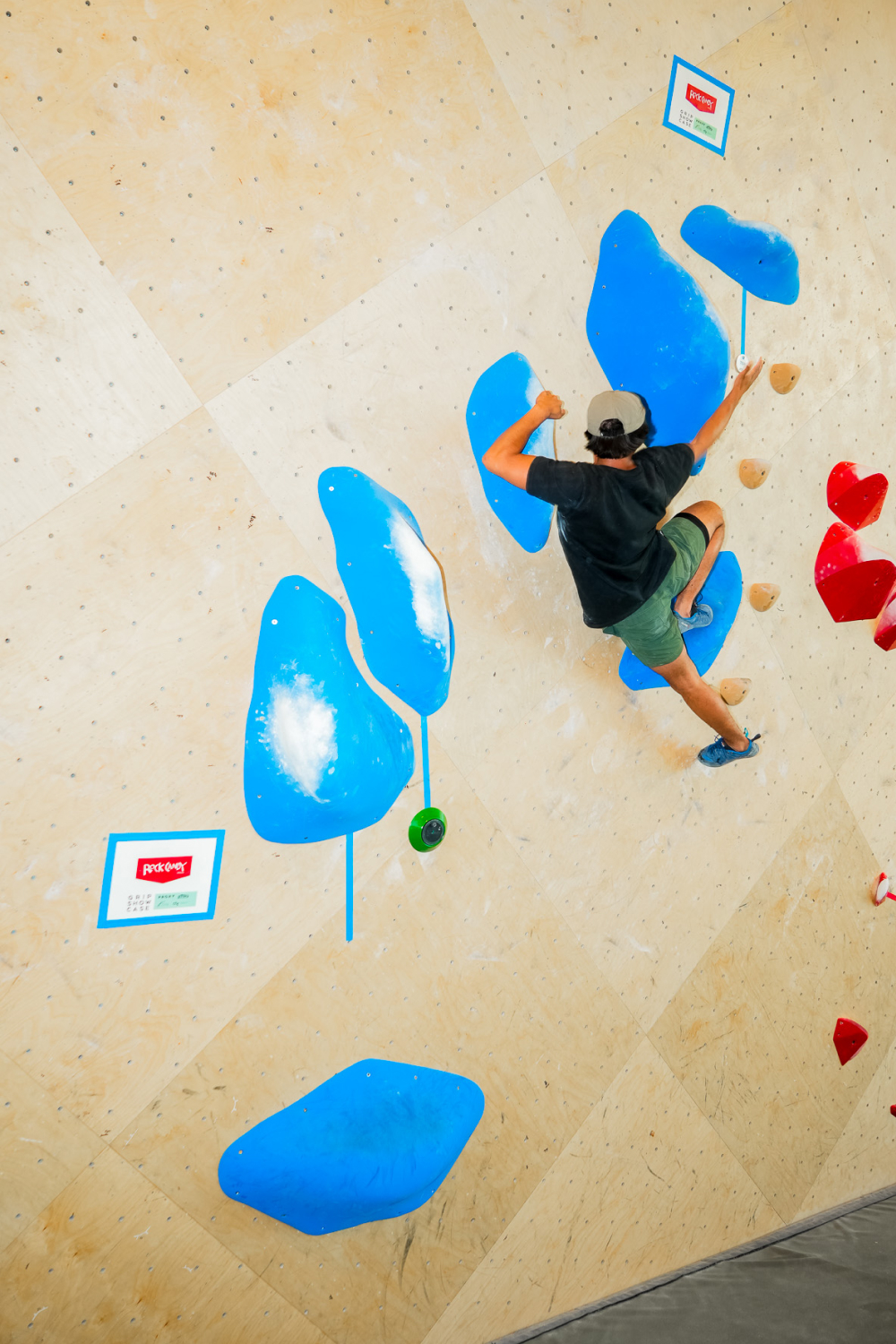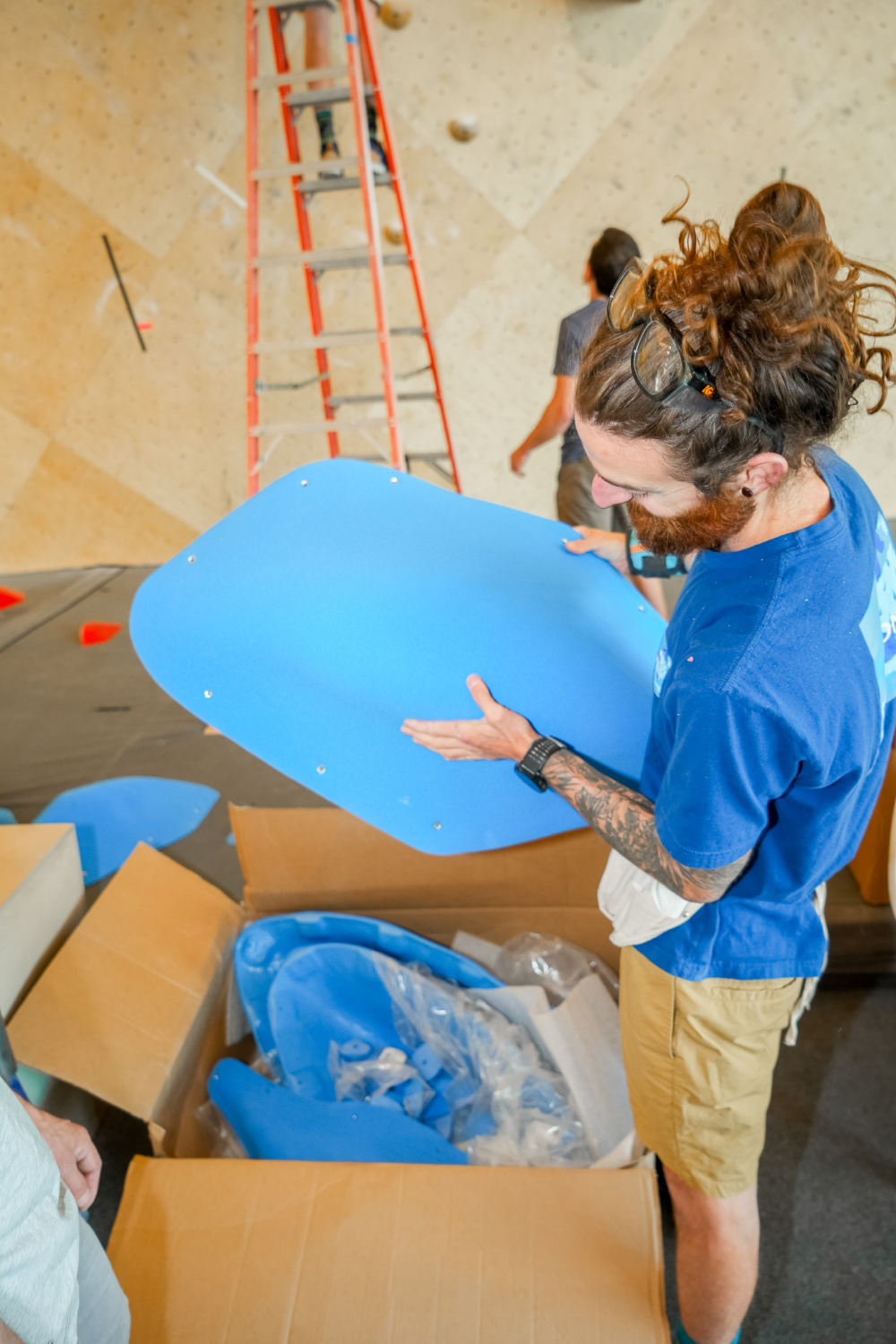 Live music, a local brewery, and a food truck welcomed competitors and guests to an afternoon of fresh holds begging to be climbed. All ages and skill levels hit the full expanse of South Main's first floor bouldering wall, trying out the new set from the Front and Setter Summit setting teams.
Prestige was on the line: hold companies vied for the coveted CBJ Grip Showcase award, with climbers weighing in by rating the hold quality on a scale from 1 to 5.
Voting took place on the Pebble Climbing app and utilized new RFID scanners and wristbands for climbers to simply tap on and off problems, indicating sends and tries without needing to pull out a cell phone or scroll around with chalky fingers. The new tech, even at its prototype phase, is truly impressive. Observers will surely watch Pebble and The Front closely as they further refine this novel in-gym experience.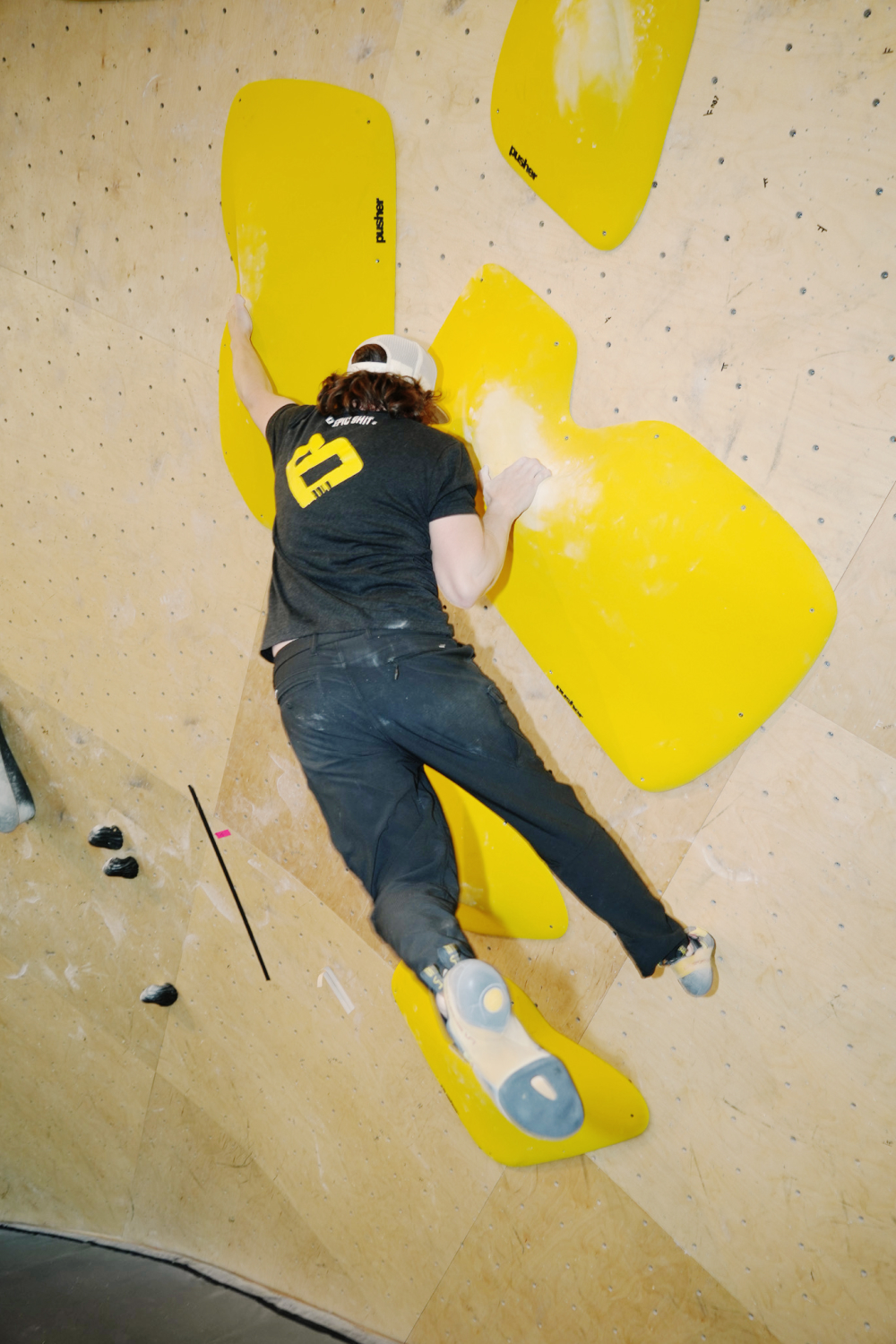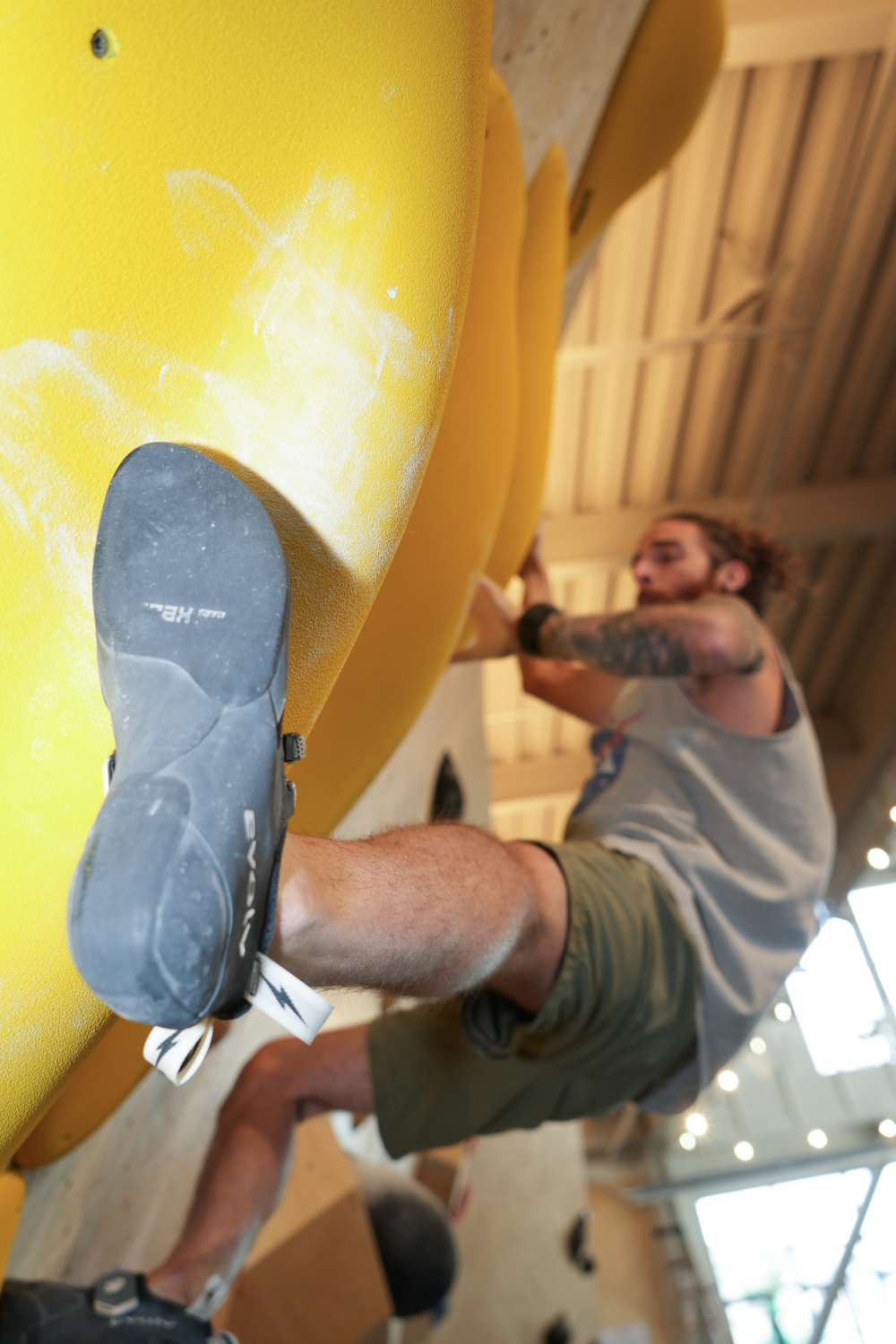 Pusher took home the Grip Showcase award with a series of gorgeous golden macros. The soft slopers inspired and challenged setters and competitors and shone from their lane right smack dab in the middle of the wall's expanse. eXpression followed closely in second, and Megalith rounded out the podium in third.
See every bloc from the Grip Showcase and the full results on Climbing Business Journal.
Once again both the Grip Showcase and Setter Summit were more than just a gathering of brands, climbers, and professional setters; these events epitomized the spirit of climbing. The sense of camaraderie and passion for the sport was palpable, uniting individuals from diverse backgrounds under one common love—the art of route setting.
---
Join Us Next Year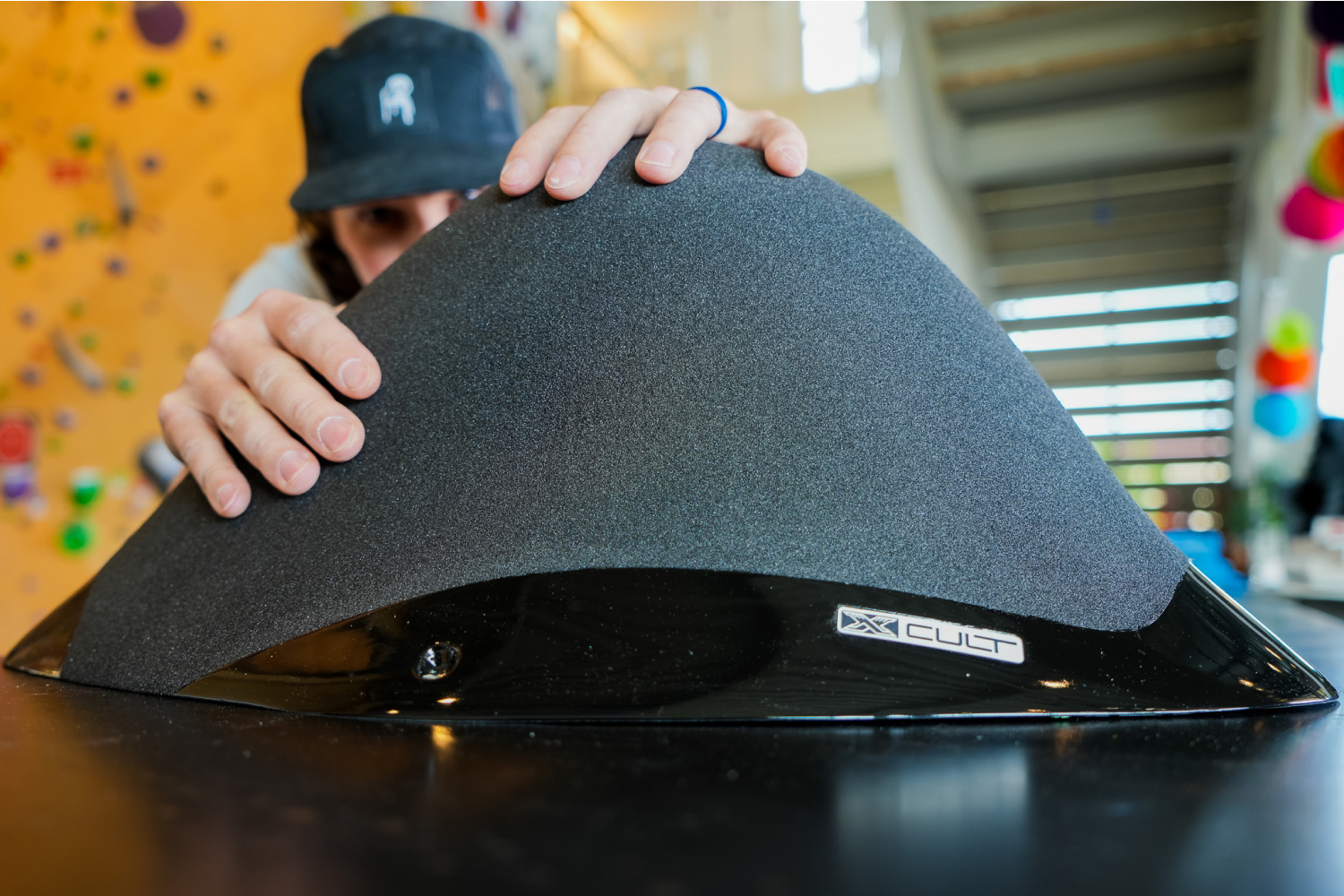 If you missed the Grip Showcase and Setter Summit this year, don't fret. We'll be back next year - keep an eye on Vertical Solutions, Proxy Climbing, and Climbing Business Journal for announcements and opportunities to connect with setting and climbing community leaders. Until then, continue to embrace the climbing spirit and explore the untamed vertical world that awaits us. Keep a grip; more updates are on the way.