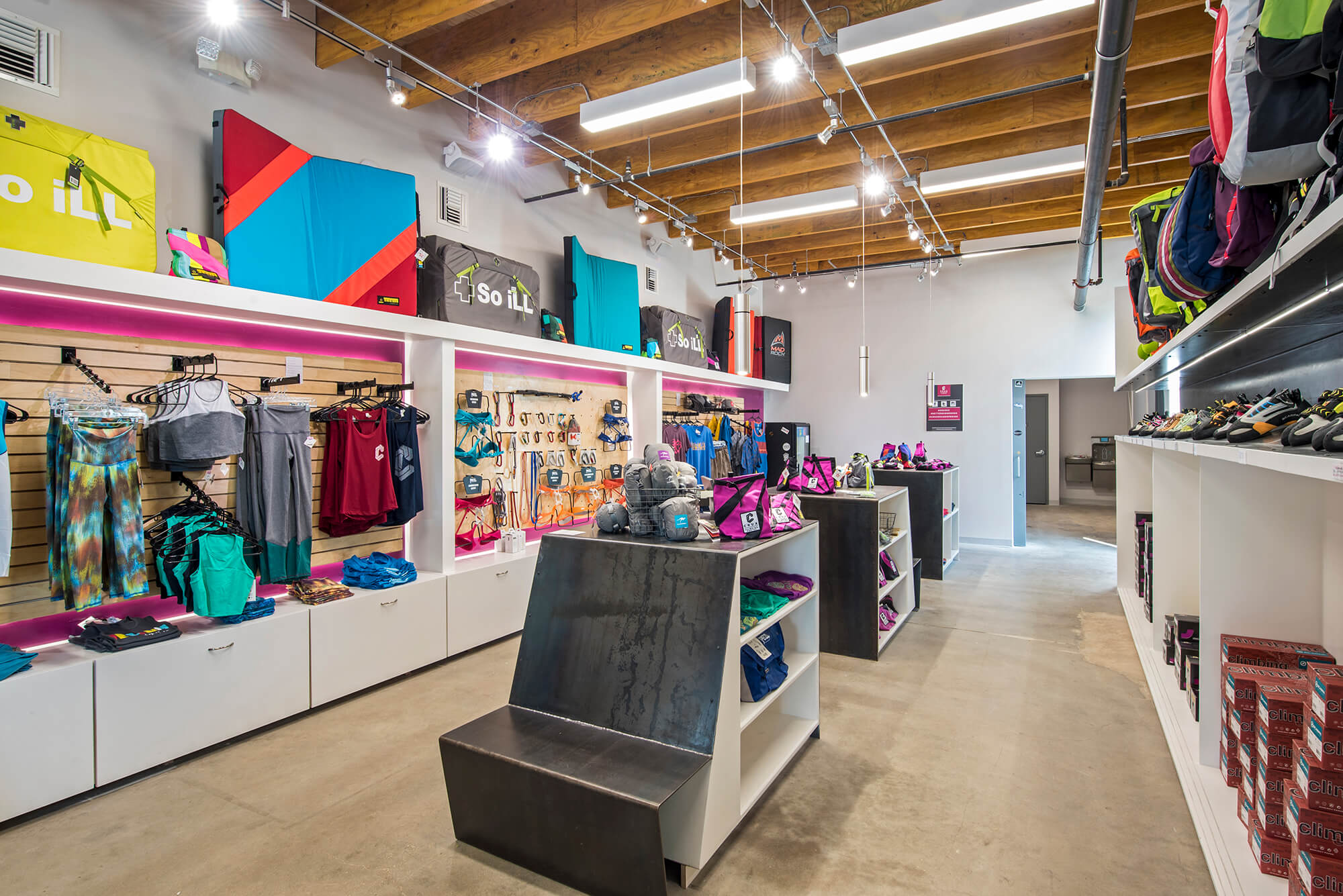 Brad Barlage has over 25 years of outdoor industry experience. He has gained valuable insights while working as a sales rep with some of the biggest climbing brands and shops around the country.
Opening a climbing gym is a huge undertaking. Planning for a retail space is usually an afterthought. Though, I have seen retail sales far exceed initial expectations.
Customers love convenience. It doesn't get more convenient if someone needs a new GriGri or harness and their gym already has those items stocked when they come to climb.
Plus, gym hours are typically longer than regular outdoor stores, and many visit a gym before or after work when traditional stores are closed. So, it's often easier for customers to stop by the gym for gear rather than travel to a different shop in town. The early and late hours of your facility will simply fit better to customer needs.
Over the past several years I've worked with numerous brands to help get their product in climbing gym's retail spaces. During this time, I've recognized what is successful and what doesn't work. Below is a list of things to keep in mind when planning your gym's retail space.
PROXIMITY
Where will your merchandise be located? Your members and guests will never purchase gear if your retail space is tucked away in a corner. Rather, integrate this space in close proximity to the entrance. This gives customers the option to shop on the way in and out of the gym.
PERKS
The best method to gain traction in your shop is through incentives. Offering a small discount to members is a great way to boost sales right off the bat. Plus, donating a portion of your sales toward a local climbing advocacy or environmental organization is a positive way to promote a deeper connection to the surrounding community. For example, supporting rebolting efforts has been popular with customers around the country. Everyone likes to clip safe and secure anchors as well as build a better community, especially if it's meshed with their purchase of a new carabiner or pair of shoes.
PRODUCT CHOICE
Planning is critical when choosing products. Start off slow with core choices such as chalk, shoes and some climbing-specific clothing. Then, build out an assortment to fit customer needs. The easiest way is to match the local climbing scene. Of course, climbers like traveling. But, if your area is known for its crack climbing or is a short drive away from somewhere like the Creek, then providing a wide array of cams makes sense. The same goes for bouldering and sport climbing
PRESENTATION
Properly presenting your soft- and hard-goods is crucial for making sales in your retail space. Glass cases work well for some items, but gyms are often chalky. Diligent cleaning is also a part of maintaining a shop, but fancy presentation displays can increase maintenance time and money.
Having a "featured" section with new, interesting or unique items is a simple and budget-friendly way to garner your customer's attention and increase engagement.
__
If you feel overwhelmed, consider hosting sales reps to train staff and educate both your employees and customers. Plus, planning demos with different brands and their products is never a bad idea.
Overall, having a retail shop helps with membership retention. It provides another avenue to increase your bottom line and solidifies the position of your gym as a key player in the local climbing community.
Best of luck,
Brad Barlage, Ascension Sales Group