Crux Climbing Center is a 22,000-square-foot facility located in South Austin's Dawson Neighborhood. With unique services and gym designs like the Future Wall and 24-hour access, owner and Austin local Kevin Goradia has made Crux a competitive player in Austin's climbing gym community.
Continue reading to hear how this gym came to fruition, how it succeeds in the community's tight-knit scene and how it plans to expand elsewhere.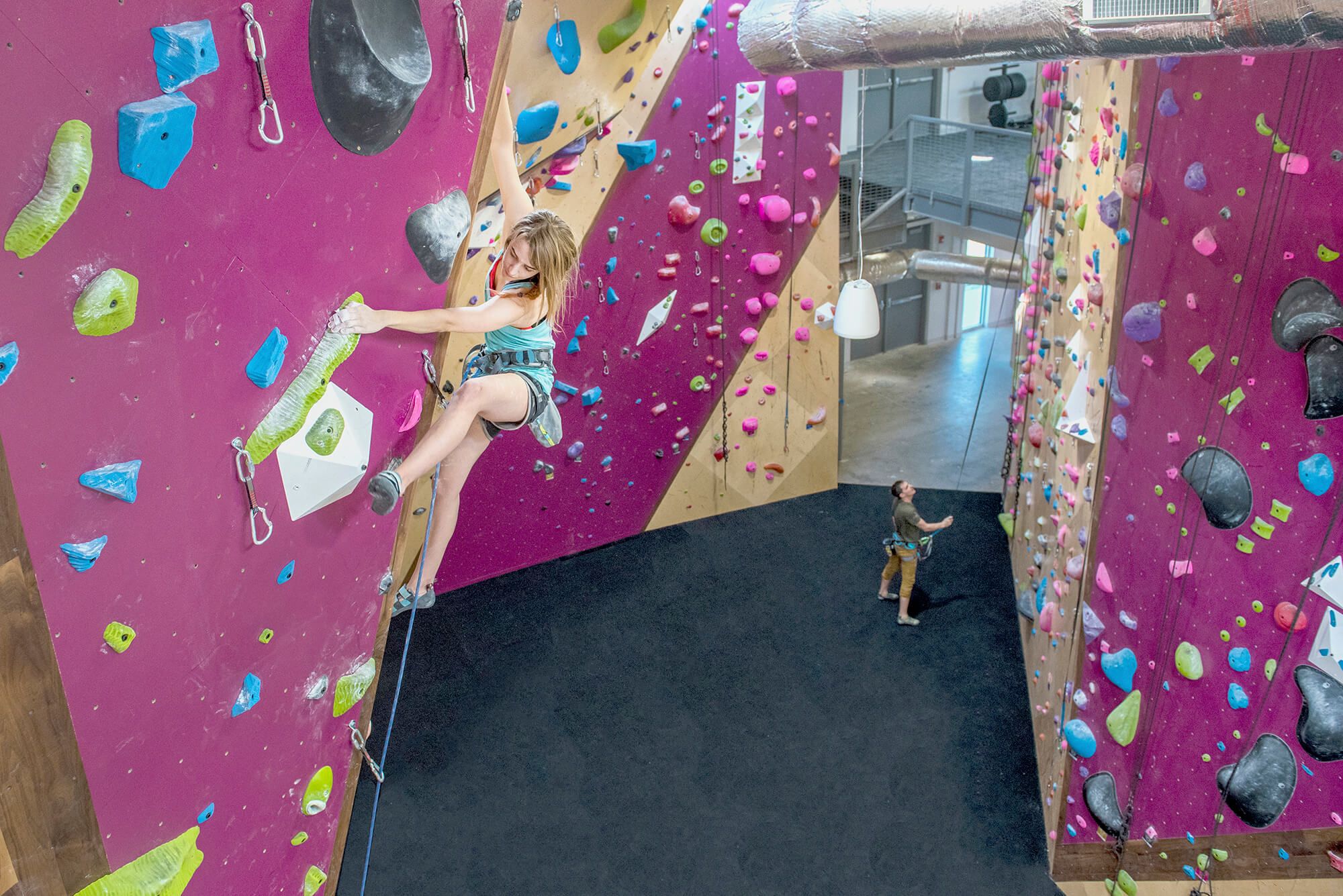 Vertical Solutions: Before opening Crux, did you have any previous business experience?
Kevin Goradia: In terms of climbing, I started routesetting at a gym during my first year of college. I went all the way through the ranks and started setting for nationals. I thought I just wanted to be a routesetter.
And I graduated with a degree in environmental business. After school, I worked for a coconut water company called Harmless Harvest, where I managed their business in the southwest.
What was the process like to get funding for your project?
I self-funded the gym. Luckily, I had good relationships with banks and made solid investments at a young age.
We have a pretty aggressive growth plan. We're in the process of penning our second gym and starting lease negotiations for our third. We'll spend much of next year traveling throughout the United States looking for cities without adequate climbing gyms, and we'll start developing relationships with investors.
Tell us about the redevelopment in South Austin. Why was it important to be a part of this and how did it shape your business?
Everyone has certain areas they like to go into. We like redevelopment projects because new breweries and coffee shops are exciting for our members. It also gives neighborhoods something to look forward to.
Though, the first couple of months were rough. We got in there a little early and there wasn't enough traffic. But now we need triple the parking!
The price per square foot tends to be low as well. We're taking a risk because nothing else is around us at the moment [of creation], but we're making it.
What was the main goal when setting out to create Crux?
The first goal was to make an iconic Austin business, which is why we went with VS and why we chose our color palette. Crux is a gym that wants to work with its community.
Other climbing gyms feel sterile. But Austin has always allowed quirky things. We allow dogs in our gym and we always have beer. We don't use the V grade, but rather an animal grade. We like little quirks like that.
Why magenta walls?
I was on Instagram and saw a post from Brandon of V Line Bouldering Pads. He posted a pad of his that was magenta and black. At the time we were going through the color process, so we decided to try that color scheme. We made our logo with magenta and it just worked.
Every gym we build will have a different color palette. Our second location will have a unique yellow. We want them to be much different than any other gyms.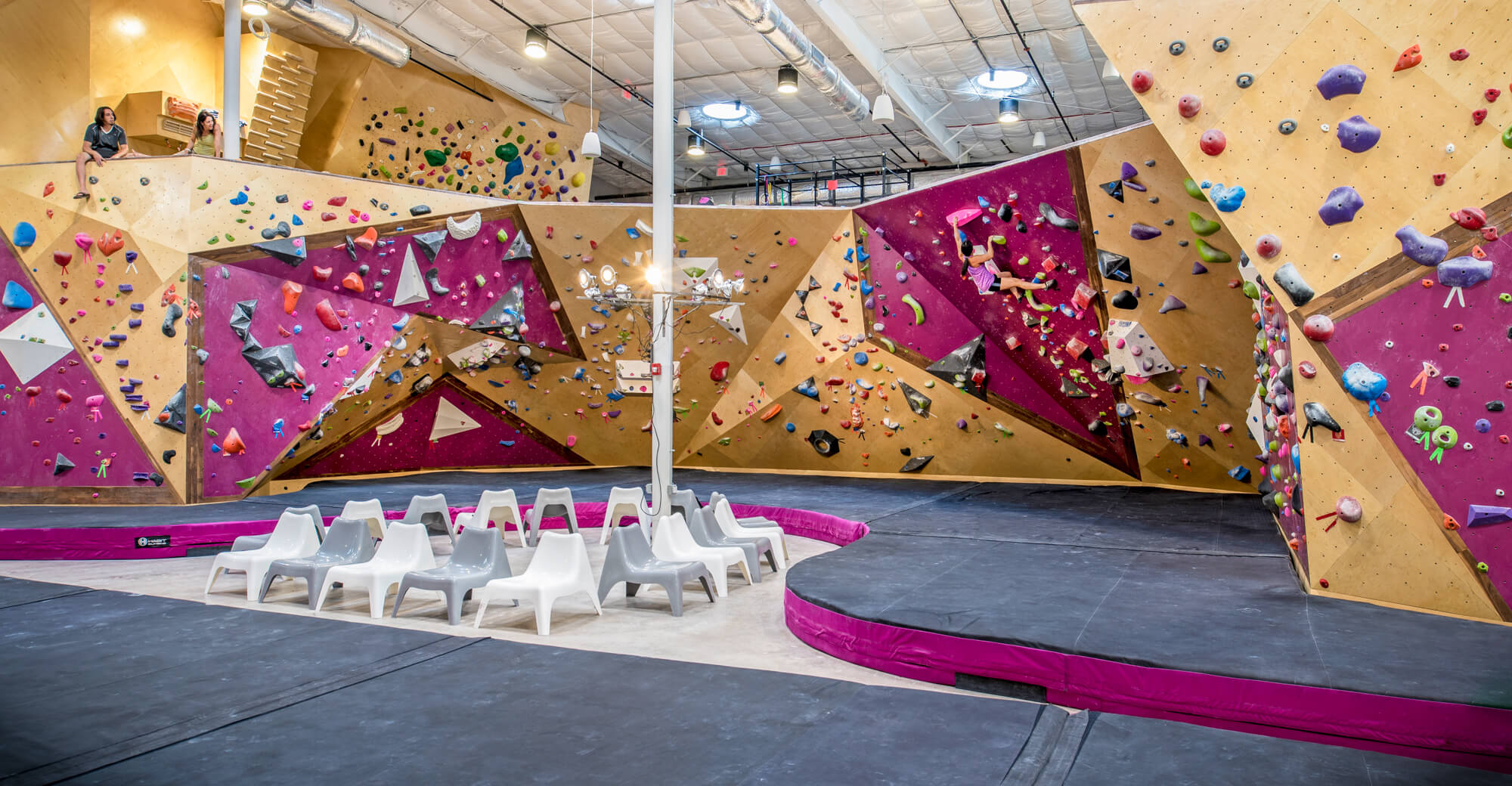 Describe the most difficult aspect to opening your gym.
The biggest challenge was having our location move at the last minute. While penning the lease, the landlord canceled and moved us. At first the site looked iffy, but, that first location would have put us out of business. Still, the whole move set us back about half a year.
The rest of the process was a mess. Everything that could've went wrong did go wrong. But VS was the easiest to work with. There were days when we had to rent a generator to work because our landlord didn't pay rent. But VS still worked in those conditions.
Having too many people working at one time was a big deal. You have to make sure you're careful who you work with. Our second time around is going well.
Austin went from having one gym to four in less than 10 years. How do you try to separate your business from others in the area, like Austin Bouldering Project?
I'm a competitive person but stopped thinking about it that way. I started focusing more on our members and listening to what they have to say.
Because our gym is not 50,000 square feet, I'm able to talk to a lot of people. If we can do good for the people paying us money, then they'll tell their friends and so on. For us, it was never about trying to be bigger than APB. Instead of trying to compete, we try to make Crux our members' second home. We reinvest our money a lot and have a lot of community engagement. We make it so their dollar will go further here.
Do you take any inspiration from other gyms?
The other day, our employee Bailey was climbing at ABP. She gave them props for having their branding on point: It's tight and cohesive throughout all their pamphlets and shirts. It's a valid point and something I want to focus on. It won't necessarily boost my sales, but it does recognize that we can learn from others.
Tell us about the Future Wall.
When opening Crux, I wanted it to be different. The Future Wall is our way.
As a routesetter, it's annoying to set on the same wall again and again. You can buy more volumes but that's just an added cost.
We decided to build something that can make our routesetters, competitors and members happy. Each time we have a big competition, we reconfigure the wall and make it different.
Our members are psyched because it's essentially like climbing at a new gym, our routesetters are psyched because they get new angles and our competitors are psyched because they're climbing on a brand new wall that no one has seen before.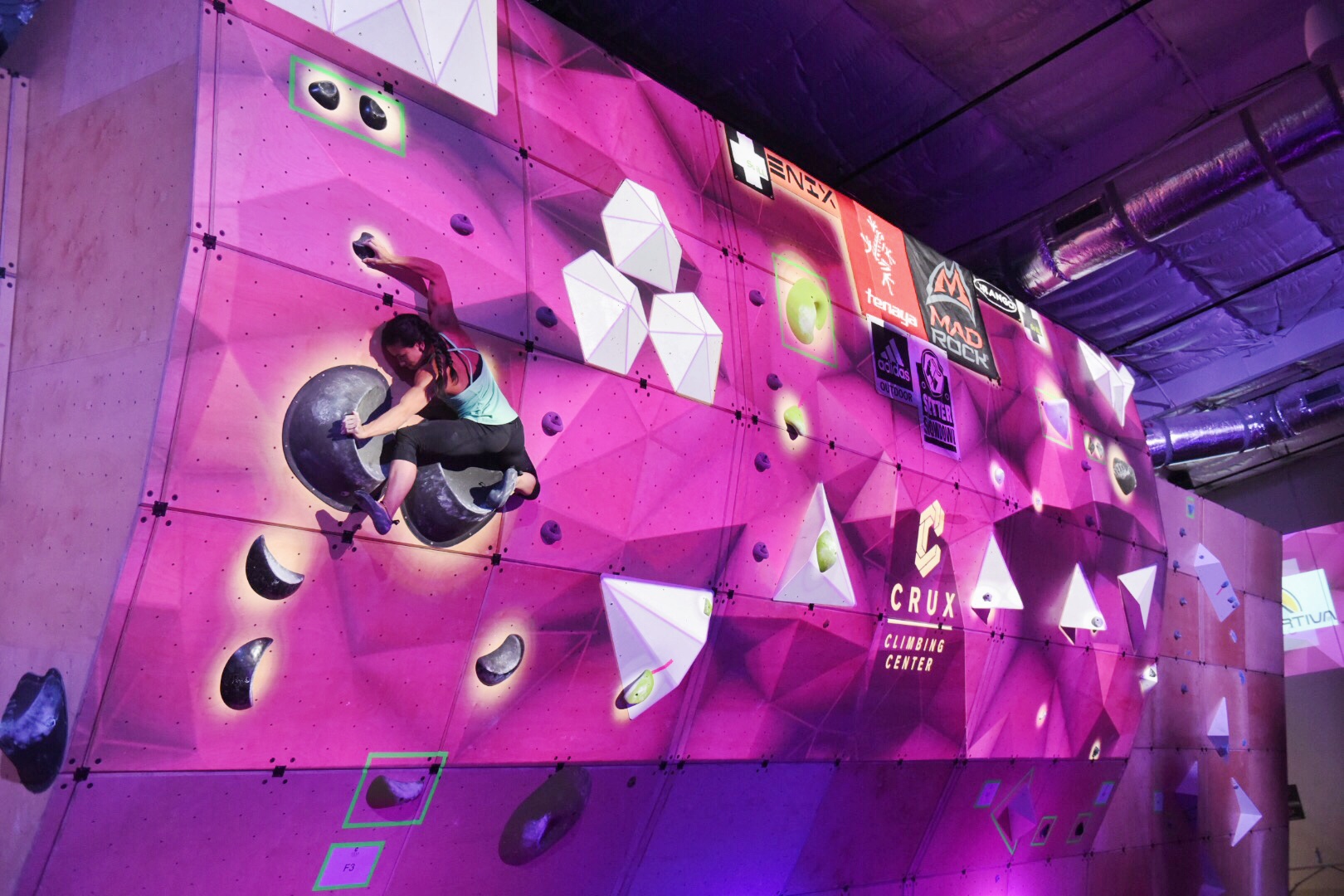 Why do you offer 24-hour access?
In reality, gyms are massive and they cost millions of dollars to build. But the price range for a lot of gyms tends to be from $50 to $80. We didn't want to be that one gym that's $150 to climb at.
So, to help offset costs and allow us to set two different price points, we have regular memberships in line with everyone else's, but the 24-hour access is a higher membership fee. Members can enter a smaller area with strict rules after paying an extra $10 or $15.
The higher membership fee also has an added retail discount. It's seen as an added amenity.
How did you approach Crux's design concept?
Routesetting played a big role, because I'm drawn to certain shapes. So, we built this structure that allowed for really cool geometric shapes while making it possible for customers to interact. We have one split wall, the future wall and a big lounge area.
With eye-catching shapes and customer interaction in place, we also made sure there was enough room for competition seating.
Describe the Austin climbing scene and how your gym reflects the culture and community.
The people we hire are definitely reflective of Austin. We hire visible faces within the Austin community. And we don't have uniforms or anything like that.
We also work with local vendors during our member appreciation events and in our retail store.
How did you know you were ready to open another gym?
As soon as I realized I couldn't find parking for myself. And when you walk into a gym and are waiting in line for ropes, that's another indicator.
We also get 30 or 40 messages a week telling us to come to north Austin, or San Antonio. We have the money and feel our business model is tight, which are the signs of scalability.
We were initially planning on expanding right to north Austin but stumbled across this perfect 20,000-squre-foot box building in a redevelopment area in central Austin. This will be a bouldering-only gym which will replicate the first Crux, but we're also opening a massive, tall rope gym in north Austin.
Now, we're working on two gyms at the same time.
Why did you decide to go with Vertical Solutions for helping to build your gym?
We didn't even consider EP or Walltopia. We were looking for a company that, when looking through social media or a catalogue, people will know who built the gym and which one it is. When going through Walltopia's site, I have no idea which gym is which. \
We wished more owners thought about how they looked. We're fine with paying a little extra for a product that will stand out. We were going for the wow factor and like the aesthetic of the wood.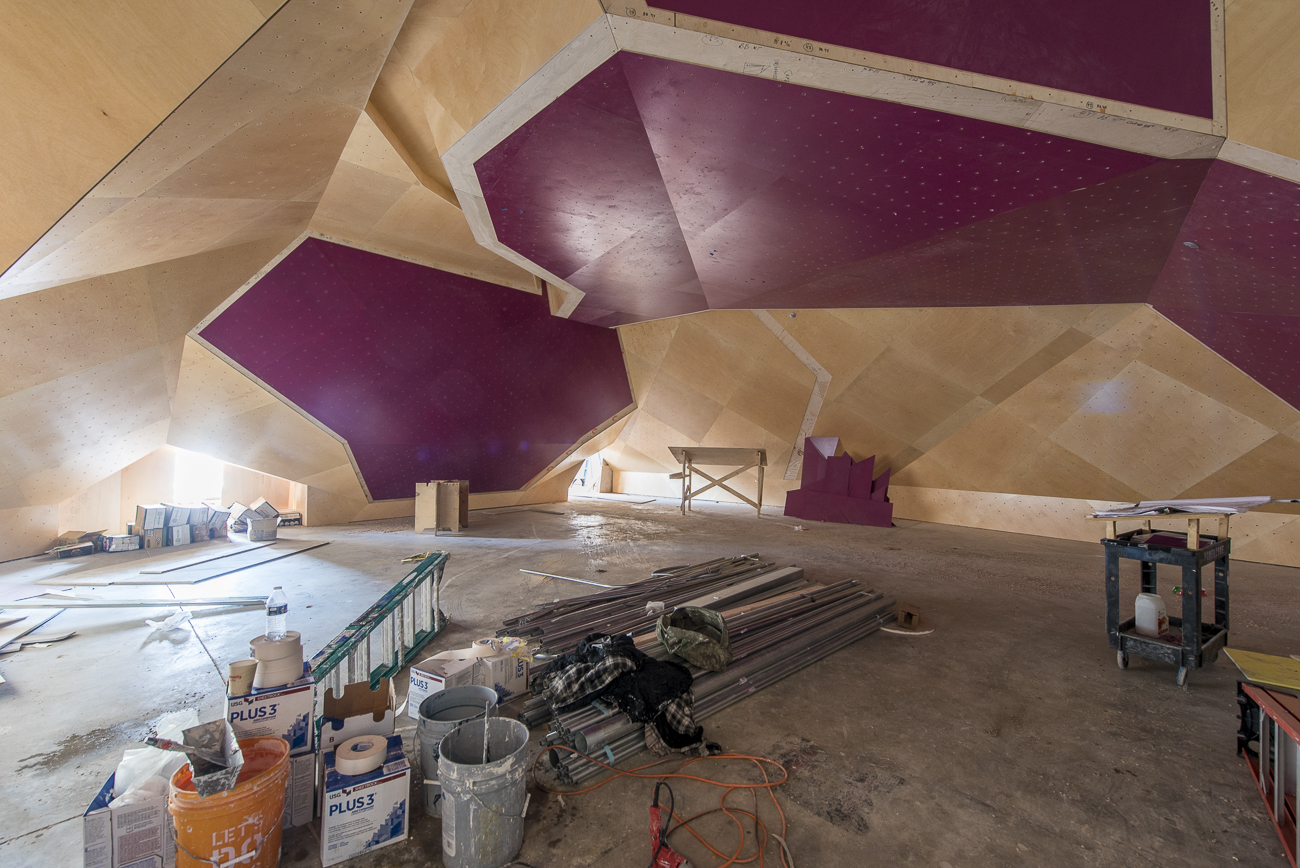 Which services from Vertical Solutions do you utilize?
We actually designed most of the first gym ourselves. But VS helped beef it up a bit and did most of the building. Now, with the second gym, we feel like we got much more of the VS experience, starting on day one with Jaime.
Now we lean on VS heavily. We talk to them almost every other day. VS is a powerhouse and offers services at a lower cost. We're taking advantage of most of it with the second gym.
This interview has been edited for grammar and brevity.
Visit Crux Climbing Center's website for more information.
If you need help with any aspect of building your climbing gym, from business consulting to opening day and beyond, please don't hesitate to contact us!