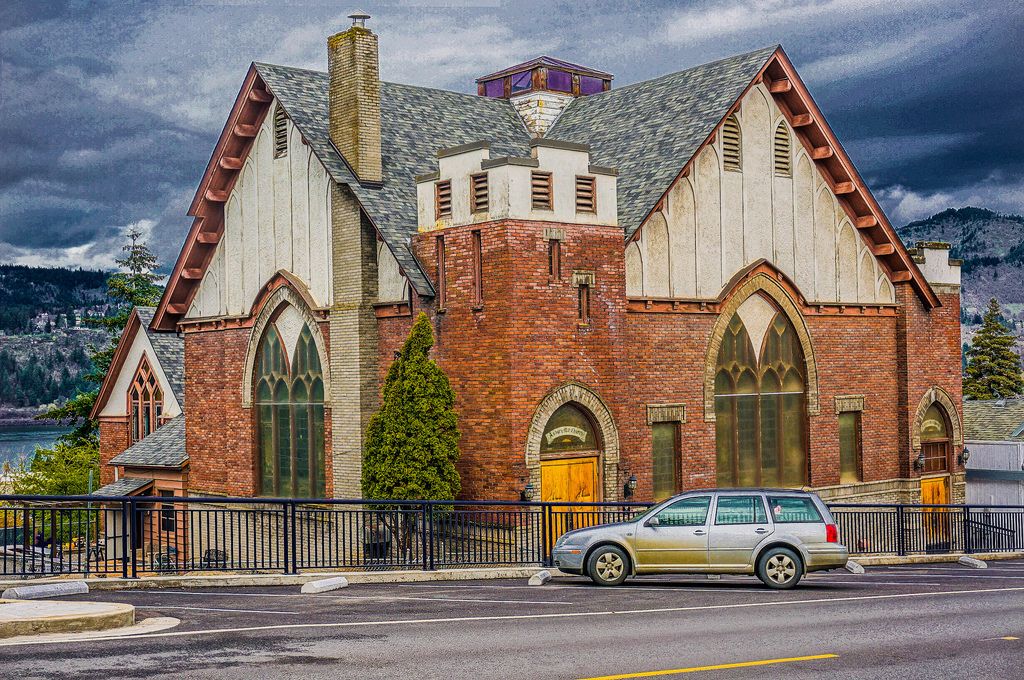 It was a Wednesday afternoon and the sounds of rain pitter-pattered on rooftops across town. Like any other rainy day in Hood River, an Oregon town of 7,600 which borders Washington on the Columbia River, most people were at home or work, or any number of the eateries, breweries or coffee shops around town.
Except for Conor Byrne and Jen Altschul. They weren't sipping IPAs or a dark roast. They were touring history.
According to their website, construction of the original Asbury United Methodist Church began in 1897 and the building was officially finished and consecrated in 1912. For years the church was a beacon in town – a space for people to congregate and form a community. But in 2012, the Asbury congregation held their final service and merged with a different parish, selling and decommissioning the building in the process.
A martial arts studio took over for a brief period of time, but the space has been vacant for the better part of the last six years. That is, until Byrne and Altschul walked in one rainy Wednesday afternoon.
"Inside, you just feel like you're in a special place," Byrne said. "We knew we could create a community here."
And that's exactly what they plan to do by means of Brimstone Boulders, Hood River's newest and only bouldering gym.
Conor and Jen were both born in the Pacific Northwest – Byrne in Seattle, Altschul in Portland. The dark, wet, northwest corner of the United States is where they were raised and first learned to climb. Both fell in love with the way climbing fosters meaningful connections with others and both traveled across the country in pursuit of classic routes on foreign rock. But they always returned home.
"It rains 70-percent of the year, but it seems strange to pick a spot on the map to live in that we only know a little about," Altschul said." We already have a place that checked the boxes of activities we love."
After meeting, climbing and living together in Seattle for several years, Bryne and Altschul decided that change was necessary. At the same time, a friend approached them asking if they knew of someone who would be interested in starting a climbing gym in Hood River. It had been a hot topic in the area for a while, but the town's growing population made the idea seem more and more like a reality.
"We thought that it would be interesting to start it ourselves," the two said. "Rather than having a long-standing dream of building a gym, we were both at a point in our lives to make bigger decisions. This felt like a thing we could move toward."
At first, the idea of creating a climbing gym in the old church seemed a little far-out to Byrne. But Altschul was excited about it since the first time she saw the listing online.
"I tend to be a bit more on the practical side," Bryne said. "But Jen found this amazing place with character that checks boxes off the list that weren't even on my radar."
Now, both are committed to again filling the church's walls with community. Whether that's through bouldering, yoga, friendly climbing competitions, birthday parties, guest speakers or film screenings, they're dedicated to making their space the "living room for Hood River." And they chose Vertical Solutions to help them reach their goal.
"I first met Shad at the Climbing Wall Association Summit two years ago, and was already kind of sold on Vertical Solutions," Byrne said. "But then I met the rest of the crew and knew we would work with them, because they just 'got it.' They understood what we're trying to create, and that's a special thing."
"The aesthetic of the walls was also a big thing for us. We knew that brightly colored plastic walls were not going to compliment the space we're in. It works fine for other places, but not us," added Altschul. "We also did a lot of reference checking and when we brought our concerns to the team they always had a solution and showed that they are committed to improving and owning up to things that aren't perfect, while also creating beautiful, functional and built-to-last products in the process."
So, if you live in or near Hood River, or are just passing through, be sure to say hi to Byrne and Altschul. Don't be a stranger to their budding climbing community.
*For more information about and to stay up to date with Brimstone Boulders, head to *their website.
If you need help with any aspect of building your climbing gym, from business consulting to opening day and beyond, please don't hesitate to contact us!