The product of every climbing gym, on the most basic level, is always the same: rock climbing. However, every climbing gym also has the opportunity to provide novel value to its member base. For some, this may be a stellar yoga program; for others, it's a bar and grill.
For Benchmark, the Bay Area's latest boutique bouldering gym, driving quality and design was of the utmost importance. With a streamlined approach, Benchmark does not include a host of amenities, youth programs, or frills. Rather, it emphasizes function, community space, and enhanced member experience and growth. Vertical Solutions was entrusted to build Benchmark's walls, an essential component of the gym's design, identity, and function. We began construction on Benchmark in the last week of May, and our crew finished building the climbing surfaces before the end of July. Benchmark opened its doors to the public the following month.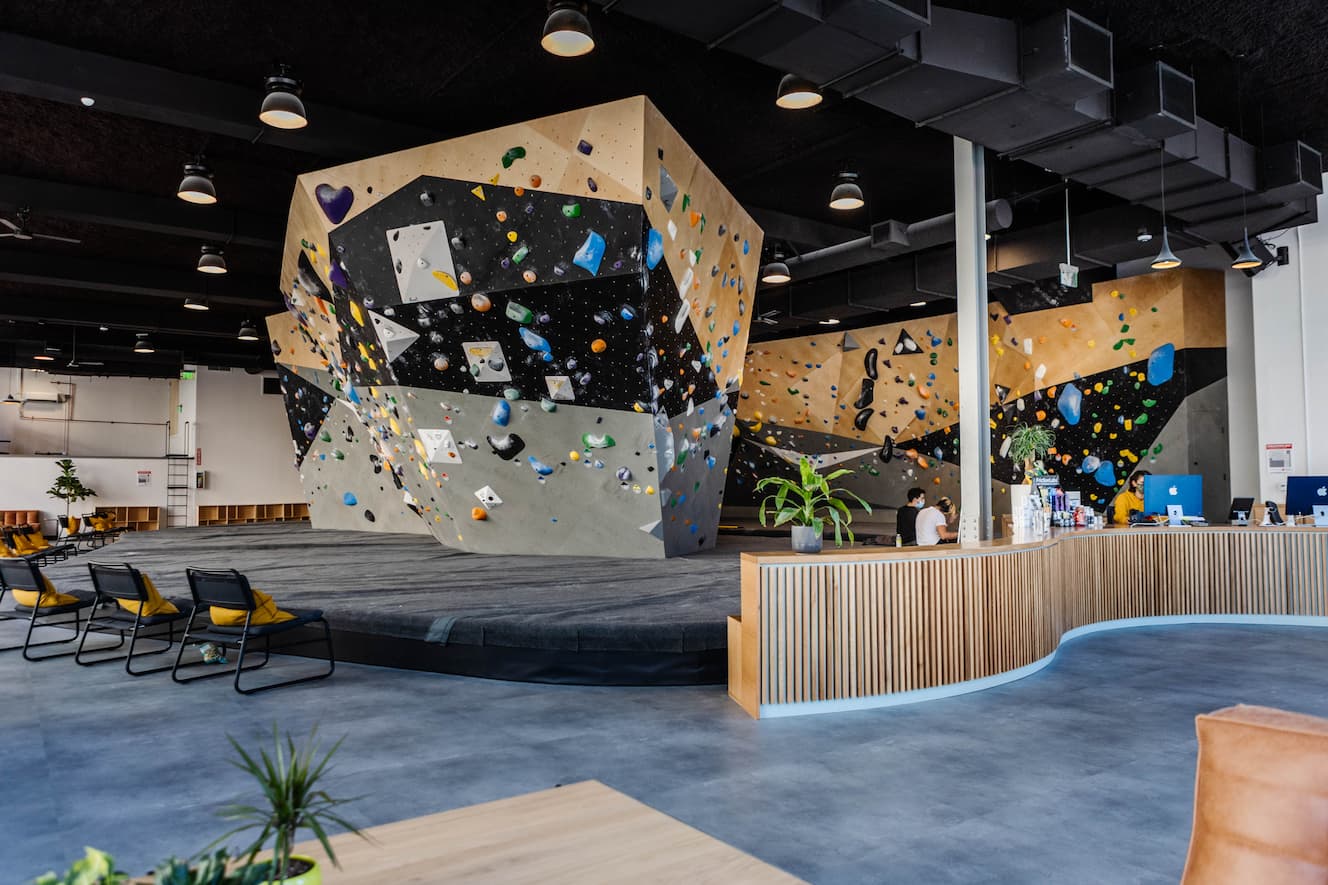 We're the first company in the area to have walls from Vertical Solutions, whose beautiful craftsmanship and woodwork elevates our aesthetic and differentiates us from the competition.
Located in the historic Auto Row district, the 10,000 square-foot bouldering facility features a large downstairs bouldering area and a smaller upstairs area geared toward climbing-specific training. In addition to the climbing spaces, Benchmark features a general fitness area, large coworking spaces, social spaces, ample windows, and in the very near future, a carefully curated and well-designed pro shop. Vertical Solutions was happy to accommodate Benchmark's unique request for tiered, bleacher-style seating for climbers to spectate and cheer one another on.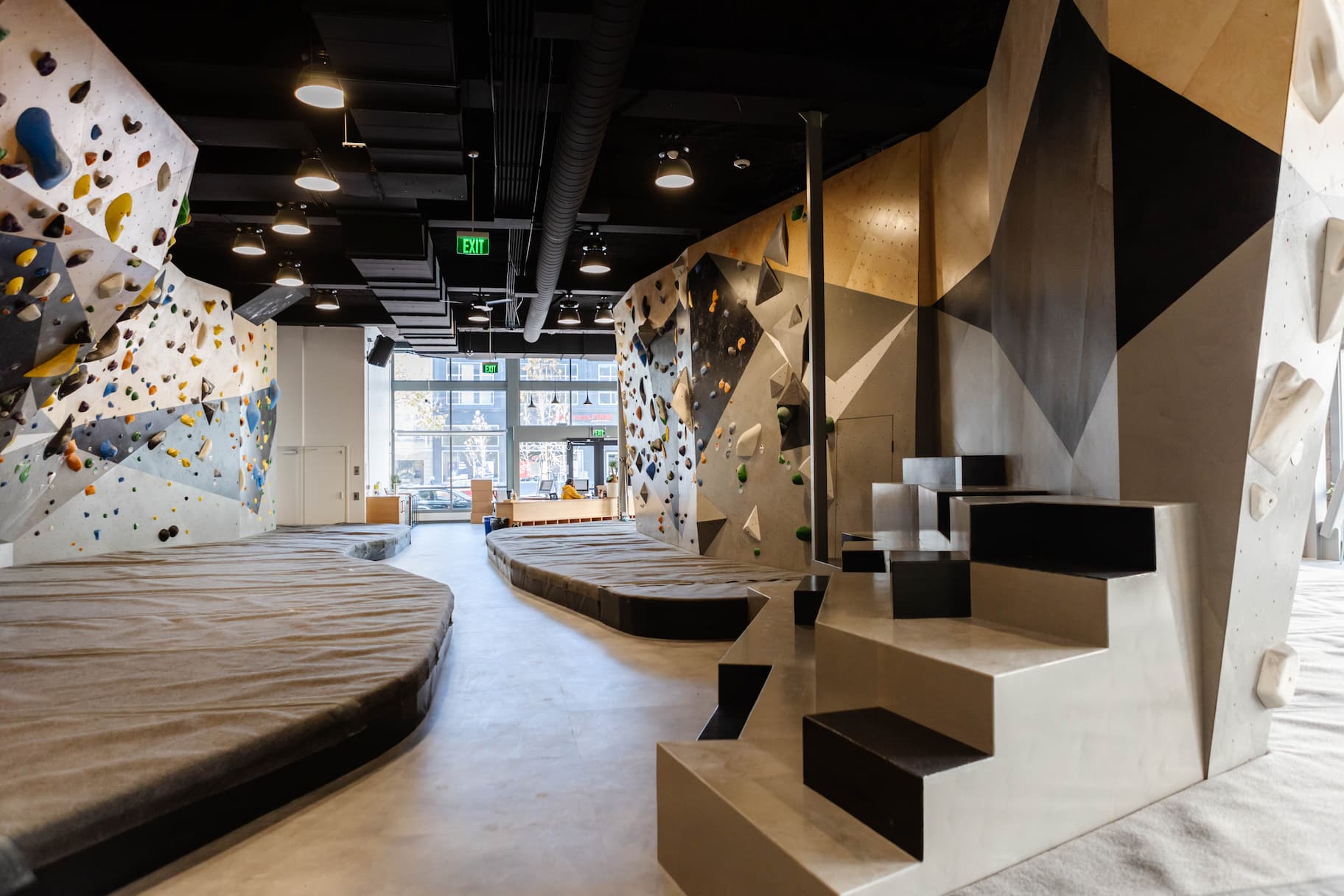 An important element of Benchmark's ethos is inclusivity. As such, fostering welcoming spaces and opportunities for community affinity groups has been a priority of Benchmark's, even this early in the gym's life. Through partnerships with local organizations such as Lady Crush Crew, Queer Crush, and Bay Area Outdoor Women, Benchmark hopes to be impactful in this space and a role model to other gyms across the country. Additionally, Benchmark offers discounted membership rates to disadvantaged individuals and youths, further enabling greater accessibility to climbing.
The Specs
Overall floor area: 10,000 square feet
Main climbing area footprint: 2,261 square feet
Upstairs climbing area footprint: 515 square feet
Climbing walls: 3,252 square feet
Workout area: 341 square feet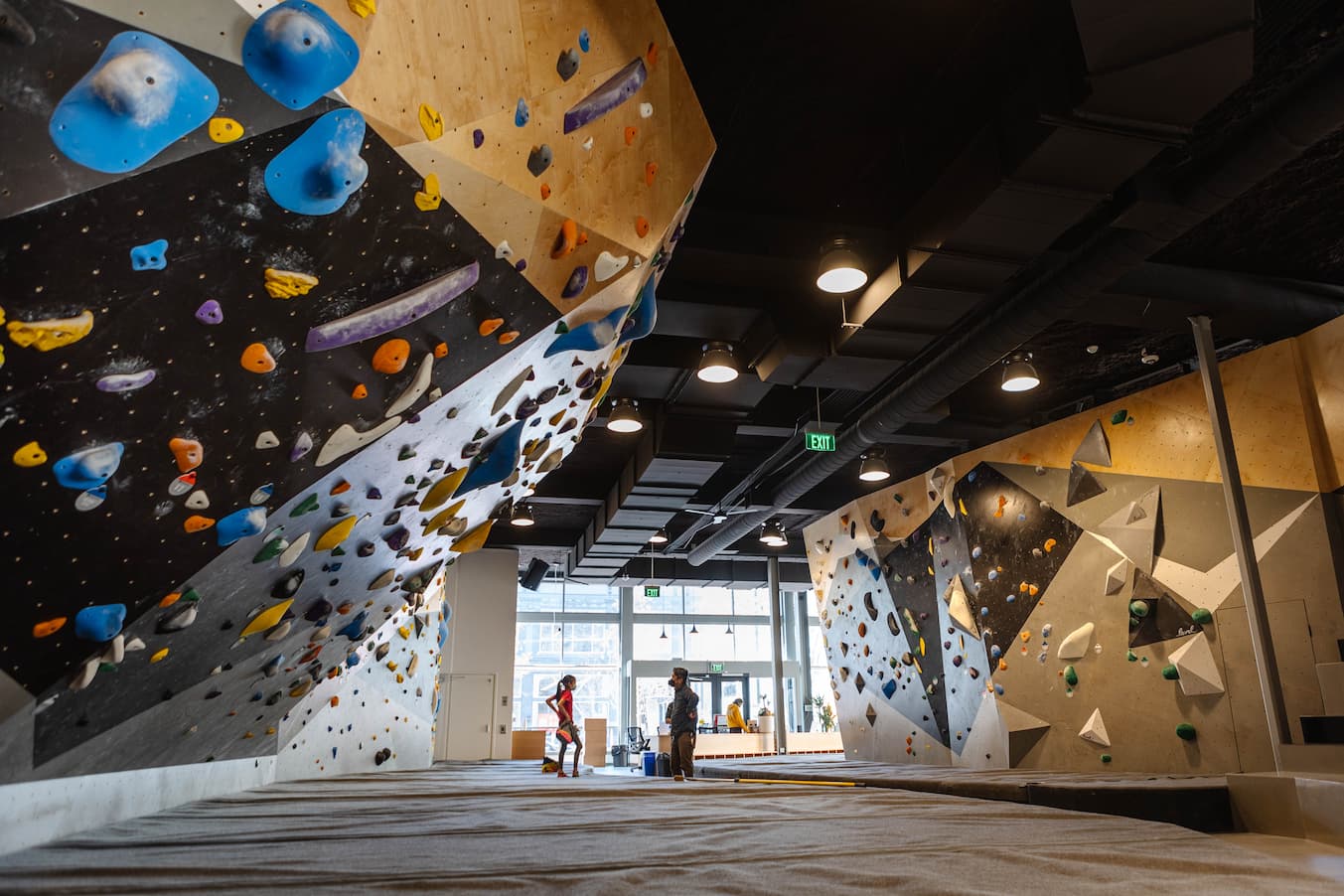 The Team Behind Benchmark
What has made Benchmark so successful, in large part, is the all-star executive team with more than 50 collective years of experience in the climbing world. Here's a look behind the scenes at the people who have turned his beautiful facility into a thriving community space.
Austin Quan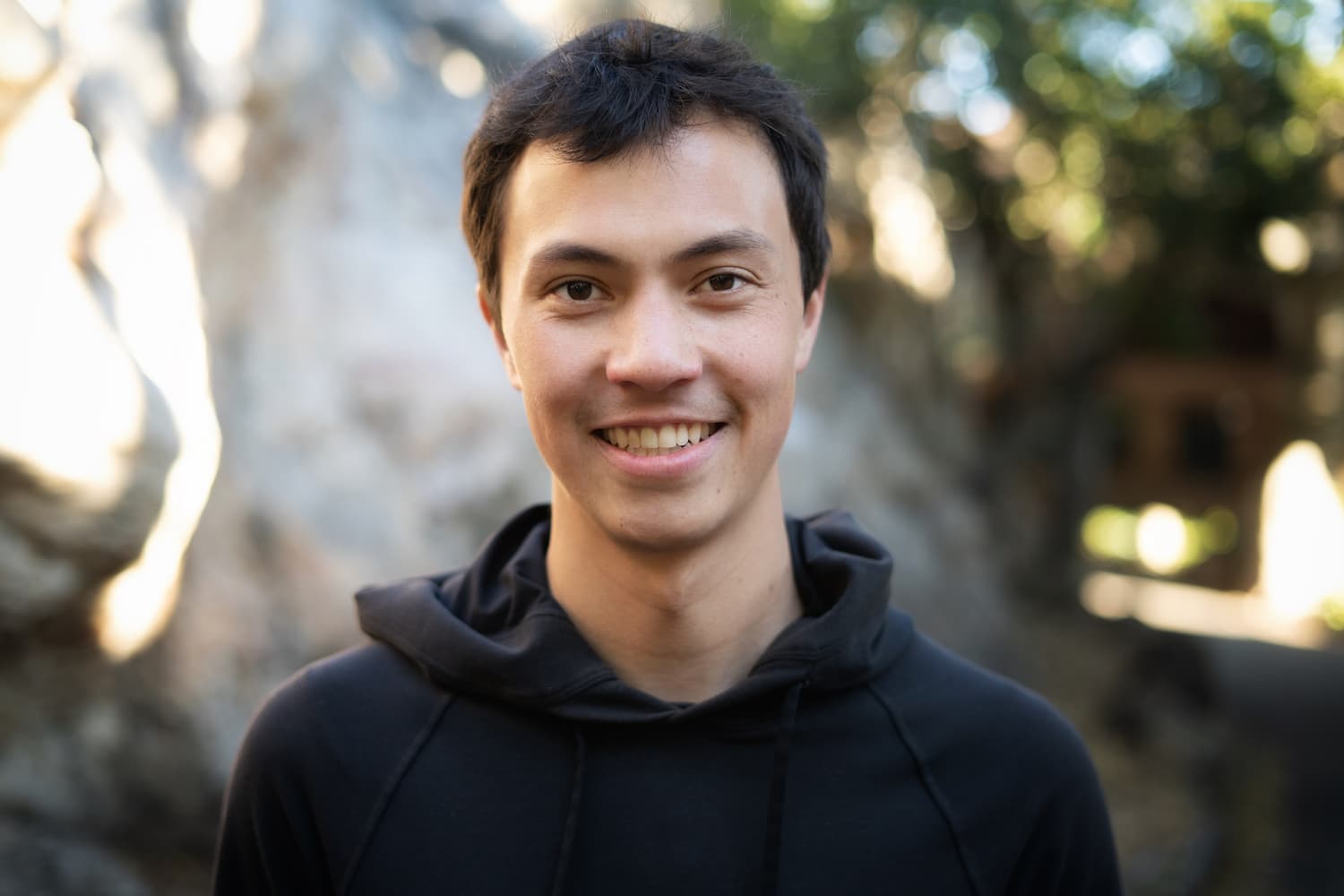 Raised in the mountains of Colorado, Austin Quan found climbing 8 years ago. His passion and dedication led to him climbing up to V11 and achieving great success in the tech industry. 
Having led YouTube's data platform team, Quan has a deep understanding of technology and a unique perspective. Quan hopes to utilize these skills as co-founder of Benchmark to help it reach its full potential as both a training facility and community hub.
"My motivation is to make the best gym I can that integrates [training and technology] to serve a community and sport which have given me so much. In doing so, I hope to create a superlative space where veterans and new climbers alike can experience the enjoyment, fulfillment, comradery, and growth that have kept me involved all these years and will keep me involved for many more," Quan said.
Huan Le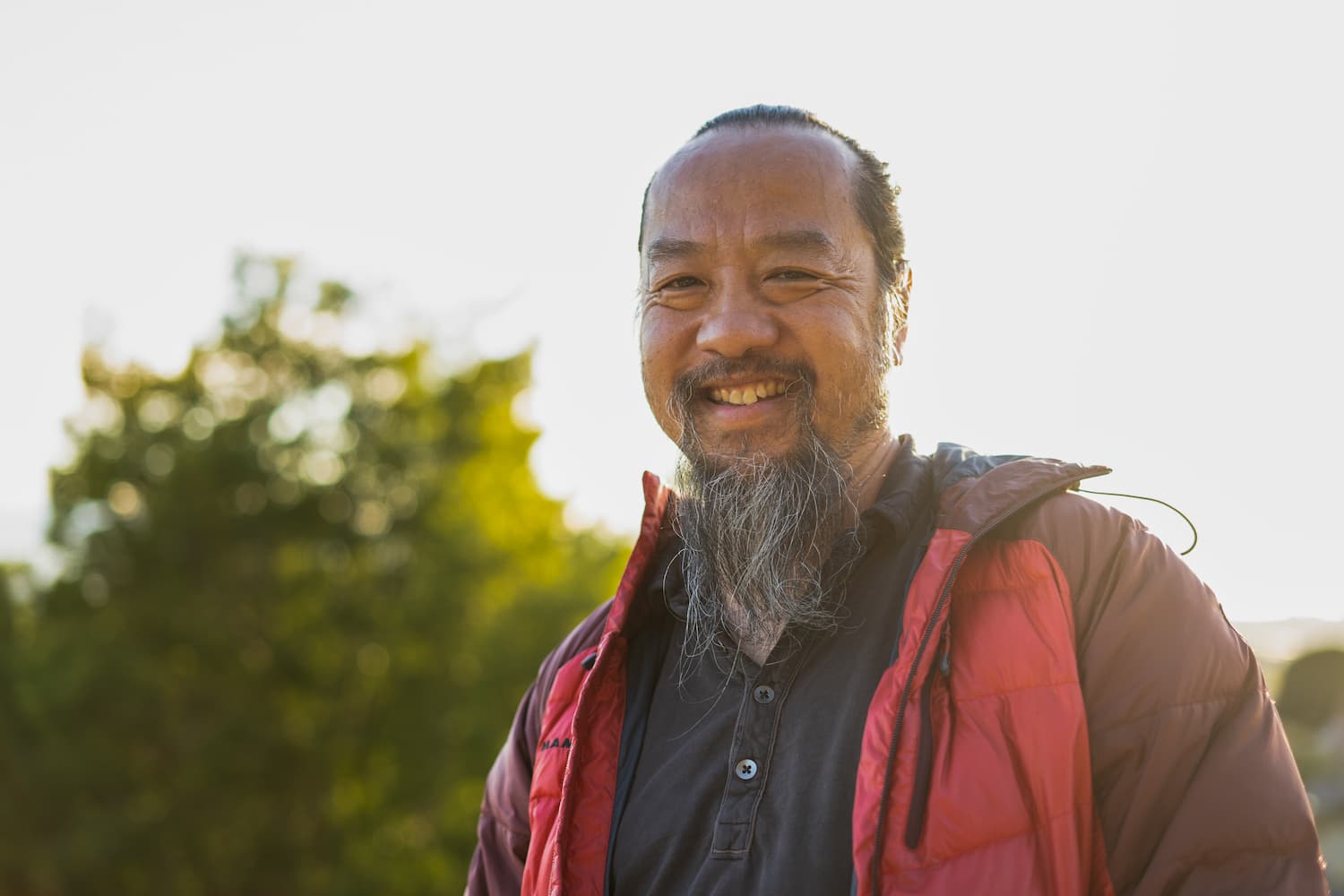 A veteran of Silicon Valley, Huan Le has transitioned beyond his professional career, instead concentrating on being a supportive father and husband. However, having worked as Head of Quality and Operations for startups, large consumer electronics companies, and everything in between, Le is consistently driven by rigorous goals and projects. Inspired by his kids' love of climbing (all are nationally competitive athletes), Le channeled his focus and expertise into Benchmark.
"I've seen the sport evolve and am amazed at how it has progressed from mainly an outdoor 'extreme' activity to an Olympic sport practiced by new climbers who have never gripped real rock or had their shoes collect dirt on a crag, but [are] eager to learn," said Le. "Climbing is in a boom stage and I am excited to be a part of a sport and community that I love. The walls of this climbing gym will be a sight to behold, and you will be ecstatic at what a beautiful piece of craftsmanship and artistry is about to occupy your space. [The Vertical Solutions] install team was outstanding; professional, hardworking, and went the extra mile. The field crew re-routed the entire handrail—this level of care and dedication stands out."
Mark Heal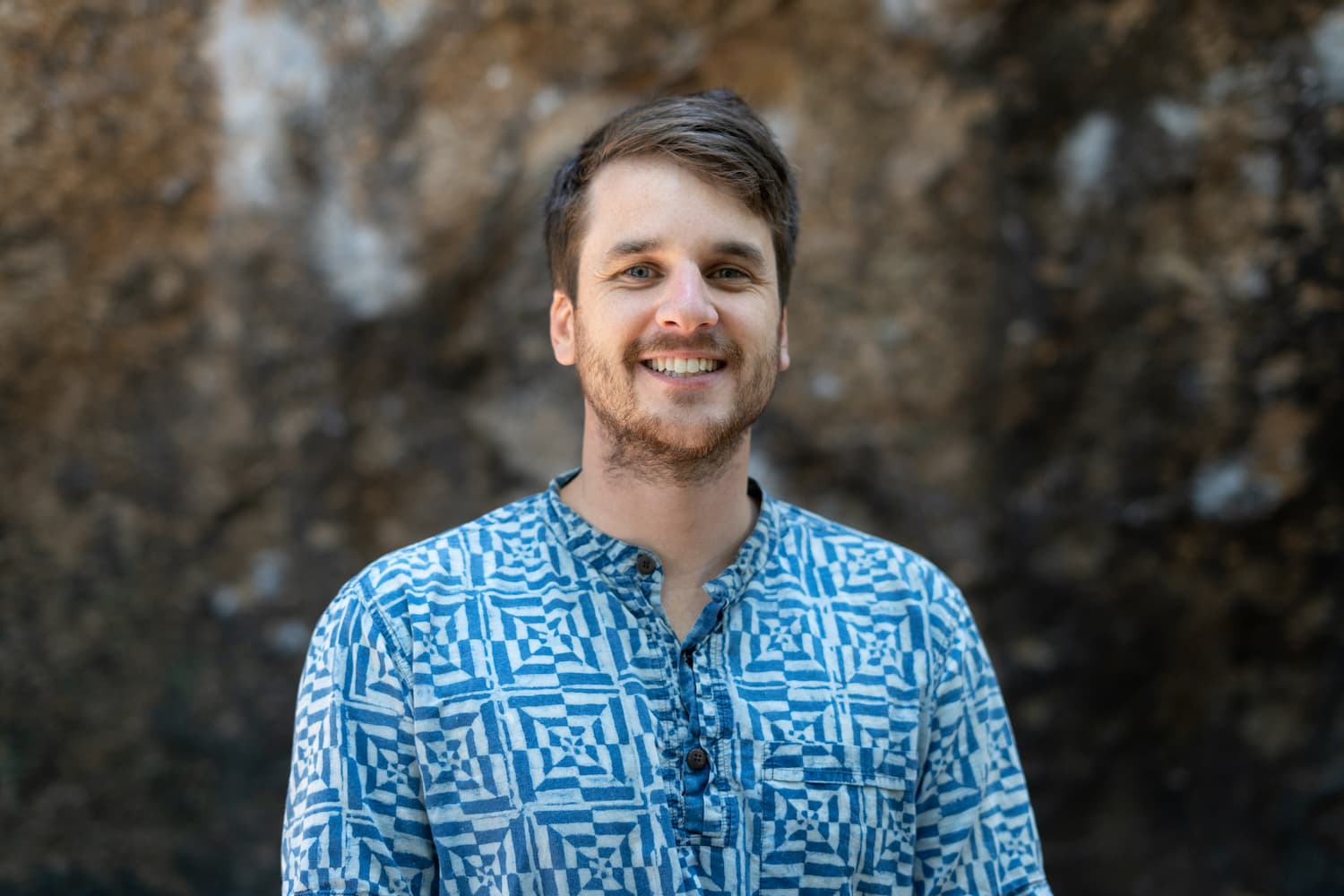 Mark Heal is one of the most prolific influencers of California climbing. Having developed dozens of hard boulder problems in the region, Heal has left his mark (pun intended) on the local scene. After relocating from his birthplace in the UK to San Francisco, Heal landed in New York City, where he played an integral role in developing another Vertical Solutions partner gym, and the first climbing gym in the state, Brooklyn Boulders. Heal's elite climbing level earned him sponsorships and afforded him the opportunity to travel and perfect his craft internationally as a professional climber.
Five years ago, he returned to San Francisco and started Reach Climbing, an adult-only private climbing coaching brand. Applying his wealth of experience, Heal helped dozens of climbers achieve their goals. Now, in addition to being a co-founder, Mark Heal is Benchmark's head route setter and ensures the utmost quality of climbing is always presented.
"Climbing has taught me many lessons and the community has given me so much, I look forward to giving back to the community, the established climbers, and those who haven't yet begun," he said. 
"Through the gym, we will be showcasing the future of our sport and fostering growth in many new areas."
Max Krimmer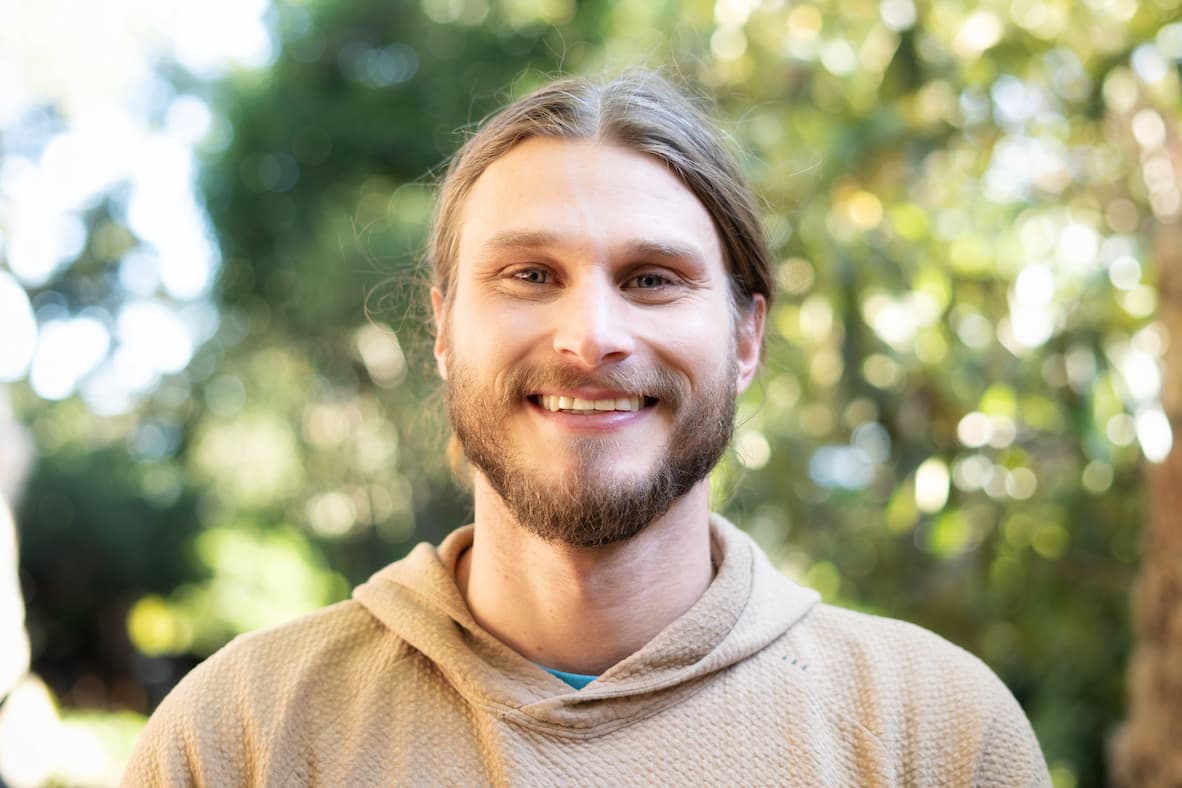 Max Krimmer is a fantastic creator and extremely dedicated lifelong climber. Not one to sit still for long, Krimmer can be found climbing inspiring boulders all over the United States with his bride-to-be, Eli. In 2014, nearly 10 years after he began climbing, Krimmer debuted his feature-length film "Huntsmen," documenting the fervent development of southern Colorado's bouldering scene and featuring some of the strongest climbers in the world. Krimmer also worked on the award-winning documentary "Valley Uprising" and has filmed content for Big Up Productions. At Benchmark, Krimmer is proud to put his talents to great use as the director of marketing and general manager.
"For me, Benchmark Climbing is a way to pay it forward. Whether you're a beginner or seasoned veteran, let's co-create an environment where everybody can receive the support needed to discover the sport, hone their skills, and progress together!" he said. "Climbing is a catalyst for personal growth and social connection; therefore, it has the potential to be a force of positive change in the world. It's played an incredibly important role in my life, and I hope to share this energy and love of climbing with the Benchmark community!"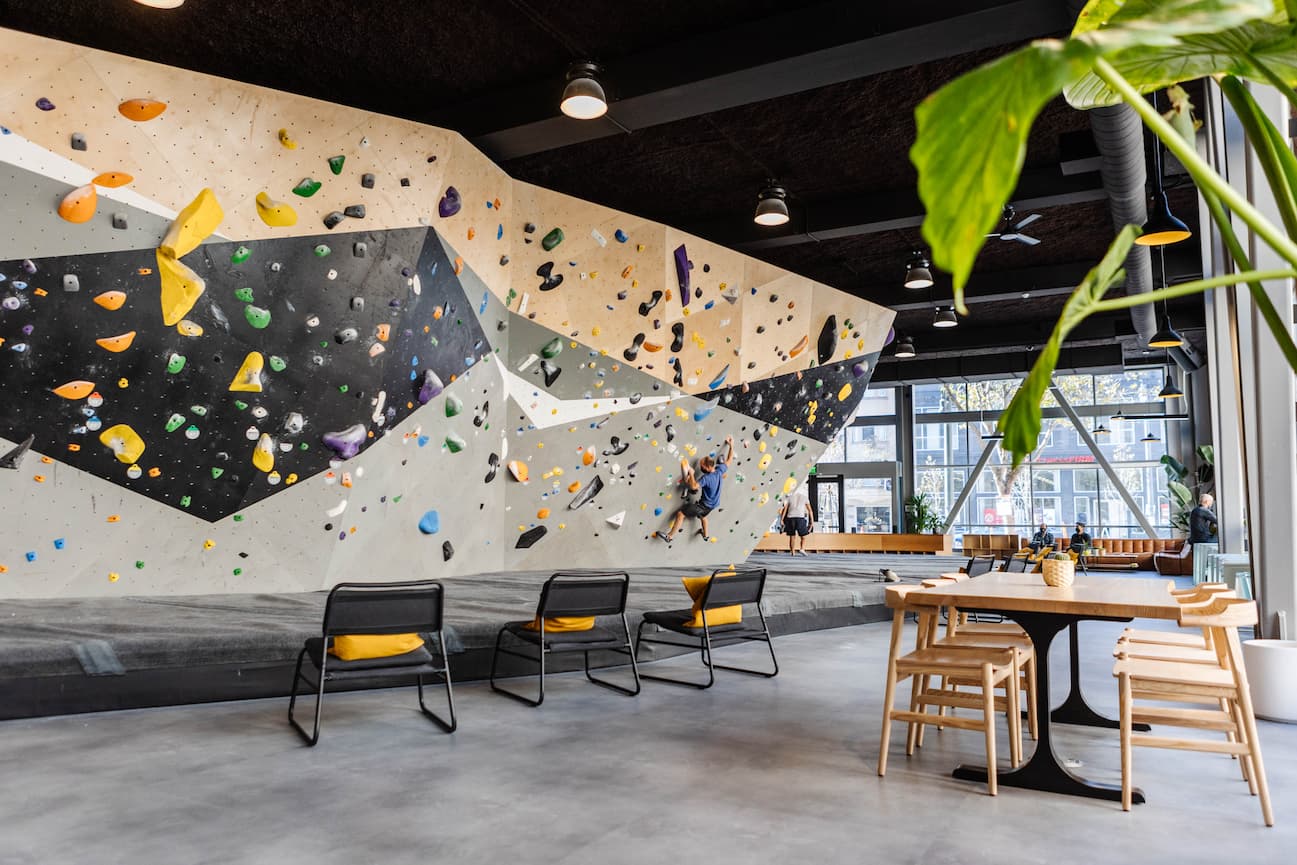 We look forward to seeing Benchmark's continued innovation and impact on the California community through their collective knowledge, breadth of experience, commitment to diversity and inclusivity, and world-class route setting. With a new location recently announced in Berkeley, there is no stopping Benchmark's ambitious growth.
Visit Benchmark's website or follow them on Facebook or Instagram.